By Parke Shall with Scott Tzu
Social media was abuzz and certain long investors in Pandora (NYSE:P) seemed to be getting excited about the fact that the company was up in late trading on Friday after hours. The after hours trading without news was noteworthy in and of itself, especially for a Friday when after hours trade is usually relatively quiet.
In fact, there has been renewed hope in the Pandora camp over the last week as it appears that Sirius XM (NASDAQ:SIRI) executives have backtracked on comments that they are not interested in buying the company. It appears that they have amended their comments to state that they possibly would be interested in buying the company, but only at the right price. As a reminder, this NY Post article was making the rounds late last week (7-8 days ago). It stated:
Gregory Maffei, chairman of Sirius XM, has told some shareholders this week that the satellite radio company is still interested in buying Pandora, The Post has learned.

"Sirius would look at (Pandora) at the right price," said a source familiar with conversations.

Maffei reached out to Pandora's board late last year, according to a report at the time, sparking a 20 percent run-up in the streaming radio player's shares, to $13.85.
We talked about this in our last article on Pandora, where we reiterated our firmly held view that the company is far past its prime, has missed its niche, and has a better chance of withering away on its own than it does of becoming an acquisition target.
We take a lot of flack from Pandora bulls, so we wanted to talk specifically today about what our investing strategy would be in Pandora if we were absolutely forced to take a position. We currently have no position in the stock but we do have what we believe to be a prudent exercise for those who can't seem to keep themselves away from wanting to invest in this company. The end result is either, in our opinion:
1. Not overpaying for Pandora and taking a loss, but ultimately not owning shares
2. Waiting for a price where upside potential is significantly higher
Hopefully, you are a patient investor. If you are like us, we know that the market throws opportunity our way hundreds of thousands of times a day and it is up to us to try and pull the trigger on the best opportunities only. We have adopted this mindset with all of our investments, but we also want to adopt it with Pandora.
If you are a prospective investor and can separate yourself from the idea of needing to buy the stock right now, there may actually be a point where Pandora becomes a good buy again, in our opinion. Chasing the stock here at $13 a share doesn't make sense to us for several reasons. So, this is how we would go about buying Pandora stock.
We would not go in and just start buying on Monday on the hope that Friday's after hours pop and Sirius XM's new comments mean that there are good things in store for the company. This is basically speculation and buying here at around $13 is buying stock at near 52-week highs when a company potentially looking to take them over has come out and said that price is an issue.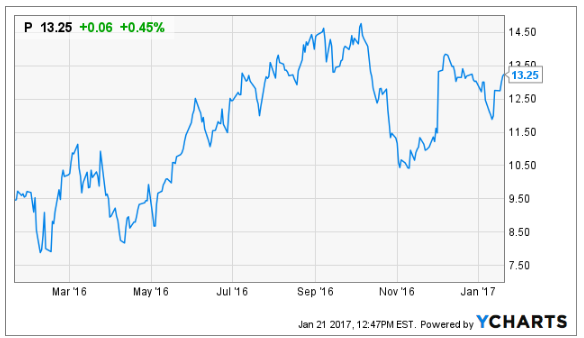 We understand bidding up the stock in anticipation of getting a premium valuation in a buyout situation, but we don't think that Pandora is worth much of a premium here nor do we think that a potential acquirer will be interested in acting with the share price where it is.
So, our advice for the time being is simply to wait. If Pandora goes to $15 or $16 from here on, or even if it is bought out at around the same price, we will consider that a premium that we are OK with missing out on. Upside is relatively limited and at the end of the day we would be able to rest our head knowing that we did not chase Pandora to an even higher valuation we think it's worth.
If the stock begins to fall and rumors begin to fade off, that is when we would start to feel our buying senses perk up. So far, the Pandora story has been that every time there are rumors of buyouts there has been no follow through. What we want to find is a point of disappointment and despair for the company where the market drives the price down into single digits. We realize that the company just released good numbers and we talked about why their plans for layoffs are probably not a good sign for the company going forward. However, this is going to help them juice the numbers for the time being and it may put a bid under the stock for the time being.
When this euphoria fades and the stark realization of Pandora having a second rate technology begins to again peek its head out to the market, we do expect that shares will fall into the single digits.
It is from here that the company becomes a potentially attractive purchase. If shares of Pandora were to fall to seven dollars or eight dollars in coming weeks, it would fulfill many parts of our prophecy.
First, it would confirm much of our short thesis that we have been adamant about over the last year. Second, it would actually make the price of the company cheaper which may entice an acquirer like Sirius XM to potentially make a bid. People need to realize that when a stock is at $7, paying $10 or $11 per share is a monster premium. What a stock is at $13, paying $15 or $16 is far less of a premium. As this stock price declines, it becomes significantly easier for potential acquirers to make a very cheap bid for the company while still offering what, at the time, would be a substantial premium for shareholders. The potential acquirer gets all of the leverage as the stock price moves lower. This is what would make us want to be as patient as possible and wait out Pandora.
As we have said in the past, we just don't think Pandora is going to be able to command a premium valuation and a large premium to market in a buyout situation. The company already is down more than 80% from its highs and it is now peddling a technology that runs a distant second to serious competitors like Apple (NASDAQ:AAPL) and Google (NASDAQ:GOOG) (NASDAQ:GOOGL). The company has very little leverage in a potential acquisition scenario. It now has debt to worry about. When they point to a potential acquirer and tell them that they recently just made Q4 numbers, that acquirer is going to make the same argument that we made in our last article and tell the company that if they were growing the way that they should have been, layoffs would not be necessary to make numbers. In fact, if there was a large growth runway, EPS numbers wouldn't even be scrutinzed the way they are now. People want results because the time to grow is over. Next, attention will turn to the balance sheet, which is showing leverage for the first time.
Without the company having any real substantial bargaining leverage, we expect potential acquirers to be in full control when and if the time comes for the company to be bought out. If we absolutely had to invest in Pandora, our strategy would be to wait until the company is well into the single digits and then reconsider based on operating metrics and price. We would perhaps be inclined to make a purchase of Pandora at around seven dollars or eight dollars per share, but we can't see ourselves following (chasing) Friday's after hours action and buying the company here in the low to mid teens.
Disclosure: I/we have no positions in any stocks mentioned, and no plans to initiate any positions within the next 72 hours.
I wrote this article myself, and it expresses my own opinions. I am not receiving compensation for it (other than from Seeking Alpha). I have no business relationship with any company whose stock is mentioned in this article.