When Netflix (NASDAQ:NFLX) released its Q4 investor letter, there were a number of very clear items. On the positive side, subscriber growth blew away estimates, both in the US and abroad. That led to overall results that were in line with to slightly above most expectations. On the other hand, the company announced its largest quarterly cash burn in history. While the spend to grow strategy seems to be working for Netflix currently, one must wonder how long this can work in its current form.
The company added more than 19 million subscribers in 2016, although the US increase did fall short of 5 million as I predicted a year ago. Guidance for Q1 2017 was roughly in line with estimates, but it is interesting to note that House of Cards Season 5 has been delayed until late May. I'll be interested to hear how this impacts additions in the next couple of quarters.
As quickly as the company is adding subscribers, it also is burning through cash. Netflix reported cash burn of $639 million in Q4 after adding $1 billion in debt in October. Management expects to continue issuing debt moving forward, especially given guidance for another $2 billion of cash burn this year. As seen in the chart below, the company has gone from a net cash position of more than $700 million two years ago to a net debt position of more than $1.6 billion at the end of 2016.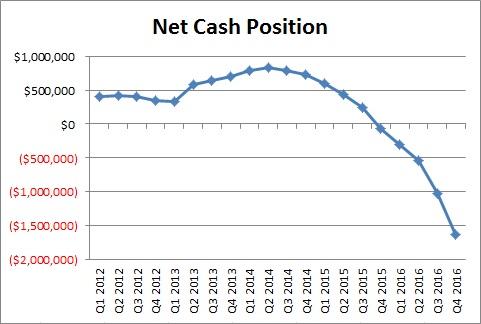 (Source: Netflix financials page - dollar values in thousands)
The bad news for Netflix is that the US 10-Year Treasury rate has increased by about 70 basis points since the company's debt raise in October. Given the increase in rates and Netflix's cash burn situation, it will be extremely interesting to see the coupon attached to the next debt issuance. Moody's assigned a B1 rating to the October issuance, but that's not exactly a top-notch figure. Should Netflix be hit by a ratings downgrade, debt costs will surge in the future, and that's obviously not good for a company that needs to issue more and more debt each year.
As you will see in the chart below, additions to the streaming content library have skyrocketed in recent years. Netflix added over $8.65 billion to its portfolio as per the cash flow statement in 2016, up almost $4.9 billion from two years ago. The company even nearly spent as much on DVD content in 2016 as it did in 2015, despite the continued loss of subscribers in that segment. This kind of wild spending cannot continue at this pace indefinitely.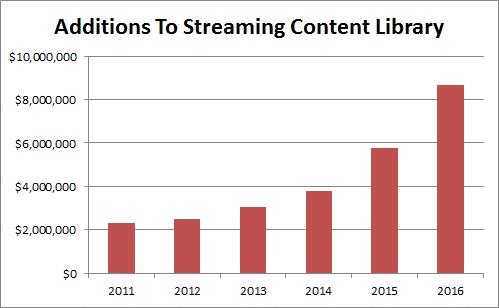 Shares have run to new highs after the Q4 report, which seems an appropriate response given the company's large subscriber gains. However, its financial position has deteriorated further, with billions of cash burn continuing into 2017. While investors like where the company is currently, it must evolve its strategy in the next couple of years. Especially if interest rates continue to rise, Netflix cannot be dependent on billions in funding each year.
Disclosure: I/we have no positions in any stocks mentioned, and no plans to initiate any positions within the next 72 hours.
I wrote this article myself, and it expresses my own opinions. I am not receiving compensation for it (other than from Seeking Alpha). I have no business relationship with any company whose stock is mentioned in this article.
Additional disclosure: Investors are always reminded that before making any investment, you should do your own proper due diligence on any name directly or indirectly mentioned in this article. Investors should also consider seeking advice from a broker or financial adviser before making any investment decisions. Any material in this article should be considered general information, and not relied on as a formal investment recommendation.