Halliburton (NYSE:HAL), the world's leading provider of fracking services, has recently reported quarterly results that came in ahead of Wall Street's estimates. Not only that, the world's second largest oilfield services company appears to be in a solid position to outperform its bigger rival Schlumberger (NYSE:SLB).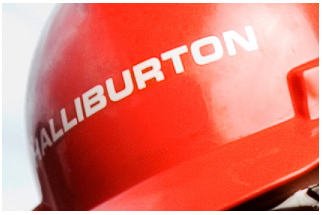 Houston, Texas based Halliburton reported fourth quarter revenues of $4.02 billion, down 20.9% from a year earlier but up 4.9% from Q3-2016. The company's earnings, however, narrowed on a year-over-year and sequential basis.
The company reported a net loss of $149 million, or $0.17 per share which compares against a loss of $0.03 per share in Q4-2015 and a profit of $0.01 per share in Q3-2016. This was, however, driven by one-time charges. Excluding those, Halliburton reported an adjusted profit of $0.04 per share, down 87.1% from a year earlier but four times as large as the Q3-2016 adjusted profit of $0.01 per share. The profit was also significantly higher than the analysts' consensus estimate of $0.02 per share, as per data compiled by FactSet. It was, however, disappointing to see that the company failed to meet revenue consensus of $4.10 billion.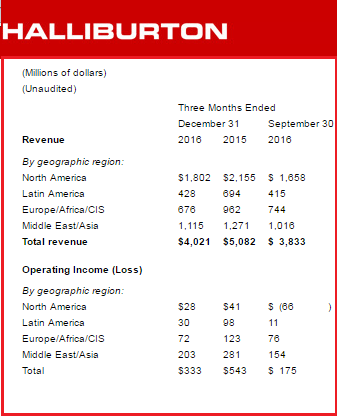 Perhaps the most important aspect of Halliburton's fourth quarter results was that the company's core North America business roared back to profitability after reporting losses in the prior quarters. The unit, which has historically made the largest contribution to the company's top and bottom-line, swung to an operating profit of $28 million after reporting three consecutive losses of $66 million in Q3, $124 million in Q2 and $39 million in Q1. The improvement came on the back of an uptake in drilling activity in onshore United States and Canada as well as increase in service pricing. The company also posted an impressive 27% sequential increase in operating income from the international markets.
In North America, Halliburton's revenues climbed by 9% sequentially, which compares against the 23% increase in average US rig count in the same period. The significantly smaller growth in revenues as compared to drilling activity might indicate that Halliburton has failed to gain market share, but this is the result of the company's business strategy rather than any operational problems. Halliburton has previously said that as the market turns, the company would increase its focus on improving its profit margins, and is even prepared to sacrifice its market share if it has to. The decline in revenues is likely the result of that decision. But this should also have been accompanied by improvement in margins. And Halliburton has delivered on this front as well.
Halliburton managed to expand its profit margins on a sequential basis. The company reported adjusted operating income of $276 million, which translated into operating margin of 6.86%, more than twice as large as the Q3-2016 margin of 3.3%.
Mr. Market has initially reacted negatively to Halliburton's results, which I believe is too harsh. The stock was down almost 2% on Monday morning, at the time of this writing. The company did miss revenue estimates, but I believe the results were largely positive. The company's bottom-line is growing faster than Wall Street's estimates, the North America business is profitable again and margins have also expanded. On top of this, Halliburton has also outperformed Schlumberger.
On Friday, Schlumberger reported its fourth quarter results. The company did not beat earnings estimates, though its profits were in-line and revenues came in ahead of estimates. However, its revenue and adjusted earnings growth of almost 1% and 8% respectively on a sequential basis seems modest when compared against Halliburton's strong results. Moreover, Schlumberger, unlike Halliburton, actually posted a drop in operating margins in the fourth quarter as compared to the third quarter.
Moving forward, I believe Halliburton will likely continue to report better growth numbers, in terms of revenues, earnings and profit margin, than Schlumberger. That's because Halliburton is a North America focused company. Before the start of the downturn, in 2014, Halliburton got more than half of its revenues and almost 70% of its operating income from North America. Schlumberger, on the other hand, is an international-markets-focused company which generated around a third of its revenues and less than 30% of operating income from North America in the same year.
The great thing for Halliburton is that it's the North American market which is quickly turning around as shale drillers put rigs back to work. The international markets have just started to show some signs of life, as discussed by Schlumberger's management during the earnings call, which is in stark contrast to North America where rig count has been largely climbing since summer. The exploration and production spending in North America is expected to climb by 30% in 2017, which should support further uptake in drilling activity as well as improvement in pricing levels. That will continue to fuel Halliburton's turnaround.
Note from author: Thank you for reading. If you like this article, then please follow me by clicking the "Follow" link at the top of this page.
Disclosure: I/we have no positions in any stocks mentioned, and no plans to initiate any positions within the next 72 hours.
I wrote this article myself, and it expresses my own opinions. I am not receiving compensation for it (other than from Seeking Alpha). I have no business relationship with any company whose stock is mentioned in this article.
Additional disclosure: I own shares of funds that may hold a long position in HAL, SLB