Trump Rattles Biotechs, But Bigger Risks Remain
We've written about how President Trump's tweets have moved stocks (and how Twitter (NYSE:TWTR) has failed to cash in), but Twitter isn't President Trump's only medium for moving markets. As Seeking Alpha contributor Ian Bezek pointed out last week (Trump Slams Biotechs), Trump's press conferences can rattle stocks too.
In last week's case, it was Trump's comment about how the federal government's Medicare Part D prescription drug program is prohibited from negotiating drug prices with manufacturers (since Medicare Part D is an oligopsony buyer, some fear its negotiating would turn into de facto price controls). That was enough for Bezek to urge caution for biotech investors:
For biotech investors, the industry remains under serious pressure. I saw the term "uninvestable" thrown around more than once following Trump's press conference. You had Clinton bashing drug companies on the campaign trail, she loses, and yet her alternative now says that they are "getting away with murder." It's a lose-lose situation politically.

That's not to say avoid the sector completely. But do be careful and pay close attention to valuations.
The political risk facing the biotechs (and healthcare more broadly) may not be limited to the prospect of government price negotiations. Karl Denninger (Why We're Doomed) argues that the high cost of healthcare in the U.S. is driven by illegal collusion and pricing policies by the industry. Citing 15 U.S. Code, Denninger writes:
Every medical provider of any good or service, whether it be a doctor's visit, a drug, a procedure, a device or anything else must be required to have one price that is charged to every person equally, irrespective of how they pay or what sort of insurance (if any) they carry and irrespective of where such a product or service is sold, absent a reasonable difference related to the cost of delivery or manufacture in a given locale.
Denninger thinks we're doomed because he doesn't believe the federal government will crack down on high, opaque pricing and healthcare costs will eventually blow up the federal budget. Either way, it would seem, there's some political risk on the horizon for biotechs. So if you're invested in the sector via the SPDR Biotech ETF (NYSEARCA:XBI), and still bullish, we'll look at a way of staying long while limiting your downside risk.
Adding Downside Protection To XBI
One of the challenges of using hedging to limit risk can be the cost, but after experimenting with different parameters using the Portfolio Armor iOS app, we found a cost-effective hedge for XBI (if you want to find optimal hedges without the app, and are willing to do some homework, follow the method here). This hedge is designed for investors unwilling to risk a drawdown of more than 16% over the next several months.
This was the optimal collar, as of Friday's close, to hedge 1,000 shares of XBI against a greater-than-16% drop, while not capping your potential upside at less than 10% by mid-June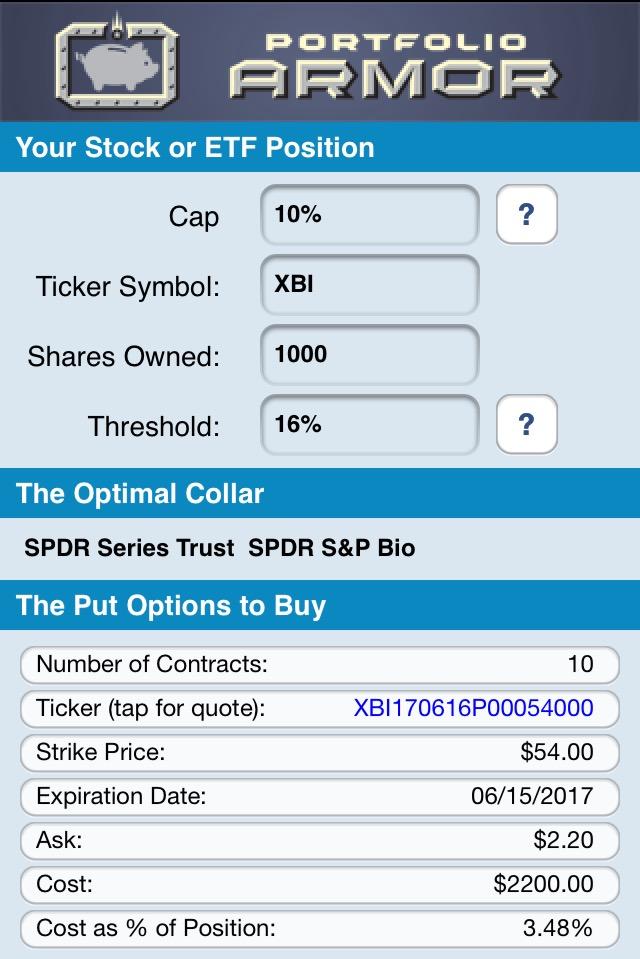 In the put leg of the collar (above), you can see the cost was $2,200, or 3.48% of position value (calculated conservatively, using the ask price of the puts). In the call leg (below), the income generated from selling the call leg was higher: $2,520, or 3.99% of position value (also calculated conservatively, using the bid price of the calls).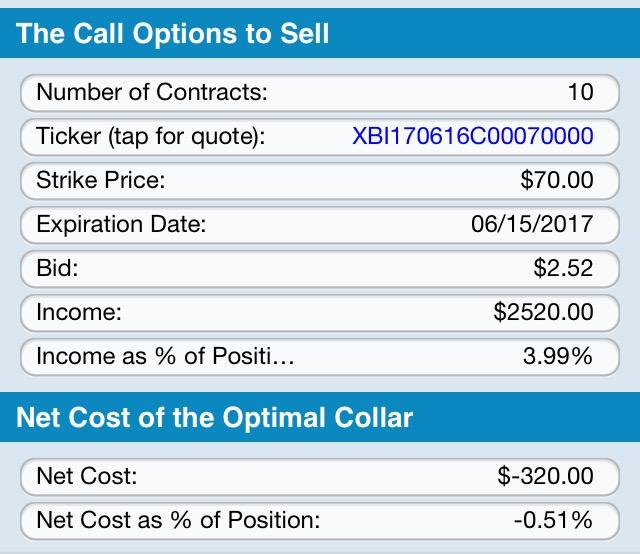 So the net cost of hedge was negative, meaning you would have collected $320, or 0.51% of position value when opening it on Friday. Of course, since the cost was calculated conservatively, you would likely have collected more than $320.
In this case, we used 10% as a cap for two reasons: it was higher than the potential return our website estimated for XBI, and it resulted in a negative cost. If you own XBI components such as Acadia (NASDAQ:ACAD) or Amgen (NASDAQ:AMGN), you can try the same method to hedge, but you may want to experiment with different caps and thresholds to gauge the cost.
Disclosure: I/we have no positions in any stocks mentioned, and no plans to initiate any positions within the next 72 hours.
I wrote this article myself, and it expresses my own opinions. I am not receiving compensation for it (other than from Seeking Alpha). I have no business relationship with any company whose stock is mentioned in this article.