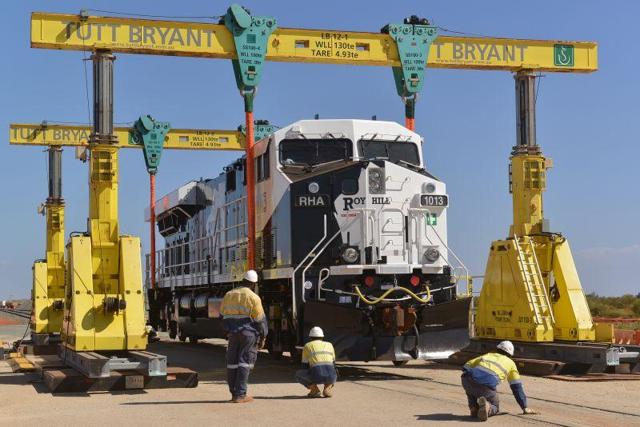 For General Electric (NYSE:GE) Q4 was another disappointing quarter. The company reported revenue of $33.09 billion and eps of $0.46. Revenue missed estimates by over $500 million. GE closed down over 2% Friday. I had the following takeaways on the quarter:
The Top Line Remains Anemic
GE shuttered its Appliances business which it considered non-core. It has also sold off parts of GE Capital, its financing arm, rather than having the unit become regulated as a bank. GE Capital previously provided hedge to the cyclicality in the industrial segments. Standalone, GE's industrial segment is having a hard time generating top line growth. It Q4 revenue was flat Y/Y.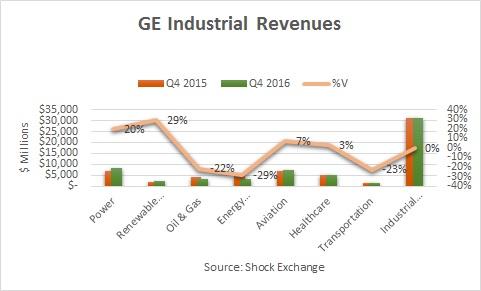 The company reported 0% revenue growth, yet core organic growth was -1% and 4% with the inclusion of the Alstom acquisition. Organic growth in orders was -3% and 4% with the inclusion of Alstom. None of these results are anything to write home about, and unbecoming of the growth company GE used to be.
Power (up 20%) and Renewable Energy (up 29%) carried the quarter. Power generated a 16% increase in orders, aided by Alstom; core orders were down 4%. Renewable Energy had core order growth of 48% on higher wind and service orders.
The results were hampered by high double-digit revenue decline for Oil & Gas and Transportation. Oil & Gas experienced revenue declines in nearly all of its operating segments. Its total revenue and revenue from Surface Technology was off 22% and 24%, respectively. Surface Technology should rebound faster than the rest of the segment given its exposure to North America land drilling. This did not happen. The segment's revenue is also in sharp contrast to Schlumberger's (NYSE:SLB) Q4 results. Schlumberger's total revenue and revenue from North America was off Y/Y by about 8% and 10%, respectively. It gives credence to my thesis that Oil & Gas is a hodge podge of businesses with no clear direction or scale.
Transportation orders were off 58% after the non-repeat of a large order from India; revenue was down 23%. The segment provides freight and passenger locomotives, signaling and communications systems and rail services; GE also offers repair and upgrade services and wreck repair. Railroads have cut capex amid declining rail traffic and I do not expect those cuts to abate anytime soon. Oil & Gas and Transportation represent over 15% of total revenue. They could be thorns in GE's side through the first half of 2017.
Outlook
GE's core industrials operations still appears to be a black block. It is hard to predict which segments will rise or fall in a given quarter. CEO Jeffrey Immelt believes the company's $31 billion in revenue will deliver 3% - 5% organic growth in 2017. The Power segment will likely lead the way again, but the Company must also get additional traction from Alstom. Immelt is comfortable with the projection given the company's 4% organic growth in Q4 2016.
The company's operating profit margin was 19%, up from 18% in the year earlier period. Management believes it can increase margins by 100 basis points. If the top line grows I believe GE can get there on efficiency gains and potential cost cuts. Rising revenue and improving margins could lead to respectable gains in operating profit.
The merger of Oil & Gas with Baker Hughes (BHI) was a master stroke by GE because it generates necessary scale. However, I remain suspect of the on the $14 billion combined revenue from Newco in the second half of 2017. Quarterly revenue for Baker Hughes and Oil & Gas is trending at less than $6 billion. If Newco does not hit the revenue estimate then it could be difficult to meet expected EBITDA margins and cost synergies. The deal still makes sense, yet it might not be the financial home run GE is expecting.
Conclusion
Top line growth of 3% - 5% does not justify GE's 26x p/e multiple. Avoid the stock.
Disclosure: I am/we are short BHI, SLB.
I wrote this article myself, and it expresses my own opinions. I am not receiving compensation for it. I have no business relationship with any company whose stock is mentioned in this article.