Media was a mixed bag in 2016. However, media is in a good place for 2017 - which sounds like a conundrum. As, in an industry where cord-cutter and the cord-nevers are driving the shift toward streaming, many old world media companies are struggling. Yet, CBS (NYSE:CBS) has been a standout, up over 30% in the last year. It could also be set up for a solid 2017 as M&A heats up in the industry.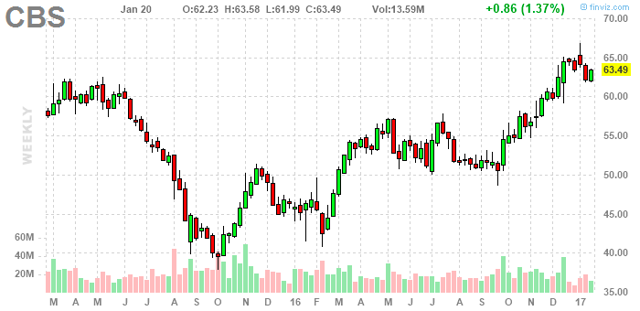 CBS has withdrew its proposal to merger with Viacom (NASDAQ:VIAB), but that doesn't mean there aren't other opportunities out there for CBS - AMC Entertainment (NASDAQ:AMCX) perhaps - or it could even be a buyout target itself. That's right, CBS had a solid year in 2016, but remains cheap and is 'set' up for more upside. It has the broadcast networks that are holding up well - unlike Viacom's Nickelodeon and MTV networks. As well, CBS has a stronghold in the sports market (notably with March Madness and the NFL) which still attracts a lot of advertiser dollars.
CBS' move to step away from merging with Viacom was a positive. CBS CEO Les Moonves appears to have a plan to go it alone, citing its stronghold in TV production and success in over-the-top (streaming) offerings. As well, lest we forget that CBS also owns the premium Showtime network. The entertainment business generates over half its operating income and should continue to grow nicely. Let's face it, CBS has a history of continuing to spin off TV shows that attract viewers. There is too many CSI and NCIS spinoffs to count these days, but they still get the viewers. CBS' presence in the broadcast space also a big advantage. Where, as viewers move away from the cable networks, the broadcast networks are still in over 100 million households. Plus, broadcast network ratings continue to top cable rating and will continue to allow advertisers an ability to reach viewers.
So while much is being made of the exodus of cable subscribers, CBS is perhaps getting lumped with the other bad apples. However, it's a very different company, than say Viacom. CBS will continue to generate cash from advertisers as it's one of the few cable/media companies positioned to keep bringing in 'eyeballs.' As well, CBS has had early success with streaming and over-the-top offerings. It's a nice blend of cable opportunities, with Showtime on the premium side and on the basic side it has a stronghold with NFL, college football, etc. The sports market allows advertisers to reach a male market aged 18-49 that is not easily accessible. Lest we forget that live sports is relatively insulated from DVRs and streaming. All this is a very advantageous network for advertisers, one of the few that still allows these advertisers the ability to reach a mass audience. It's shaping up to be the best media bet in 2017.
Disclosure: I/we have no positions in any stocks mentioned, and no plans to initiate any positions within the next 72 hours.
I wrote this article myself, and it expresses my own opinions. I am not receiving compensation for it (other than from Seeking Alpha). I have no business relationship with any company whose stock is mentioned in this article.