If you're an International Business Machines (NYSE:IBM) investor, you know how frustrating it is. Every day, the company receives upgrades and raised price targets. We see IBM post a record-breaking 8,088 patents for 2016. IBM beats on over 80% of its earnings reports. And yet the stock seems to go nowhere.
I'm happy about all this. And not just because IBM lied to me in an attempt to sway my readers toward a more positive image of the stock. Nor am I happy because my earnings analyses on IBM keep proving to be correct. No, I am happy because IBM investors are not being fooled by the metrics.
Okay, so we have a record number of patents. Like Netflix subscribers, this is not a surrogate for revenue, cash flow, or profit. If we actually dig into the revenue, cash flow, and profit, we see they care not about the number of patents IBM has created - those patents are not producing value for investors and quite the contrary: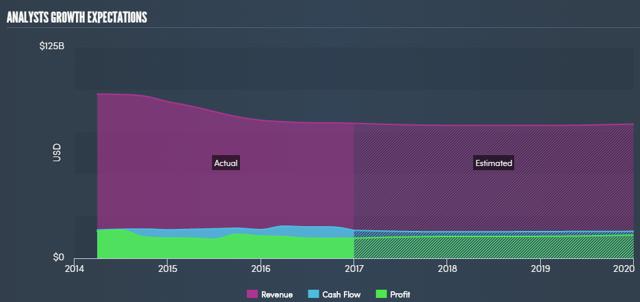 So bravo IBM investors for not buying into the company's bragging rights and the words of the analysts in bed with the company - those very analysts that allow the company to beat on EPS nearly 9 out of every 10 earnings reports. IBM investors are not fooled on earnings, and nor should they be, as earnings is the worst time to invest, with the stock tanking on nearly every earnings report (the exception being Q4, which I mentioned here).
By managing investors' expectations of IBM, privileged analysts gain more privilege and access to company information, which is the life-blood of most analysts. Few analysts paint an objective picture of the state IBM currently finds itself in. Jefferies does a decent job, pointing out that the stock price is well ahead of itself and giving IBM a 25% downside.
Jefferies accurately portrays the recent earnings report as an "operational miss." We have seen revenue decay while the company accrues more and cheaper assets: more patents and cheap foreign labor to replace its layoffs of expensive American workers. So how is IBM still beating on its earnings and "growth?"
Well for one, the company is paying 40% of its previous tax rate. One decade ago, the company was striving and growing all the while paying 25% and more in taxes. The most recent earnings was posted at a 9.6% tax rate - is this really a win for investors? Should we not be expecting actual growth instead of government leniency?
What does IBM have for the past decade? No adequate competition in the cloud computing sector: Microsoft (NASDAQ:MSFT) and Amazon (NASDAQ:AMZN) are winning there, with Google (NASDAQ:GOOG) about to overtake IBM in market share: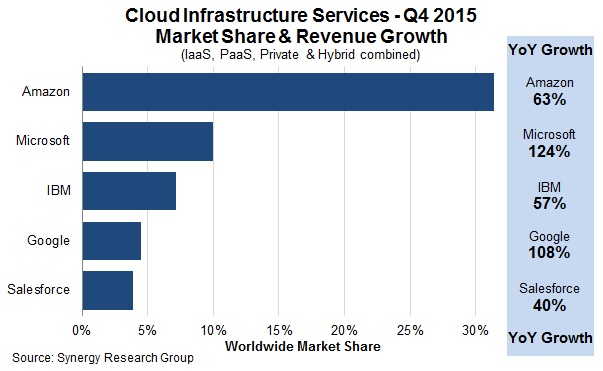 IBM has Watson, so that's… something. But what does IBM have to show of it? Answer: A debt problem, which is being ignored by both the company and investors: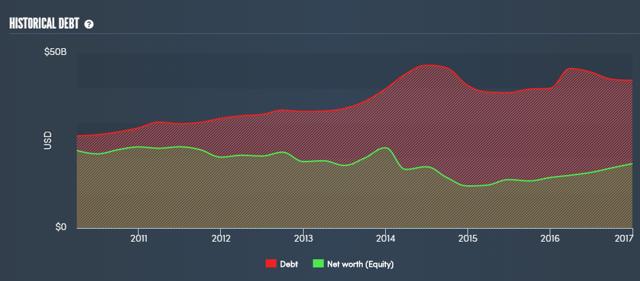 Clearly, IBM cannot handle debt reduction. Are we then expected to believe that IBM can more triple its net worth so that debt will be overtaken? Didn't we just see a chart of declining revenue and stable cash flow as well as profit?
In the next 5 years, due to bond and coupon maturation, IBM will see another 20% increase in its debt. Can net worth keep pace or exceed this rate? Do most investors even care? Or is the backing of Buffett enough to keep holding? When do we start making our own analysis and decisions? Hopefully now. Let's analyze the facts.
Fact: IBM Q4 beat expectations, as they do over 80% of the time. Status quo. No reason for added bullishness. The beat was as a result of managed expectations, tax incentives any small business owner would beg for, and in spite of declining margins.
Fact: IBM has not seen revenue growth in over a decade. This, in combination with declining margins means that we have no method of spinning the reported EPS as positive.
Fact: IBM has undergone a decade-long process of layoffs, often revoking the promised severance packages (i.e., punish employees for the sake of the shareholders). Whether you agree with that move depends on your ethics - and who am I to judge? However, if you think that the replacement of skilled workers with lower-cost, lower-skilled ones is good for the company, you should be re-evaluating at least one aspect of your judgment.
IBM investor? I used to be one, too. But over the years, the company has left an increasingly bad taste in my mouth. I think that IBM's emphasis on keeping up the illusion of moving forward will eventually come back to bite it, and I don't want to be holding long when it happens. But hey, there's always Watson!
Sources: All unlabeled figures were created by me from data pulled from Yahoo and ADVN through R. Charts with blue backgrounds are from Etrade Pro. Fundamental charts from a paid subscription at simplywall.st.

Author's note: Get my articles as soon as they are published by clicking the big orange "follow" button at the top of this page. Make sure you choose "real-time alerts." Trade alerts sent through "Copy My Trades." Find out more about the Seeking Alpha Investors' Summit here. Exposing Earnings - click here for my earnings predictions. To- date, we are 94% accurate on earnings report predictions.
Disclosure: I/we have no positions in any stocks mentioned, and no plans to initiate any positions within the next 72 hours.
I wrote this article myself, and it expresses my own opinions. I am not receiving compensation for it (other than from Seeking Alpha). I have no business relationship with any company whose stock is mentioned in this article.