This article proposes 3 different investments offering the retiree a good current return while at the same time protecting capital. Two suggestions are REIT industry shares and the third is a healthcare issue.
Real Estate Securities Income Fund (NRO)
The first issue is the Real Estate Securities Income Fund (NYSEMKT:NRO), a Real Estate CEF created by Neuberger Berman in 2003. Over the past year total return for NRO was 10.84%, for the past 3 years it was 11.93% and 12.46% for the past 5 years. Most of these returns were paid to NRO investors in the form of dividends. NRO's current distribution is 9% paid monthly. A graph of its market price and dividends over the past 5 years is shown below.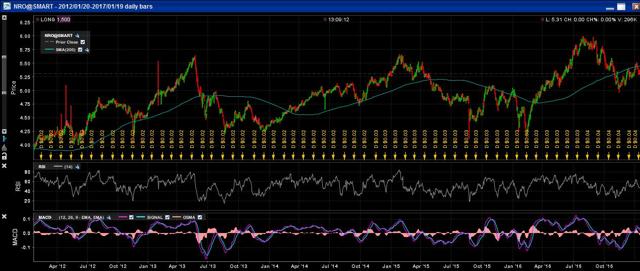 Source: Interactive Brokers
As of 1/19/2017 NRO was selling at an almost 10% discount to NAV at $5.83 with a closing price of $5.26. It uses 26% leverage which accounts for 1% of its high expense ratio of 2.73%. Despite this fund's lofty expense ratio, returns are high enough to justify including it in one's account. The top 10 holdings as 12/31/16 by dollar value are:
PUBLIC STORAGE REIT
STARWOOD PROPERTY TRUST INC REIT
OMEGA HEALTHCARE INVESTORS REIT
BROOKFIELD PROPERTY PARTNERS LTD PART
HIGHWOODS PROPERTIES INC REIT
KIMCO REALTY CORP REIT
RETAIL OPPORTUNITY INVESTMEN REIT
NORTHSTAR REALTY FIN PUBLIC
EPR PROPERTIES REIT
PUBLIC STORAGE PR-Y
Hersha Hospitality Trust, 6.50% Series E Cumulative Redeemable Preferred Shares (HT-E)
Hersha Hospitality Trust, 6.50% Series E Cumulative Redeemable Preferred Shares (HT-E CUSIP: 427825708) is a preferred stock to help the retiree keep the money coming in. HT-E closed at $23.24 on 1/19/2017, offering a 7% yield. This preferred does not get the 15% preferential tax rate so it is best placed in a tax-protected account. HT-E has not been rated by Moody's or S&P however according to S&P Hersha Hospitality Trust (NYSE:HT), the company behind this preferred stock, has been growing revenue and net income over the past 5 years. It is a going concern that has the ability to pay the preferred dividend going forward.
GlaxoSmithKline plc (NYSE:GSK)
The third issue to consider is GlaxoSmithKline plc , a British healthcare company that engages in the creation, discovery, development, manufacture and marketing of pharmaceutical products. TDAmeritrade points out that it produces and distributes 1.9 million vaccines every day all across the world. It develops and markets products that help with wellness, oral health, nutrition and skin health. It is also active in other areas such HIV and other infectious diseases, oncology, inflammation, respiratory and rare diseases.
It closed at $38.75 on 1/19/17 yielding a bit over 5% selling well below its 52 week high of $44.65. This same company had a high in 2014 of $56.70 but has been on downward spiral since. The 5 year graph for GSK is displayed below.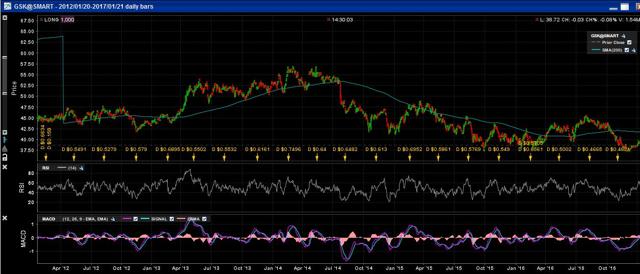 Source: Interactive Brokers
Zacks suggests that GSK is relatively undervalued when compared to its peers. Its trailing PE is 14.79, far below the medical sector's PE ratio of 18.04. The equity research firms Ford and Jaywalk consensus placed a buy on GSK this past week. Considering the size and reach of this company, the dividend looks safe with the possibility of future capital gains. One other consideration is the relationship between the British pound and the US dollar. If Britain's pound rebounds against the dollar it will raise the dividend in US dollars which is a distinct possibility in the near future.
Conclusion:
These 3 alternatives can generate cash for retiree living expenses. NRO pays monthly and offers a 9% yield. Its 25% leverage can be problematic in a down market since it increases the descent of market prices but on the other hand it enlarges the dividend. Renting money at 2% to gain 7-9% gives this CEF the ability to juice up its returns. It currently sells at a discount that gives 9% more value for one's investment dollar.
HT-E is a preferred issue that sells below the call price of $25.00. This hospitality REIT is growing and is in a position to continue paying the 7% yield it currently offers. GSK is a worldwide pharmaceutical firm that offers a 5% yield with the possibility of capital gains in the future.
These 3 issues offer relatively safe yields that help a retiree keep one's capital and pay living expenses with their dividends.
Disclosure: I am/we are long NRO, HT-E, GSK.
I wrote this article myself, and it expresses my own opinions. I am not receiving compensation for it (other than from Seeking Alpha). I have no business relationship with any company whose stock is mentioned in this article.