Election Speculation
We cover numerous consumer discretionary stocks on Seeking Alpha, and there is none bigger than Amazon (NASDAQ:AMZN), a company destined to take over the world of retail as we know it. How this story plays out amid new leadership and economic policies remains to be seen. The first 100 days starts now, and expectations for the economy, and markets, seem priced in for many bears and skeptics.
Bulls, however, point to consumer sentiment, which popped to eight-year highs in December following the election. The past two months, Wall Street kept reminding us about corporate tax cuts and repatriation, which we cautiously dub deregulation speculation. After some post-election jitters, Amazon's stock finally got going again as investors celebrated Trump's potential policy changes.
December Reuters/UofM Consumer Sentiment: 98.2 vs. 98.0 expected and 98.0 prior. Index of Consumer Expectations comes in at +5.0% M/M and +8.2% Y/Y to 89.5. The results show confidence quickly rising, and the numbers month-over-month and year-over-year jumped with election results in the rear-view mirror.

Surveys of consumers chief economist, Richard Curtin, says this about the results:
While the surge in confidence following Trump's surprise election ended by mid December, it nonetheless led to the highest level of the Sentiment Index since January 2004. An all-time record number of consumers (18%) spontaneously mentioned the expected favorable impact of Trump's policies on the economy. This was twice as high as the prior peak (9%) recorded in 1981 when Reagan took office."
However, Curtin reminds us of just how divided consumers feel about the political changes on the horizon, and of just how little we know about future policy (emphasis mine):
To be sure, nearly as many consumers referred unfavorably to anticipated changes in economic policies, but those references were less than half as frequent as the peak level recorded just three years ago (16% vs. 37%). Consumers anticipated that a stronger economy would create more jobs, although expected wage gains were quite meager. Smaller income gains were offset by record low inflation expectations. Needless to say, the overall gain in confidence was based on anticipated policy changes, with specific details as yet unknown. Such favorable expectations could help jump-start growth before the actual enactment of policy changes, and form higher performance standards that will be used to judge the Trump presidency."
The Death of Retail ETF Landscape
Some reports suggest Amazon was responsible for nearly 60% of all e-commerce growth in 2015, and U.S. total online retail sales are expected to reach $500 billion by year 2020. No wonder the stock sits as the top component of nearly every consumer discretionary ETF. The top six consumer discretionary ETFs, according to ETFdb.com:
Top Consumer Discretionary ETFs according to AUM. Chart from ETFdb.com
Out of these six ETFs listed, the top three allocate more than 10% of the fund to Amazon, which should signal some alarms. First a look at the top 10 holdings for the biggest consumer discretionary ETF, Select Sector SPDR Fund (NYSEARCA:XLY):
AMZN 12.59%, Comcast (NASDAQ:CMCSA) 7.12%, Home Depot (NYSE:HD) 6.82%, Disney (NYSE:DIS) 6.25%, McDonald's (NYSE:MCD) 4.34%, Starbucks (NASDAQ:SBUX) 3.63%, Priceline (NASDAQ:PCLN) 3.18%, Time Warner (NYSE:TWX) 3.05%, Nike (NYSE:NKE) 2.88%, and Lowe's (NYSE:LOW) 2.63%.
Next up, the Vanguard Consumer Discretionary ETF (NYSEARCA:VCR), founded by one of our investing heroes, Jack Bogle. The top ten holdings for VCR parallel XLY's holdings, and this is what is often referred to as smart money following market trends. The top ten for VCR is as follows:
AMZN 11.05%, Home Depot 5.30%, Comcast 5.22%, Disney 4.99%, McDonald's 3.45%, Starbucks 2.71%, Priceline 2.55%, Time Warner 2.44%, Nike 2.33%, and Lowe's 2.06%.
The iShares U.S. Consumer Services ETF (NYSEARCA:IYC), third on the list contains just over 10% of Amazon in the fund, as well as some different names compared to the top two. The IYC top ten holdings include:
AMZN 10.01%, Comcast 5.66%, Home Depot 5.42%, Disney 4.79%, Wal-Mart (NYSE:WMT) 3.62%, McDonald's 3.45%, Starbucks 2.88%, CVS Health (NYSE:CVS) 2.78%, Priceline 2.53%, and Walgreen's Boots Alliance (NASDAQ:WBA) 2.46%.
It should be noted that the FXD and XRT do not include Amazon in the top ten, and RXI currently allocates just over 9% weighting for the company. But at what point in time do fund managers decide enough is enough? Would you own a portfolio with such a heavy emphasis on one company? It seems everyone is overweight Amazon, and only contrarians would question such strategies. What does this kind of weighting say about the state of retail? And is this over-allocation or exuberance justified? And, most importantly, if the market experiences a correction, what happens to Amazon as ETFs sell-off in a world of algorithms trading on headlines?
As consumers moved from brick and mortar to online shopping, Amazon has been there, and the company's performance has been no less than historic this past decade with a plethora of bears shouting valuation concerns along the way. And as right as those bears might be, the stock defies gravity. The Amazon story is a story of growth, as well as domination, and everybody knows profitability can wait for another day, or year. Bears point to margins, and bulls tap growth, and the market rewarded the latter as physical retailers die on the vine. Amazon continues growing strong without many signs of slowing down, and with an average price target of $929 per share, analysts have fallen in love with the story.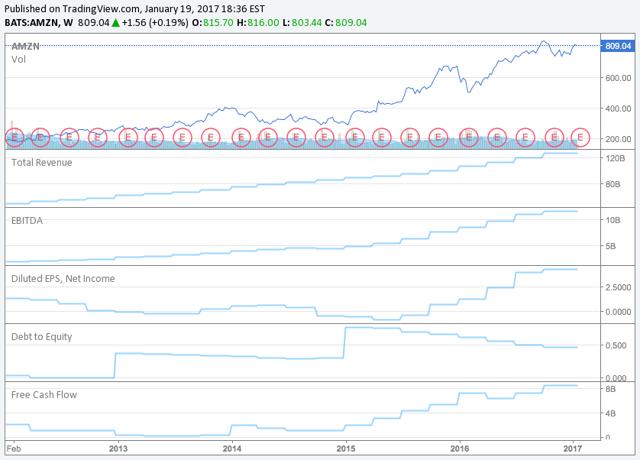 As shown above, revenue growth and EBITDA continue rising with the stock and free-cash flow finally starting catching fire in 2015 minus one hiccup early last year.
When it comes to ETFs, can investors justify this kind of weighting? First, consider Amazon's growth rates, and perceived market share, as well as the stock's performance this past decade, which is off the charts both in terms of returns, and valuation.
Fundamental Amazon: Valuation Vs. Growth
"The P/E ratio can be thought of as the number of years it will take the company to earn back the amount of your initial investment-assuming, of course, that the company's earnings stay constant." -Peter Lynch from One Up On Wall Street.
Determining how to value Amazon, or shorting the stock, has proved significantly futile this past decade. No real peer comparisons exist, except maybe Alibaba (NYSE:BABA) on an international scale, and historic valuation metrics do not apply to Amazon. However, some numbers raise red flags, and some numbers signal good times ahead. We simply separated the good from the bad, and will let readers decide which way the scales lean. All growth and valuation numbers via Finviz unless otherwise noted.
Bullish Numbers
EPS Growth: next 5 years = 36%, next year = 85%, this year = 339%, Q/Q = 214%
Sales Growth: past 5 years = 25%, Q/Q = 29%
Extraordinary numbers, no doubt. It's no wonder the stock cannot stop climbing. It should be noted that in the past five years EPS growth was negative (-13.10%), which illustrates a recent focus on margins and profitability. Operating margins come in at 3.2% with profit margins at 1.6%, and both numbers should be something for bulls to monitor in the coming year.
Bearish Concerns
Valuation metrics including: P/E = 185, Forward P/E = 91, PEG = 5.13, P/B = 21.53
Regardless of growth rates, market share, or perceived dominance, these numbers reflect years upon years of Amazon performing at these levels. These types of heavy valuation ratios are not easily explained and obviously not for everyone.
Earnings Estimates
Every amazing stock story needs earnings to continue the ride, and Amazon reports next week on February 2nd, which will include that all important holiday quarter. Great expectations? Taking a quick look at the estimates may help determine future direction, but then again, Amazon doesn't always trade with fundamentals. All earnings estimates courtesy of Thomson Reuters.

The takeaway: AMZN's current quarter consensus estimate has decreased notably over the past 90 days from 2.16 to 1.35, a loss of -37.4%, which trails the average Department Stores industry move of -13.0% during the same time period. This does not bode well for AMZN in the short term, just as valuation doesn't favor the stock in the long term. Great expectations seem to be sloping downward.

Perhaps investors can remember way back to early 2016 when Amazon reported a negative surprise for the 2015 holiday quarter (that hiccup mentioned earlier), and the stock dropped significantly. Of course, the broad market (NYSEARCA:SPY) experienced weakness early last year, and AMZN quickly returned as momentum shifted to the upside.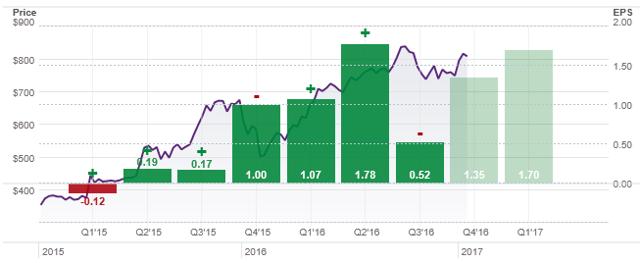 Sell The Inauguration!
Note that last quarter Amazon also reported a negative surprise and the stock dropped precipitously from the all-time highs hit earlier in the month. Trump politics aside, the stock slipped and recovered amid the broad market rally. AMZN sits within 5% of its high, and reports days after the Inauguration, which sets up as a classic sell the news event.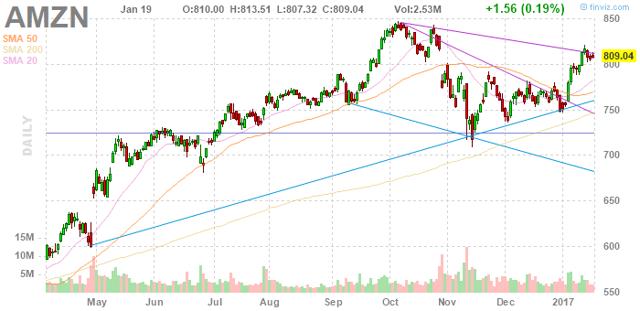 As mentioned, the stock recovered since that last earnings report as holiday quarter expectations helped solidify the bull case, which includes struggling brick and mortar retailers. As stories of empty malls and closing stores swirled throughout financial media channels this holiday season, Amazon found its swagger and momentum gaining nearly 8% so far this year. On a technical level, the stock looks in much better shape since the election, and sits above all relative moving averages. AMZN is getting hot again, which signals short-term overbought conditions. With holiday earnings expectations on deck, this type of enthusiasm for the stock should be expected.
Price targets for Amazon vary drastically, but only one analyst (46 total) rate the stock a sell, with 13 strong buys, 28 buys and four holds. As indicated below, the mean price target implies a nice return for the year (not all analysts provide price targets).
AMZN Price Targets
Mean: $929 High: $1,250 Low: $520
Implied Upside: 15%
In fact, Amazon received yet another upgrade today. As the country watched president Trump take the oath of office, Aegis capital initiated coverage on AMZN with a bullish price target of 953.00, which has yet to be calculated in the above mean targets. Just how bullish is Wall Street on Amazon? Take a look at last year's upgrades and notice the amount of analyst activity surrounding the stock when it hit all-time highs last September and October. This type irrational exuberance only strengthens the bear case, in our humble, contrarian view.

When everybody loves the same thing, should investors get worried? The quick answer, yes. But the bigger question remains: How long does Amazon continue trading in this epic uptrend? What happens to Amazon when or if the market takes a hit is anyone's guess, but history suggests that high-beta stocks with nosebleed valuations suffer the most. But Amazon is all that and much more, and therein lies the difficulty with any position, long or short.
There are at least two sides to every story, and very reasonable arguments exist for Amazon bulls and bears. Rather than regurgitate what the street keeps telling us about AMZN, we decided to highlight some cases here on Seeking Alpha. Last week SA contributor Gary Bourgeault argued that Amazon has a much more room to scale in the e-commerce retail market before saturation occurs. The thesis is simple and precise: online retail has a lot more room to grow, and Amazon will be there. Scale remains the key element as margins can wait another day.
Recently bears can point to AWS price reductions, and competition remains fierce and growing in the cloud. There is no shortage of Amazon bears on Seeking Alpha, but one of the most prolific and sensible analysis we've read comes from fellow SA contributor DoctoRX, who recently wrote four articles about Amazon, bearish and bullish. We encourage readers to check out the entire series, which begins with a shocking question, Amazon at $100 or $1,000?
The article describes the difficulty with the stock, and decisions of growth versus profitability, which seem to haunt the company despite mad success. However drastic a $100 price target sounds, it exemplifies the valuation problems with a stock like Amazon. As a market proxy, shorting AMZN should provide significant outperformance if a correction occurs in Trump's first 100 days, or throughout the year depending on conviction levels. Buying puts as opposed to an outright short position can help define risk. The goal: to protect a long portfolio from market turmoil.
The catalyst. Next week the company reports earnings and kicks off another chapter in the Amazon story, which contains the potential to shock the market should this Trump rally continue into next week. How long investors back the Amazon valuation story remains as one of the larger questions, and themes, Mr. Market must deal with at some point, and 2017 seems as good as place to start as any.
If you like discretionary stocks, check out our latest:
Weekly Restaurant Report: ICR Conference Highlight, Year of the Rooster 2017 Dividend Pick!
Disclosure: I/we have no positions in any stocks mentioned, but may initiate a short position in AMZN over the next 72 hours.
I wrote this article myself, and it expresses my own opinions. I am not receiving compensation for it (other than from Seeking Alpha). I have no business relationship with any company whose stock is mentioned in this article.
Additional disclosure: This article is intended for information, engagement & entertainment purposes only, and is not meant as investment advice or direction. Shorting stocks can be dark business. Investors are strongly encouraged to perform due diligence and/or consult with their financial advisor.