Please take note this is only one aspect in weighing the attractiveness or non-attractiveness of the companies mentioned as an investment and should not be used independent of other factors. This article examines one segment of the companies' businesses, and other factors such as valuation are not addressed.
Healthcare spending has been on the rise in China over the past few years. China's healthcare expenditures have increased more than six-fold from US$ 90 billion in 2004 to US$ 590 billion in 2014.

Source: marketresearch.com
China is the second largest healthcare market in the world and is one of the fastest growing healthcare markets in the world.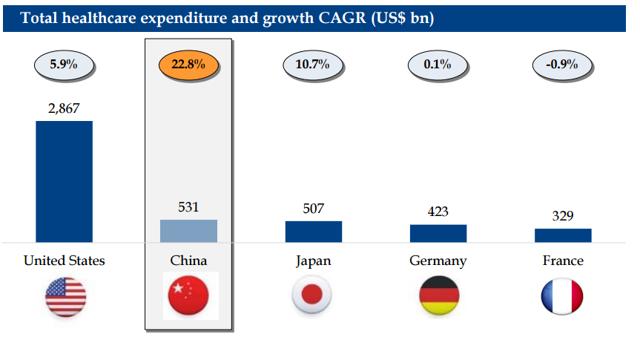 Source: CITIC Capital
Yet, the Chinese healthcare market is still relatively immature; healthcare spending as a percentage of GDP and per capita health spending are relatively low reflecting substantial potential for increases in the future.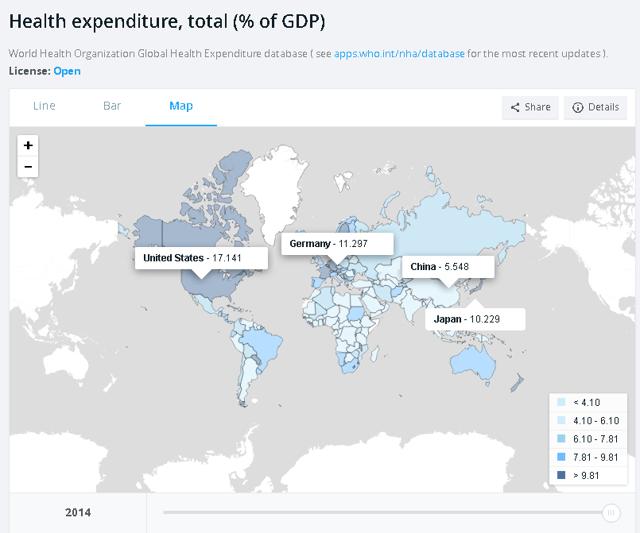 Source: The World Bank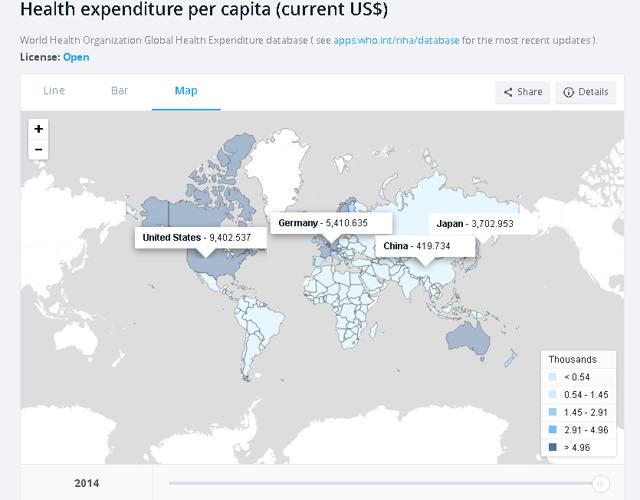 Source: The World Bank
China holds 22% of the world's population yet accounts for just 3% of global healthcare spending.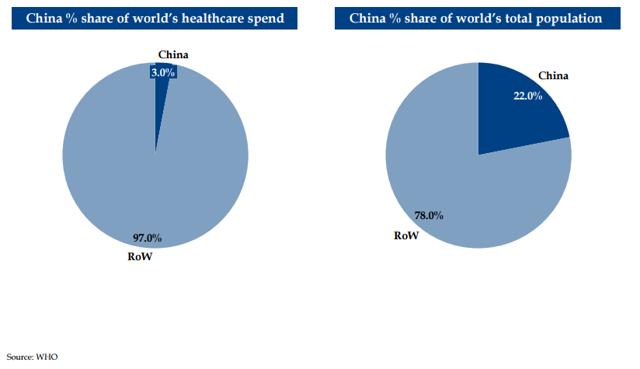 Source: CITIC Capital
China's aging population and urbanization are expected to be key growth drivers for China's healthcare market. These factors coupled with rising Chinese wages and improving living conditions, are expected to continue driving healthcare spending going forward.
After China's one-child policy was introduced in 1979, the country's fertility rate fell dramatically from almost 6 births per female to between 1960 and 1965 to 1.5 per woman between 1995 and 2014.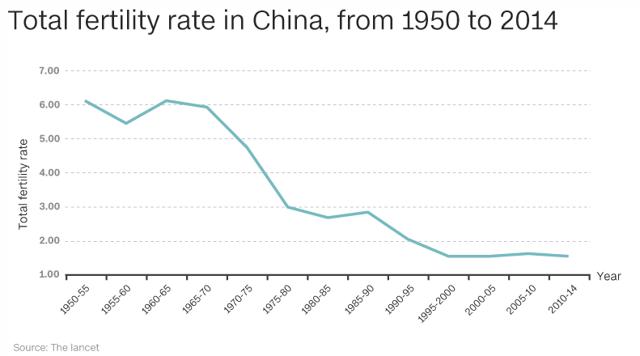 As a consequence, since the policy was introduced, the proportion of China's elderly population has been steadily rising.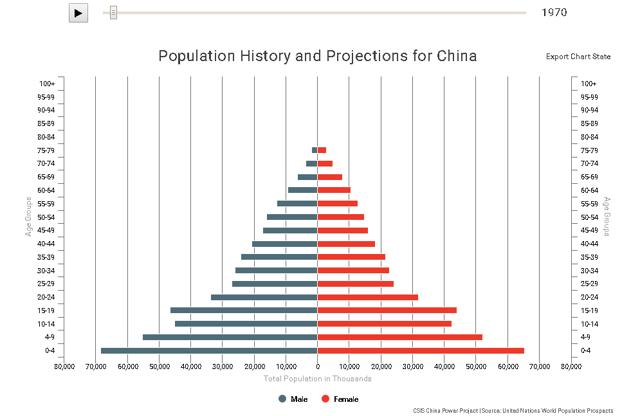 Source: Center for Strategic and International Studies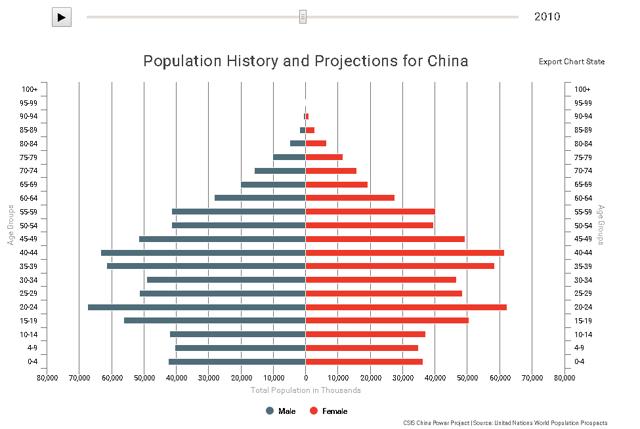 Source: Center for Strategic and International Studies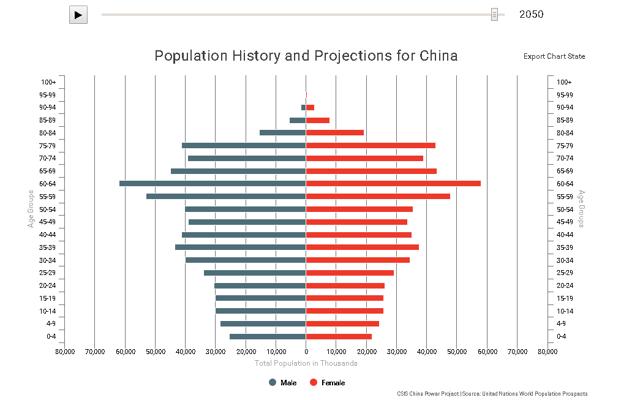 Source: Center for Strategic and International Studies
In 2015, around 10% of China's population was 65 and older, up from 3.4% in 1965.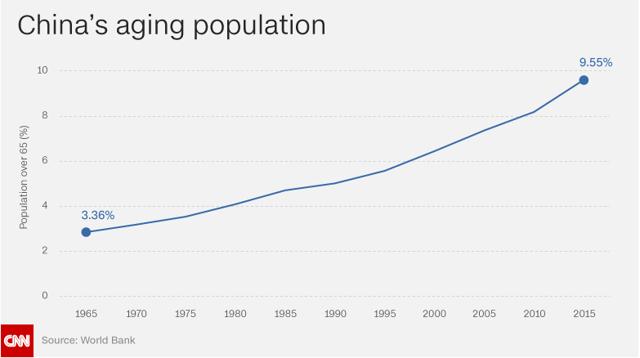 Source: CNN
According to UN population estimates, 138 million Chinese are aged 65 and older as of July 2015, a number that's greater than the combined elderly populations of Italy, Germany, Japan, France, and the U.S. And the number is projected to continue growing.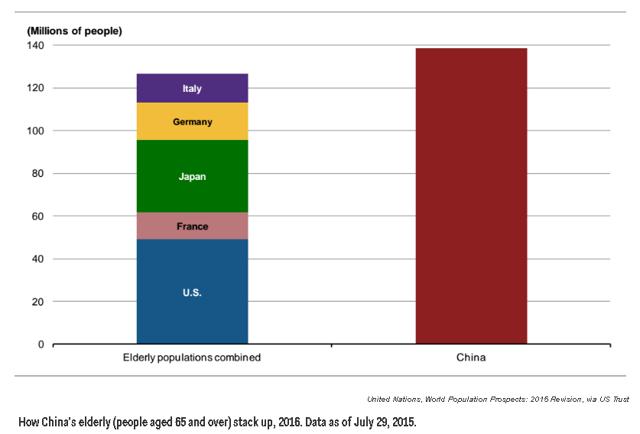 Source: Business Insider
By 2050, well over 300 million people in China will be 65 and older, accounting for one quarter of China's population, according to projections by the United Nations and the China Research Center on Aging.
A report by the US Census Bureau states that by 2050, China's projected elderly (over 65) population of 348.8 million will be approximately equal to the combined total projected populations of Japan, Egypt, Germany, and Australia, representing a huge growth market for healthcare companies.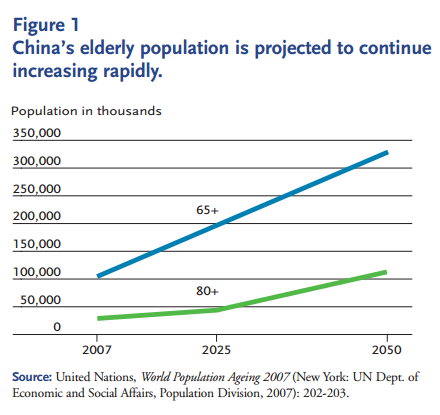 Source: Population Reference Bureau
This demographic shift presents a growth opportunity for China's healthcare market and a number of multinationals are positioning themselves to profit.
US personal care company Kimberly Clarke (NYSE:KMB), which has been operating in China for over 20 years, is targeting China's senior citizens with its adult diaper brand Depend.
China's adult incontinence market is still at a very early stage with adult incontinence product penetration estimated at around 3%. This is lower than countries such as Japan (80%), North America (65%) and Western Europe (58%). It is also lower than the world average which is 12%. A low penetration rate coupled with a growing elderly population which is already the largest in the world, suggests substantial potential for growth going forward. A report by research firm Report Linker forecasts China's adult incontinence product market to grow at a rate of around 25% over the next five years.
Researchers at Abbott Laboratories (NYSE:ABT) in Shanghai are testing new flavors for their line of nutritional drinks aimed at China's elderly Nestle (OTCPK:NSRGY) Skin Health launched a SHIELD Center (Skin Health Investigation, Education and Longevity Development), also in Shanghai, aimed at improving and restoring skin conditions and diseases of elderly folk and Johnson & Johnson has been making investments into China such as its Asia-Pacific Innovation Center in Shanghai (NYSE:JNJ), the J&J Global Lung Cancer Research Center, and a state-of-the-art pharmaceuticals plant in Xi'an.
China's urbanization rate is currently about 56% of the total population which is still lower than developed economies such as the United States (81%), South Korea (82%) and Japan (93%) according to data by the CIA (Central Intelligence Agency). China's 13th Five Year Plan (2016-2020) aims to increase the country's urbanization rate to 60% by 2020.
Rising incomes and urbanization brings about lifestyle changes which lead to increased demand for healthcare. Lifestyle changes including changes in dietary habits such as consuming processed foods and food high in sugar and salt, less physical activity, higher stress levels and environmental changes such as air pollution, contribute to increasing cases of high blood pressure, hypertension, respiratory problems and child obesity among other health issues.
As of 2014, in China 35.4 per cent of adults are overweight, 7.3 per cent are obese, and 23.8 per cent are physically inactive according to a report by the World Health Organization.
Consequently, prevalence of chronic diseases among Chinese has risen nine-fold over a period of 25 years. At about 110 million people (almost 10% of adults) China has the highest number of diabetics with about a third of the world's diabetics patients located in China according to the World Health Organization. In the U.S. the number is closer to 30 million.
The number of diabetics in China is expected to increase to 150 million by 2040.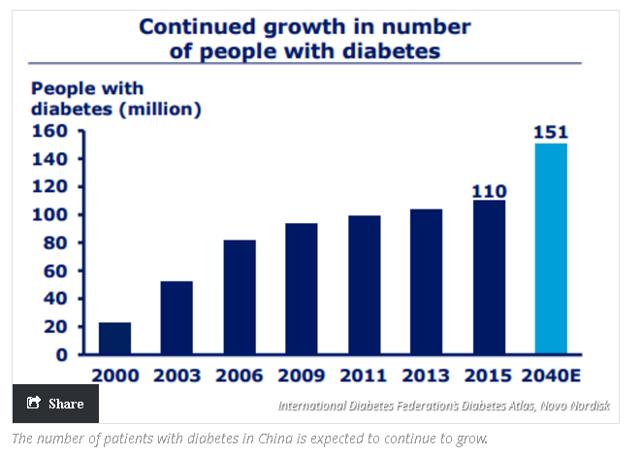 Source: Market Watch
The world's largest insulin maker and the biggest insulin maker in China Novo Nordisk (NYSE:NVO), together with Eli Lilly (NYSE:LLY) and Sanofi (NYSE:SNY), make up three of the world's leading insulin providers (together they account for over 95% of the world's insulin market). They are also the leading multinational insulin providers in China accounting for over 80% of China's insulin market, putting them in good position to benefit from increasing insulin demand in China.
Cancer is the leading cause of death in China since 2010, with almost 22% of global new cancer cases and close to 27% of global cancer deaths occurring in China. Lung, stomach, liver and esophageal cancer are the four most common types of cancers accounting for 57% of all cancers diagnosed in China. This compares with the United States where these types of cancers account for just 18% of total cancers diagnosed.
Lung cancer, is the most common type of cancer, and mostly affects elderly folk; it is the leading cause of death in men aged 75 years and older and is the most common type of cancer in women aged 60 years and older. Before the age of 60 years, liver cancer is the most common and leading cause of death in men, while among women aged less than 60 years, thyroid cancer and breast cancer are the more common types.
The good news however is that mortality rates have been dropping significantly since 2006, perhaps due to increased availability of cancer care. Mortality and survival statistics are better in urban areas than in rural areas where access to health resources and services for cancer control are relatively under-developed.
China has a number of homegrown cancer drug companies - BeiGene Ltd (NASDAQ:BGNE), Hutchison China MediTech (NASDAQ:HCM), Hengrui Medicine, and Betta Pharmaceuticals (which is backed by Sequoia Capital) are a few examples.
However, similar to China's insulin market, the Chinese cancer drug market is currently dominated by a Western brand i.e., Swiss firm Roche Holding AG (OTCQX:RHHBY) (OTCQX:RHHBF). According to a Deutsche Bank 2015 report, the other leading players are China's Qilu Pharmaceutical, Jiangsu Hengrui Medicine, Jilin Aodong Pharmaceutical Group and Britain's AstraZeneca (NYSE:AZN).
China's pharmaceutical market, already the second largest in the world, is projected to be worth US$ 1.6 trillion by 2020 according to a report by Global Data. Pfizer (NYSE:PFE) described China as one of the fastest growing pharmaceutical markets in the world and recently announced plans to build a biotech plant in China estimated to be worth around US$ 350 million.
While multinationals are poised to profit from this growth, with the Chinese government's enthusiasm to develop homegrown pharmaceutical companies, it is possible for Chinese firms to emerge as strong competitors which may restrict the profit growth of foreign drug companies. In the 12th Five Year Plan (2011-2015), the Chinese government marked life sciences as one of the "seven emerging strategic industries" and included policy support for local drug development through investing over US$ 1 billion in R&D, facilitating start-ups and encouraging the establishment of new R&D centers.
Between 2012 and 2014, life science research papers from China rose 30%. In chemistry, China has overtaken Germany, Japan, the UK and France to become the number two research nation behind the U.S.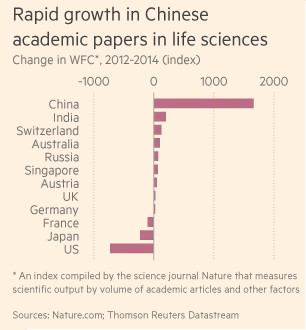 Source: FT.com
The Chinese government's R&D spending follows countries such as Switzerland, Germany, Israel and the U.S. where heavy government R&D spending benefited the pharmaceutical industry.
China' medical device market is the second largest in the world and has been growing at about 20% since 2009 according to CAMDI (China Association of Medical Device Manufacturers).
The industry is projected to grow from US$ 27.7 billion in 2014, to an estimated US$ 50.8 billion by 2020 according to a report by consulting firm GlobalData. Currently 92% of China's medical device technologies are from foreign multinationals. Siemens (OTCPK:SIEGY) is the dominant player in China's medical device industry, particularly in the diagnostics sector which is expected to post the highest growth of all medical device segments, rising from US$ 9.3 billion in 2014 to US$20.1 billion by 2020, representing a CAGR of 13.8%. Other companies poised to benefit are GE Healthcare (NYSE:GE), Roche, Philips Healthcare and Medtronic (NYSE:MDT).
Artificial intelligence is also making inroads in China's healthcare industry. Watson, the AI platform by IBM (NYSE:IBM) is being deployed in 21 hospitals across China to help doctors diagnose cancer.
Disclosure: I/we have no positions in any stocks mentioned, and no plans to initiate any positions within the next 72 hours.
I wrote this article myself, and it expresses my own opinions. I am not receiving compensation for it (other than from Seeking Alpha). I have no business relationship with any company whose stock is mentioned in this article.
Editor's Note: This article discusses one or more securities that do not trade on a major U.S. exchange. Please be aware of the risks associated with these stocks.