Is this the beginning of the end of Apple (NASDAQ:AAPL) as we know it? Has the largest market cap in the world finally become just too large? Bluntly, will the super-cycle scenario fears prove true or false? The latest quandary circling Apple is the fears of a super-cycle consumer, smash-and-grab for the iPhone 8. These fears sympathies a massive upgrade cycle for the now ubiquitous iPhone 8 leading to a slow, but inevitable decline in sales and shares.
Does your head hurt trying to understand this unique and obviously rational thought process? The contradictory and paradoxical nature of selling an entirely overpriced, too much of, and too many to quantify amount of products leading to Apple's untimely demise and the beginning of the ultimate end. What part about this doesn't make sense to you? Perhaps, all of it; if your a lover of logic.
However, if you indeed do, specialize in using logic - you might understand unequivocal facts. The fact we want to focus on here is the undeniable and indisputable fact that Apple will sell a metaphorical and literal amount in "tons" (units/volume/weight) of the new generation of iPhone.
This quite heavy fact and first answer of the super-cycle equation leads us to the second fear. This intense and soon-to-be never-ending inquisition into what will become nothing short of an extreme annoyance for Apple shareholders. Simply, the question will be, if Apple sells too many iPhones, will the shares have no place to go but downward?
Before we jump into that question though, let's take a closer look into how shares performed after previous large iPhone launches.
Starting with the first generation, the post-performance return was around 11% in about three months.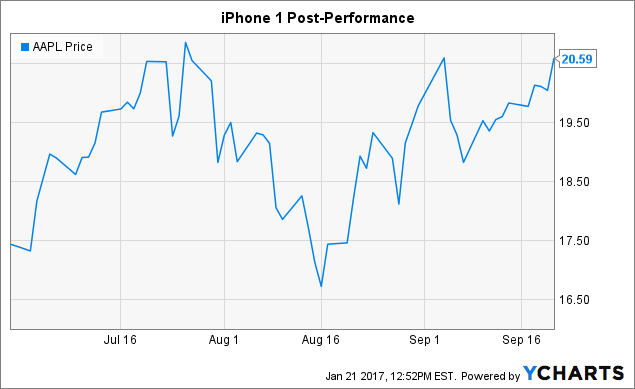 The iPhone 4 is next here and its post-performance return was around 10% in about three months.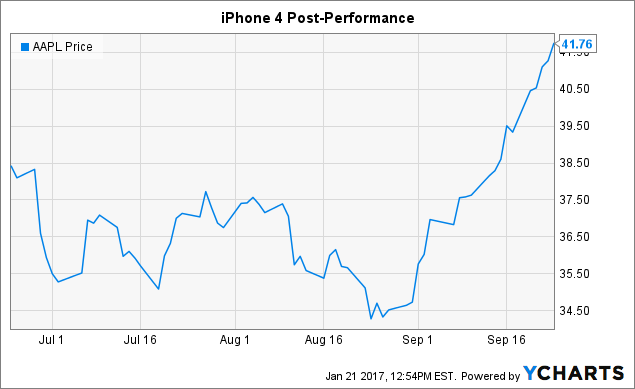 The iPhone 5 post-performance return was around (32%) in about three months.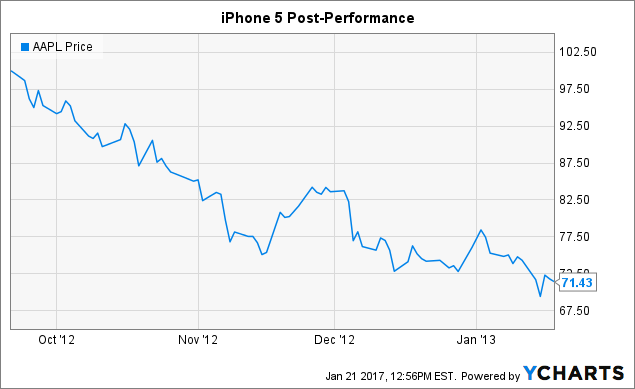 The iPhone 6 post-performance return was around 6% in about three months.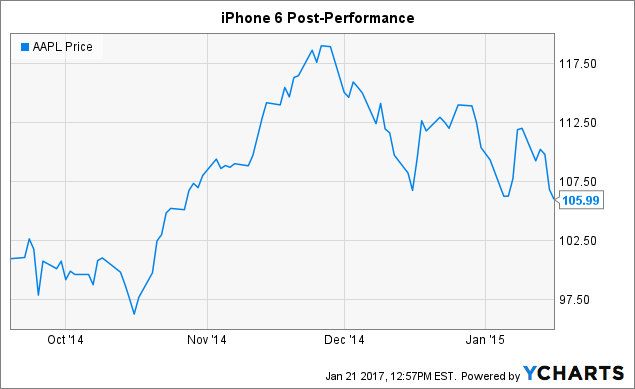 The iPhone 7 post-performance return was around 5% in about three months.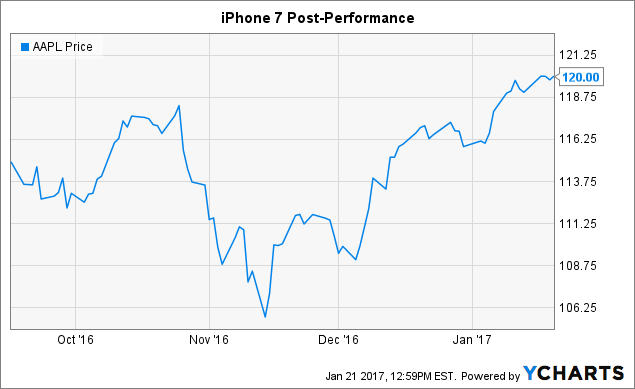 If you remove iPhone 5 post-performance and claim it as an outlier, we can determine Apple shares move up, on average, about 7%-8% in three months time. What about the iPhone 5 post-performance though? If we were to include the iPhone 5, we would determine that Apple shares exactly and absolutely move nowhere after three months of iPhone release post-performance.
Basically, what on earth happened with the post-performance return on shares following the iPhone 5? The answer, coincidentally, is the very question skeptics are asking now. You see, the super-cycle quandary of a conundrum has indeed happened before.
Firstly, every iPhone generation has been a success, that's a given. However, class and maturity came with the iPhone 5. Growing beyond the puberty of previous generations, the iPhone 5 was marketed as not only a serious piece of tech, but an extension of yourself. This was undeniably the first iPhone super-cycle. Everyone and their mother had to have one. Apple went on to sell nearly 100 million iPhone 5 units.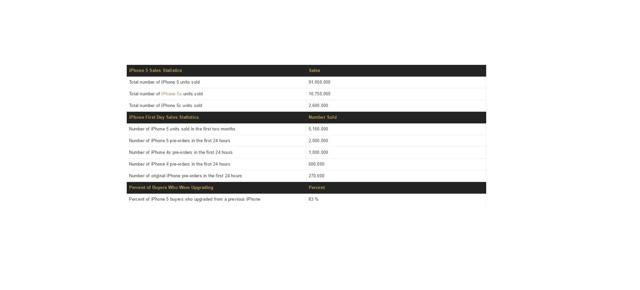 Source:Statisticbrain
The fifth generation of iPhone was consistently sold out and deemed by Apple as a runaway success. The numbers were staggering for the time - over 2 million pre-orders, over 5 million orders in 3 days (ex-international). This success of course, all preceding the over (30%) collapse in shares over the next few months.
This hellacious experience for shareholders was signaled as the death blow by skeptics. Their reasoning was actually very simple - Apple had reaped too much profit in too short an amount of time, and thus, there is no possible way they could ever hope to repeat it. Thus, revenue would decrease, profits would shrink, and ultimately shares would suffer.
The super-cycle quandary skeptics were decisively proven victorious for nearly a year and began their emphatic and deafening chants of I told you so.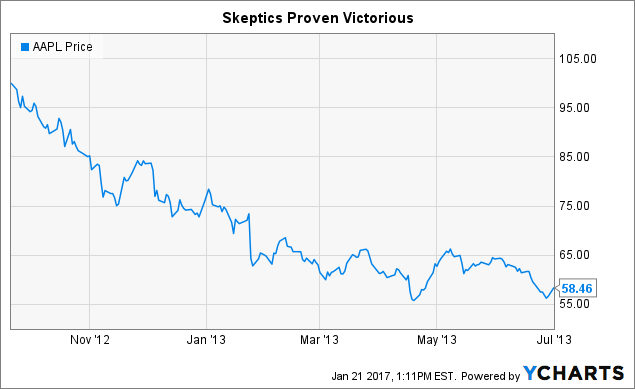 However, their seemingly infinite and obviously justifiable march on Apple's carcass would be null.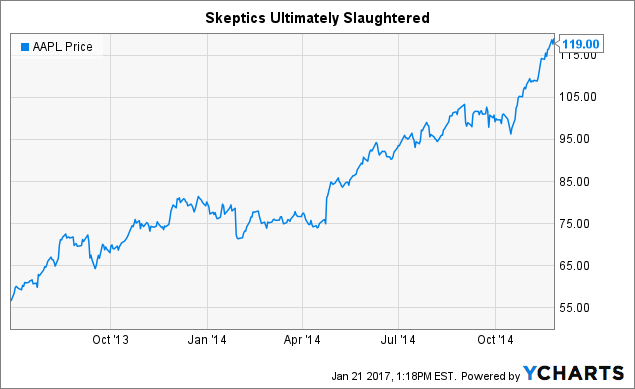 Apple's success ultimately triumphed leading to massive gains in shareholder wealth, while the skeptics fell back in the shadows.
The iPhone 4 was satisfactory. The iPhone 5 was excellent. Whether it was the aesthetic redesign, the larger, sharper screen, 4G LTE capabilities and etc., the iPhone 5 brought us the super-cycle. The iPhone 7 is satisfactory. The iPhone 8 might just be excellent.
Here's a list of the advanced jump in features the iPhone 8 might possess, gathered from rumors, suppliers, and analyst's alike.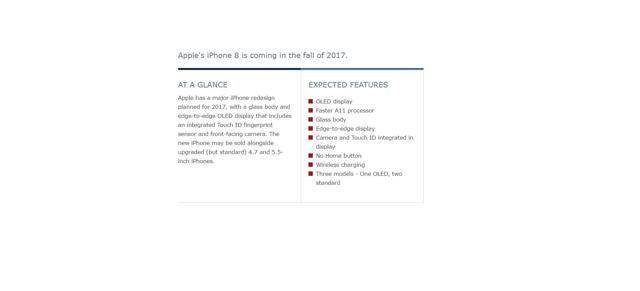 Source:MacRumors
How about a possible glance of what the phone could look like, just for kicks and giggles.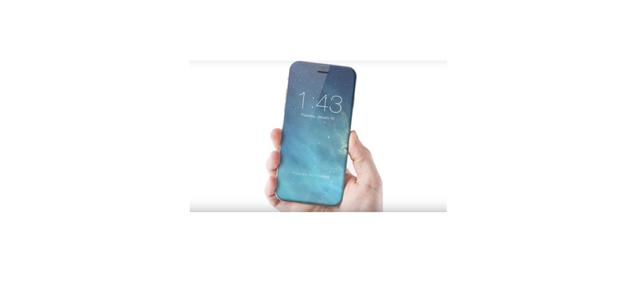 Source:ConceptsiPhone
In the end, these rumors are just that, rumors. However, we can ascertain that the incoming iPhone 8 has a momentous opportunity to become the next super-cycle.
Does this mean that Apple shares will suffer the same misfortunate fate that occurred after the iPhone 5 super-cycle? The same plummeting (55%) fall that lasted more then 10 months? Well, if you're a skeptic, it would be all too easy to scream, "Yes! History will repeat itself!" Perhaps though, you're an optimist, and might say, "The market made a mistake before, now it will learn from said mistake!"
The most logical answer though will more than likely lie somewhere in the middle. The super-cycle quandary of a conundrum chant will be beaten to death, re-animated ala Frankenstein, and then, swiftly, and decisively, beaten to death again. The other side of the killing field will chant, "This time is different!" and revert to the laughable and nonsensical thesis of how making too much money will ultimately slay Apple. Meanwhile, those who are neutral or simply don't care will be stuck in the middle of this theatrical, edge of your seat cinema, and wondering to themselves if they have enough time to hit the snack bar before the bloodlust begins.
Conclusion:
We examined and explored the compelling query of the iPhone super-cycle. We took a closer look at the iPhone 5 super-cycle to better comprehend what the iPhone 8 super-cycle might mean for shares. We delved into an unbiased view of what might happen, both from the eyes of a bull and a bear. We were able to reasonably conclude that the iPhone 8 will be a behemoth of a product for Apple. Does this fact mean, shares indeed, have no where to move but down? Possibly, in the short term the shares may fall victim to the super-cycle. However, it's difficult to conceptualize a world where Apple enthusiasts and fanatic's alike stop consuming Apple products like their oxygen. If you're a long-term investor, then a share dip might only cause you to add more shares. If you're a short-term (less then 12 months) investor, you might pay close attention in the coming months and be ready to act accordingly. If you're a skeptic of Apple shares, you might look to short shares at a possible tipping point of the super-cycle. GiGC will continue to hold Apple shares with a PT of $150. GiGC would likely sell and perhaps re-purchase if super-cycle fears become material.
Thank you for reading. For a previous article of mine on the greatly undervalued Teva (NYSE:TEVA) click here. Perhaps you enjoy what you're reading? Then click the "follow" button next to my name. If you leave a comment or have a question, I will surely do my best to respond.
Disclosure: I am/we are long AAPL, TEVA.
I wrote this article myself, and it expresses my own opinions. I am not receiving compensation for it (other than from Seeking Alpha). I have no business relationship with any company whose stock is mentioned in this article.