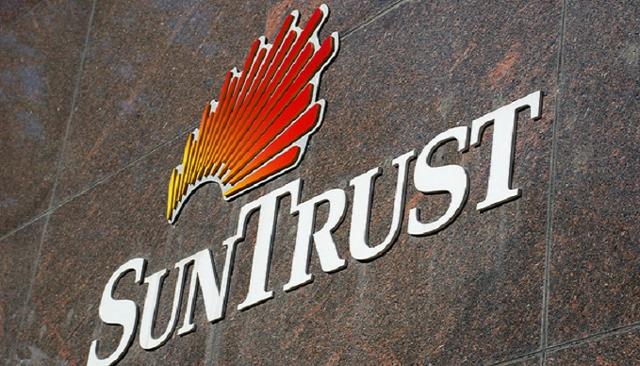 SunTrust (NYSE:STI) has continued to climb with the rest of the financials in the past couple of months and in this particular instance, I believe it is a case of a rising tide indiscriminately raising all ships. STI has demonstrated a lack of ability to produce any sort of meaningful earnings growth, not because it cannot grow the top line, but because its credit quality is deteriorating and because its expenses are too high. Combined, these factors indicate to me that STI is certainly no better than an average regional bank but it continues to sport a 14.5 multiple on this year's earnings anyway. Given this, I think the Q4 report is an occasion to sell.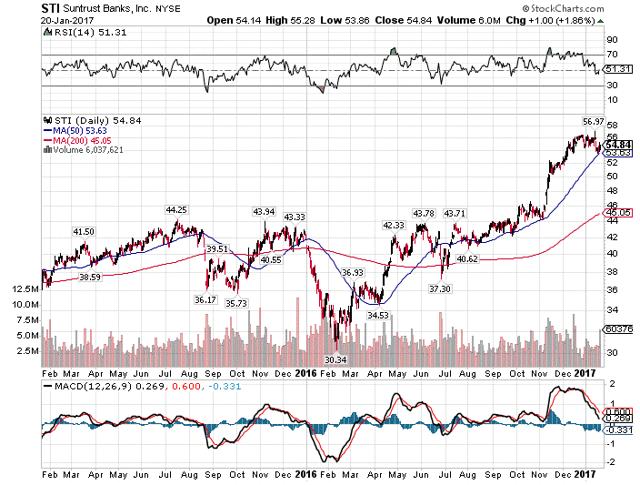 Total revenue was down 2% against Q3 as very slightly higher NII partially offset lower noninterest income from the mortgage business. STI's revenue situation has been okay for the past several quarters but it is certainly not screaming higher. This is part of the problem I've had with STI's valuation in the past; it cannot seem to produce any sort of meaningful growth and that was very clearly a problem in Q4 once again. NII should be helped out in Q1 and beyond by rate hikes so assuming it can get out of its own way with respect to noninterest income, perhaps revenue will move higher. But STI is not a growth machine by any means despite what its multiple may be implying.
NIM was up 4bps over Q3 to 3.00%, roughly flat with where it was last year as well. NIMs have been pretty stable across the industry for 2016 because nothing much happened with rates. With that no longer the case, I'll be looking for NIM expansion beginning in Q1, STI included. STI needs NIM expansion if it is to get close to the lofty expectations analyst currently have set for it and the fact that it was unable to take advantage of the December rate hike is meaningless. But in Q1, STI and the other banks need to show some improvement because NIM expansion is central to the bank bull thesis for 2017. Without it, STI has no shot at hitting its revenue growth estimates.
Provisions for credit losses continue to pile up as well, something I lamented after the Q3 report. Provisions rose $4M against Q3, which isn't a bad number considering it is roughly in-line with the small amount of loan growth STI saw. But it is $50M higher than last year's Q4 as net charge-offs continue to weigh. STI's credit quality has never been top-notch and while not every bank can be that, STI needs credit quality improvement to justify its valuation. Without it, even if it can hit its revenue growth goals, margins will be impacted. I was hoping to see a decline in provisions for Q4 and although the increase was small, it was still an increase despite a decline in revenue and that means it is still moving the wrong direction.
And speaking of moving in the wrong direction, noninterest expense fell 1% sequentially but given the 2% decline in revenue, STI's efficiency ratio still sits at 63.7%. That's unacceptably high and while it does provide ample room for growth in margins - the best banks are in the mid-50s these days - STI has shown precisely zero initiative in pushing its efficiency ratio lower. Token decreases in spending that don't even offset losses in revenue simply don't cut it and in Q4, STI not only didn't make any progress, but it went backwards yet again. No bank with a nearly 64% efficiency ratio should trade with its peers but that is exactly where we find STI. For all the problems it has, this is probably the biggest one and I'm extremely disappointed - though not surprised - that it couldn't make even a small amount of progress in Q4.
STI's capital buffer has also been a concern of mine in the past as it continues to operate with a fully phased-in CET1 ratio of just 9.5%. That's very low and while it certainly isn't bumping up against any sort of minimums, it does put STI towards the bottom of its peer group and more importantly, it means that huge buyback and dividend authorizations simply aren't in the cards the way that they are for many of STI's better-capitalized peers. Given that STI's fundamentals aren't exactly raging, that certainly isn't going to help the bulls.
At 14.5 times this year's earnings, STI is still trading with an above average multiple in its peer group. There are certainly other regionals that are more expensive but given STI's issues, I can't fathom paying 14.5 times earnings for this stock. It is also going for 1.66X tangible book value so it isn't cheap when you look at it that way either. And if you need one more way this stock looks expensive, it is going for 2.7X its projected earnings growth rate for this year at present. In other words, pick whichever valuation method you like and STI is pricey.
That's an even bigger concern considering that its revenue growth goal for this year is 4.5%. That amounts to huge growth for STI and it implies that not only is noninterest income going to improve but that NIM will expand. While I'm generally on board with NIM expansion, we still don't know how many times the Fed may hike or when and STI's ability to keep noninterest income afloat has been, shall we say, not great. In other words, the idea that 4.5% sales growth is a slam dunk is a little off to me and that puts earnings at risk as well given the high expenses and charge-offs we've seen.
Overall, STI is an average bank in the best of times but these are certainly not the best of times. The stock has rallied along with the rest of the sector and it has simply come way too far. Pick any valuation method you like and STI is very expensive and for that reason, it is a strong sell. The stock is still $10 above its 200DMA so there is no support anywhere close to today's prices and that makes me nervous. If you want to own a bank, you can do much better for less money.
Disclosure: I/we have no positions in any stocks mentioned, and no plans to initiate any positions within the next 72 hours.
I wrote this article myself, and it expresses my own opinions. I am not receiving compensation for it (other than from Seeking Alpha). I have no business relationship with any company whose stock is mentioned in this article.