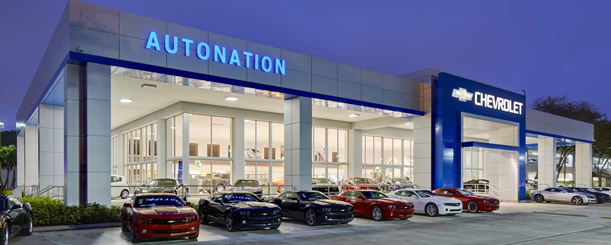 AutoNation (NYSE:AN) is the largest auto retailer in the United States, with 371 new vehicle franchises. The company has had the wind at its back, since auto sales bottomed in 2009 at a seasonally adjusted annual rate (SAAR) below ten million.
During this time, it has also repurchased a huge amount of its shares. In 2009, AutoNation had shares outstanding of 177 million, and today there are 101 million - a reduction of over 42%. This reduction in shares, combined with an increase in net income from $198 million in 2009 to today's $400+ million, drove the stock to all-time highs above $62 per share in 2015.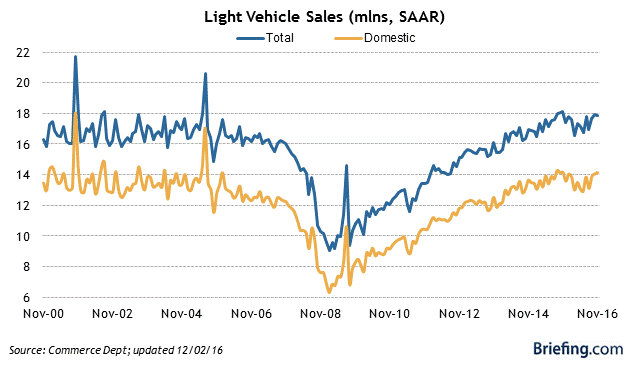 (Source: Briefing.com)
Considering Donald Trump has intentions of slashing corporate taxes, it would seem logical to wonder who currently pays the highest corporate tax rates. Looking at the AutoNation's 10-Ks, we see that in 2015, the effective rate paid by the company was 38.6%. In 2014 it was 38.7%, and in 2013 it was 37.8%. This is one of the highest I've seen, but not surprising considering all of AutoNation's dealerships are located in the United States, leaving it no opportunity to shelter income overseas.
The company currently is expected to earn $4.01 per share. Looking forward, which is the proper way to base investment decisions, we see that AutoNation is expected to earn $4.36 per share in 2017. If Donald Trump is successful in lowering tax rates, a 20% reduction in taxes for AutoNation could increase earnings per share to $5.23, giving today's purchase price a P/E of only 9.8 - not bad for a company that has been so successful at making money over time.
AutoNation has long had a policy of not paying cash dividends, but instead, using all free cash flow to expand through acquisitions of new dealerships, and also to repurchase enormous quantities of its shares. Over the years, AutoNation has announced buyback after buyback, and has reduced shares outstanding every year like a well-oiled machine. This only serves to accelerate any earnings boost from tax cuts, as there are fewer and fewer shares outstanding to divide by.
When we look at valuing AutoNation on a discounted cash flow basis, it is very cheap. Using consensus estimates, we can calculate that the stock is undervalued based on projected earnings and cash flow growth. In fact, with a P/E so low already, AutoNation doesn't really need to grow much at all. We can change the inputs to project earnings growth to whatever we want, but we only need a small amount of growth for investors to do well from here. In other words, the bar is already set low for us.
Perhaps investors are worried about buying an auto retailer at a time when auto sales are near historic highs. This is understandable, but investors need to remember that the 2009 auto sales of less than 10 million SAAR are not realistic. At that level, more cars were being scrapped than purchased - something that's simply not sustainable in the long term. Much of that giant reduction in sales was due to credit markets freezing and a complete lack of financing available due to the financial crisis. Banks were hesitant to loan to anyone in late 2008/early 2009. Today, banks are better capitalized than ever before, and even in the event of an economic slowdown, should not have any difficulty financing purchasers. Interestingly, even in the face of a horrific operating environment, AutoNation remained free cash flow positive throughout the 2008-2009 period.
Investors should consider putting AutoNation on their radar and use any price declines as an opportunity to pick up shares. The stock is cheap on its own, and with potential tax cuts coming and such a high tax rate already, AutoNation stands to benefit greatly from tax reform. The company has been very successful throughout the business cycle at maintaining profitability, and going forward should be no different. The significant share repurchases investors have come to expect will continue, and investors would be wise to accumulate on any price declines.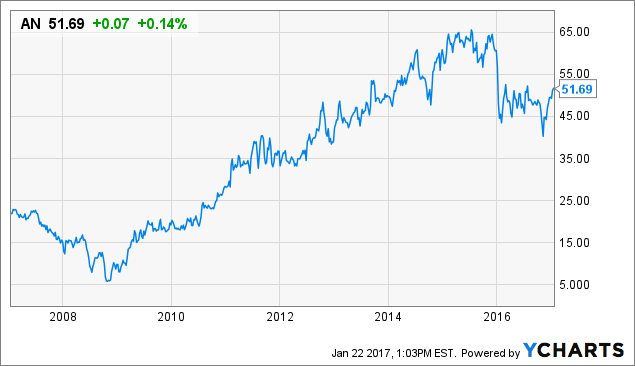 Disclosure: I/we have no positions in any stocks mentioned, and no plans to initiate any positions within the next 72 hours.
I wrote this article myself, and it expresses my own opinions. I am not receiving compensation for it (other than from Seeking Alpha). I have no business relationship with any company whose stock is mentioned in this article.