Back on October 19th I wrote a "cautiously optimistic" article on IBM (NYSE:IBM) claiming that it had plenty of upside if it could just stabilize its revenue and earnings and keep both from declining. Since then, shares have gone from roughly $150 to over $170.
That's a tidy gain. Recently IBM had its fourth quarter and full-year conference call, so I think this is a good opportunity to provide an update on what investors can expect next year, from both a business perspective and a valuation perspective.
Stabilizing forces
Before taking a granular look at IBM's business, let's take a look at the big picture. In the fourth quarter, year-on-year revenue decreased, but only by 1%. Operating EPS increased 4% year-on-year, thanks in no small part to $3.5 billion in share repurchases over the course of the year. However, gross margins declined by 1.8 percentage points, which was something analysts wanted to focus on during the latest conference call.
I take note of declining margins, but I don't believe that they are the end of the world. IBM is in the midst of a shift from legacy hardware, mainframe and contracted software businesses and into artificial intelligence, cloud computing and security, all of which are new businesses that require substantially more investment. This is not the end of the world. By now, these "strategic imperatives" of cloud, mobile and security collectively account for just over 40% of revenue.
Revenue for the Cognitive Solutions segment were up 2%, thanks mostly to growth in solutions software, particularly thanks to Watson, which is IBM's cognitive intelligence system. Watson is scaling across systems, especially in healthcare and increasingly in security. Also, cloud revenue increased 23% year on year in this segment.
Global Business Services segment revenue decreased 4%, with big declines in legacy enterprise resource planning software. Gross margins also dropped 1.3 percentage points. In this segment, cloud revenue increased 77% and other "strategic imperatives" revenue increased 19%. Technology services revenue increased 2%, but revenue fell by 1.4 percentage points. And the Systems segment, which carries many of the company's legacy mainframe businesses, saw revenue decline by 12%, due mostly to declines in power and in storage.
Looking at the big picture, my sentiment is much the same as it was in the last article. I think that IBM has a pretty good cloud business but there were earlier players in this space. The addition of Watson, I believe, gives IBM a significant competitive advantage in enterprise cloud computing. Gathering huge amounts of data and proactively putting together insight is an increasingly important part of business for companies across the spectrum. In the coming years, the combination of these two things could drive IBM's revenue and earnings.
Analysts expect that next year earnings per share will increase 2.3% in 2017, which would be the first time since 2014 that earnings per share increased on the year. It has been a tough last few years for IBM, but things do appear to be turning around, even though earnings growth at this point is not exciting by any means and margins continue to see downward pressure.
Valuation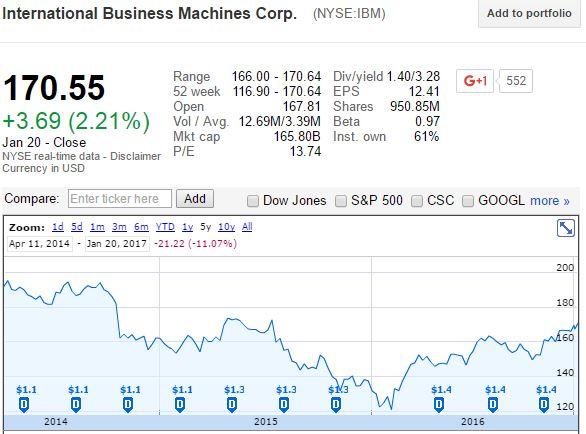 Courtesy of Google Finance.
Since my last article in October, IBM's valuation has drifted its way higher, but valuations are still quite reasonable. I said that there was considerable upside if IBM could at least bring revenue and earnings to flat, zero-percent growth, which it has done more-or-less.
According to data from FAST Graphs, shares have averaged 12.2 times earnings over the last 10 years. As of now IBM trades at 12.6 times operating earnings per share. This is also quite monumental, because it is the first time since the middle of 2013 that IBM has traded above its 10-year average valuation. That is a big deal.
To me, this signifies that the market is willing to value shares of IBM at a some kind of premium to its average valuation. If so, I think there is still plenty of upside here, depending, of course, upon whether revenue continues to improve, which I believe it will. I'm not sure if "happy days are here again" for IBM, but I think it is worth buying here. IBM still pays a solid dividend of 3.3%, with plenty of room for growth as the dividend is still just a bit less than half of earnings. My outlook continues to be positive.
If you're interested in IBM, feel free to follow me here on Seeking Alpha. I will continue to write update articles when doing so is both material and relevant.
Disclosure: I/we have no positions in any stocks mentioned, and no plans to initiate any positions within the next 72 hours.
I wrote this article myself, and it expresses my own opinions. I am not receiving compensation for it (other than from Seeking Alpha). I have no business relationship with any company whose stock is mentioned in this article.