Yahoo (YHOO) reports quarterly earnings Monday after-hours. Analysts expect revenue of $1.38 billion and eps of $0.21. The revenue estimate implies a 6% increase sequentially. Investors should focus on the following key items:
Revenue ex-TAC Continues To Decline
About 90% of its revenue is derived from display and search revenue. The company generates revenue from guaranteed or display ads by delivering advertisements according to clients' specified criteria; it also earns revenue on non-guaranteed ads where the ad may or may not appear.
Yahoo's core business has been in a steady state of decline. Q3 total revenue grew 6% Y/Y, but revenue ex-TAC fell 14%.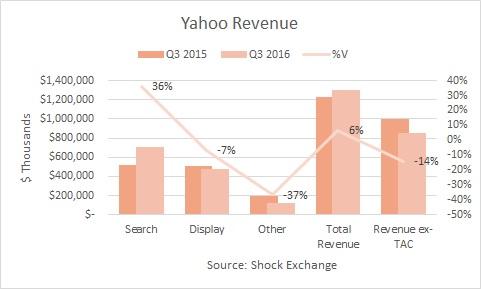 Search revenue growth of 36% was offset by a 7% decline in Display. However, revenue ex-TAC tells a completely different story. Search revenue ex-TAC was off 20%, while Display ex-TAC was up 1%. Declining revenue ex-TAC connotes that Yahoo might be having trouble growing revenue from Yahoo properties where the margins are much higher. The company has to pay transaction acquisition costs ("TAC") on advertising on affiliate sites.
The company's goal was to attract more mobile users. Its mobile revenue of $396 million in Q3 2016 was up 46% Y/Y. As mobile revenue has grown, its revenue ex-TAC has continued to decline; mobile might not be the godsend the company was expecting.
Is Sale Of Core Business In Jeopardy?
Yahoo previously announced the sale of its core business to Verizon (NYSE:VZ) for $4.8 billion. I previously valued the sum-of-the-parts of Yahoo's core business, intellectual property, and its stakes in Alibaba (NYSE:BABA) and Yahoo Japan (OTCPK:YAHOF) (OTCPK:YAHOY) at $51 per share or 21% above YHOO's current price of $42.21. The opportunity to monetize Yahoo's various equity stakes has created interest in the stock, yet no sale has occurred.
Yahoo confirmed a data breach that could have affected some 500 million user accounts. The company believes the breach occurred as far back as 2014 and the hackers might have stolen names email addresses, phone numbers, amongst others. Verizon reportedly seeking a $1 billion discount due to the hack. Such a discount would equate to about $1 per share. That said, the SEC is now investigating what took so long for the company to disclose the hack. In my opinion, the longer the deal remains in limbo the less likely Verizon's current offer price sticks.
Conclusion
Yahoo's share price implies that investors believe a deal is still possible. YHOO remains a hold into earnings.
Disclosure: I/we have no positions in any stocks mentioned, and no plans to initiate any positions within the next 72 hours.
I wrote this article myself, and it expresses my own opinions. I am not receiving compensation for it. I have no business relationship with any company whose stock is mentioned in this article.
Editor's Note: This article discusses one or more securities that do not trade on a major U.S. exchange. Please be aware of the risks associated with these stocks.