Qualcomm (NASDAQ: QCOM) is not having a good January. After the FTC complaint on January 17 alleging QCOM's anticompetitive sales and licensing tactics, Apple (NASDAQ: AAPL) sued the company for $1bn for abusing its monopoly position. Qualcomm's stock has cracked to a fresh 3-month low of $62.62, and more cuts may be in store for the stock.
I believe this uncertainty can be used to make a sensible investment decision in a valuable company. To present my case, I will use a combination of technical and fundamental analyses.
Beginning with technical analysis, I will use several technical price charts to provide an attractive investing level for market participants to increase their exposure in the stock.
The monthly QCOM price chart below has the Fibonacci retracements employed on the rally from Feb-2016 to Oct-2016.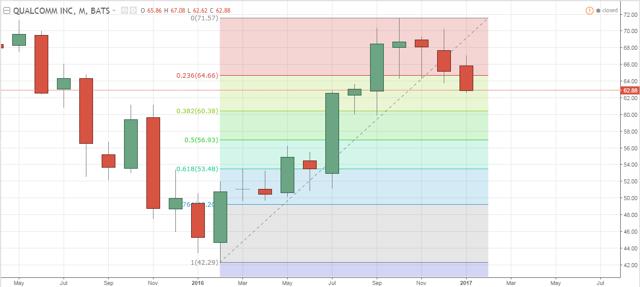 Source: TradingView
We can clearly see that the stock respected the 23.6 percent Fibonacci retracement of $64.66 for three months after hitting its peak of $71.62. But, January seems to have breached this level and the stock is now expected to test the 38.2 percent Fibonacci retracement level of $60.38. From the current market price of $62.88, this isn't very far and can be reached as soon as in the next couple of sessions. While the 38.2 percent retracement is a potentially good support level, I find the 50 percent and the 61.8 percent Fibonacci retracements more attractive to invest. The 50 percent Fibonacci retracement for QCOM is $56.93 while the 61.8 percent Fib retracement is $53.48.
Taking a slightly longer term view, I have presented the 3-year monthly price chart below with the Fibonacci retracements employed on the entire downtrend from peak-2014 to bottom-2016. This chart also details the importance of sustaining above the 61.8 percent Fibonacci retracement. Failure to sustain above the 61.8 percent Fibonacci retracement level of $66.79 has brought declines for the stock.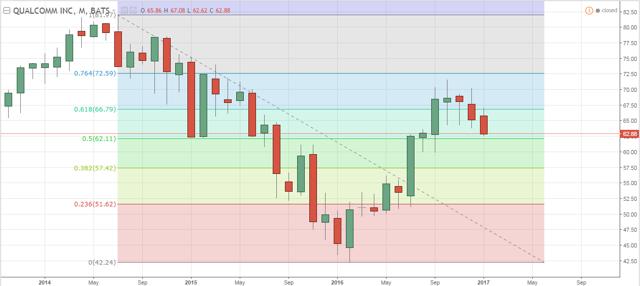 Source: TradingView
Since the decline is just beginning, I would not recommend investors to create investing positions near the 50 percent Fib retracement level of $62.11. Another reason why I feel investors should wait for better investing levels is because the stock is not significantly lower from its 52-week high. It is less than 15 percent off, which is nothing to be concerned about. It is simply a correction.
The 38.2 percent Fibonacci retracement level of $57.42 would prove to be a better entry point in such a case.
From a couple of monthly price charts above, readers would have gotten an idea that levels closer to $57 would be good investing levels.
Long-term investors can rest easy as the multi-year uptrend is strongly intact. There may be headwinds in the future, but I do not think that this uptrend will be violated anytime soon.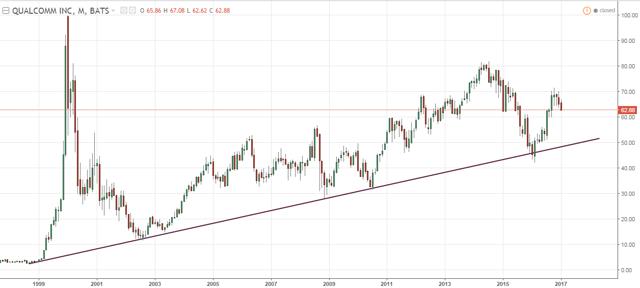 Source: TradingView
Fundamentally, the stock currently offers a dividend yield (NYSE:TTM) of 3.29 percent. This yield jumped to north of 4 percent in the beginning of 2016. If the decline extends in the coming sessions, and if the stock hits $57, an investor will lock in a dividend yield of 3.63 percent.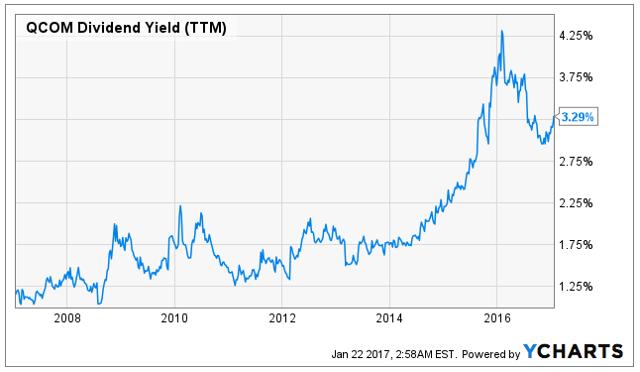 From a forward-looking perspective as well, buying as the dip goes deeper will prove to be immensely beneficial for the investors as QCOM's next dividend date (tentative) in March is expected to be the last time we see a dividend of $0.53. The company has increased the dividend every year since 2003, and this year is expected to be no different.
The 10-year dividend growth (annual) chart below indicates that we can at least expect a dividend growth of 9 - 10 percent this year, which is the low-end of the range. This means that in May 2017, we can easily see a dividend of at least $0.58 - $0.59.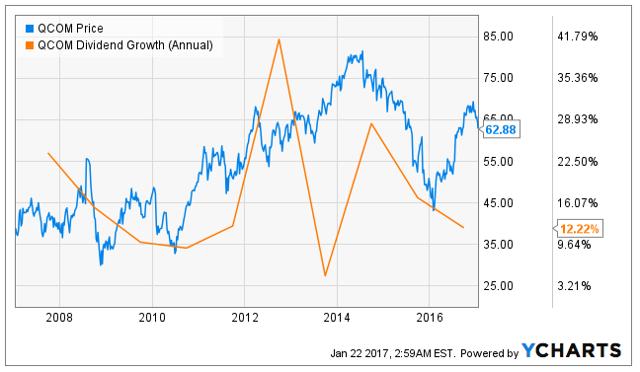 Investors generally purchase a stock for two reasons: capital appreciation and dividends. So, the astute long-term investors who are not worried about the noise will likely enter the stock as it heads lower keeping the increasing dividends in mind. QCOM is a gem of dividend-growth stock.
While we are discussing the fundamentals, let us also discuss if the recent complaints can affect the company's cash flows or not. Although this issue will not be resolved anytime soon, since such cases stretch for months (and even years), we can rest assured that the company's cash flows will remain stable or grow unless a debilitating verdict is out. The verdict would only be detrimental to the company's cash flows if it asks the company to lower its royalty rate or change its business practices significantly to make room for more competition. QCOM can take care of the penalties due to its strong legal team and formidable balance sheet. More about this can be read in my last article titled Qualcomm Will Not Cower.
Even though I am asking the investors to be conservative in their approach and wait for cheaper investing levels, there is a good probability that the stock never really falls to $57, which I believe would attract a vehement buying interest.
The daily QCOM price chart below shows that the FTC complaint defeated the bulls' purpose of crossing above the strong resistance posed by the couple of 30-day and 50-day SMAs. Apple's complaint did another round of damage as the stock closed with a loss of 2.42 percent on Friday.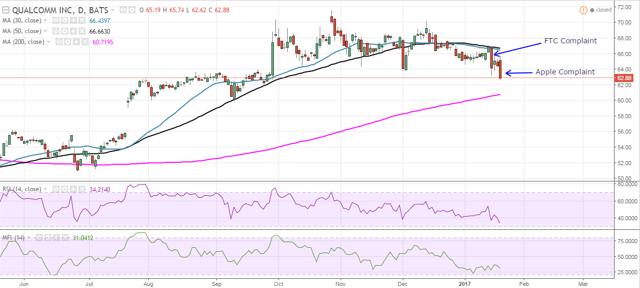 Source: TradingView
But, there are indications that the stock is about to hit oversold territory and may rebound earlier than thought. The 14-day RSI reading has fallen to 34.2140 while the 14-day MFI reading has fallen to 31.0412. The oversold boundaries for both of these technical indicators are represented by readings of 30 and 20 respectively.
Another widely watched technical level is the 200-day SMA. Fortunately for QCOM, the 200-day SMA is pretty close to the current market price at $60.7195. The combination of near-oversold readings and the crucial support of 200-day SMA reveals a possibility that the stock may not head below $60.
This information has been presented to empower the investors to make the best possible investment decisions based on their risk appetites. If an investor has a high-risk appetite, he or she can choose to buy near $60. If an investor wants to adopt a conservative approach while investing in QCOM, he or she would do well to wait for $57. The current market price is not significantly lower from the 52-week high but $57 will be.
Note: I cover several stocks in different sectors as well as S&P 500, crude oil, gold and silver, U.S. dollar, etc. So, if you liked this update, and would like to read more of such informative articles, please consider hitting the "Follow" button above. Thank you for reading!
Disclosure: I am/we are long QCOM.
I wrote this article myself, and it expresses my own opinions. I am not receiving compensation for it (other than from Seeking Alpha). I have no business relationship with any company whose stock is mentioned in this article.