Update
I published an article on January 9, presenting a long idea for (NASDAQ:AOBC) because of surprising tailwinds, product diversity, and a cheap evaluation. I believe this is still the case, much to the disapproval of the market. Many thanks to the Seeking Alpha community for the insightful feedback. Surprisingly, most analysts agree with my bullish view and rate AOBC as a Buy/Hold with an average target price of $24.43.

But since my last article was published, shares have fallen an additional 4% and AOBC is within striking distance of breaking its 52-week low and falling below $20. AOBC has now fallen 41% since the election of Donald Trump, making it one of the worst performing stocks of this past quarter. Is there something the market knows that analysts don't? Or is this truly an opportunity to buy an undervalued company?
The discussion is not whether firearm sales will decline, but rather if the market is overreacting to it. The name change and diversification were certainly headlines, but the market did not react negatively to it. AOBC first proposed the name change before the election and then approved it December 13, yet shares did not experience adverse price movements during those dates. In fact, votes in favor of the name change outnumbered the votes cast against it by 9:1.
Unjustified Drop
Former Blackstone Analyst and fellow Harvard graduate Julius Krein said, "I look for stocks that have gone down significantly­-around 10 percent-without justifiable reasons". "My goal is to take advantage of irrational exuberance in the short run," he added.
It seems AOBC has experienced irrational drops, unless there is data that tells us otherwise. Below are the catalysts with their respective dates:
Jan-17: Update on form 8-K (Investor Slideshow)
Jan-04: FBI data released, December background checks fall 16% YOY, AOBC creates new outdoor division
Jan-03: Completes name change
Dec-27: Wunderlich Securities predicts gun sales will slow
Dec-01: Beats Q2 estimates, Q3 guide down
December 1: Q2 Revenue Beat, Q3 Miniscule Guide Down
Q3 forecasts were down, but a downgrade from $238M to $230-240M is almost insignificant and should not have single-handedly caused the 11% drop that AOBC experienced. This is not an unreasonable adjustment, especially as AOBC has a history of giving conservative estimates. The Q2 revenue beat of $5.9M should have been enough to offset the "negative news" of a Q3 guide down. This leads me to believe the real reason for the falling share price was something else. I'm beginning to suspect the market was taking any excuse to sell AOBC, after still being fixated on the overhyped discussion of gun laws, which had already been priced in post-election. Again, I believe AOBC is taking another hit for the same catalyst.
January 4: Gun-Sale Background Checks Drop 16% YOY
According to data released by the FBI, there was a 16% YOY drop in firearm background checks in December of last year. As a result, shares dipped 3% at closing and have continued on a downward trend since then. However, the 2.77 million background checks conducted last month should not be seen as a disappointment. In fact, background checks for that period were the third most in that month since the FBI began tracking the data. Numbers were higher only in December 2012 and December 2015 - the months that experienced tragic shootings of Sandy Hook and San Bernardino. Below is a chart comparing December firearm background checks by year.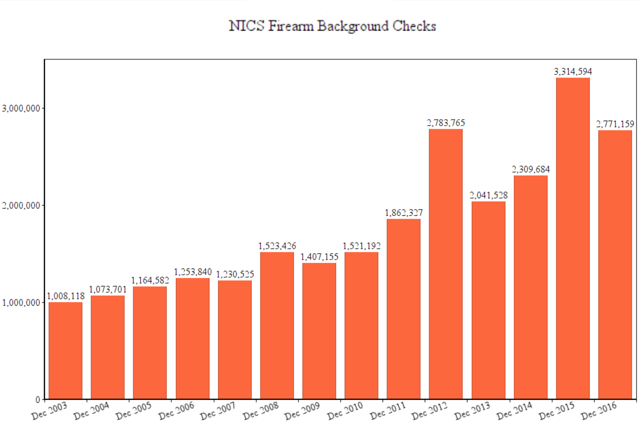 Though the elimination of gun control anticipation has decreased the urgency to buy firearms, consumers are still getting firearm background checks at an alarming rate. In my previous article, I predicted AOBC would see surprising tailwinds from a consumer confidence boost in rural white families, increased media attention on gun crimes, and potential for more government contracts from a Trump Administration.
January 17: Update on Form 8-K
AOBC updated their investor presentation in their Form 8-K. This has been one of the first signs of the management team showing its diversification strategies. However, this slideshow presentation was far from being a catalyst, as shares were only up 58 basis points at closing. AOBC then proceeded to drop 2.8% in the next three days. Again, what are the catalysts driving these price movements?
It seems that investors are doubtful of AOBC's forward looking statements. Revenue for FY 2017 is estimated at a whopping $920-930M, up almost 30% compared to FY 2016, which was already supposed to be an abnormally successful year. Meanwhile, revenue in FY 2015 was only $551M. But most importantly, diluted EPS will increase roughly 27% over the next fiscal year. AOBC management could certainly be giving an overconfident guidance to soothe investors, however, they have had a long history of being conservative their estimates.
With newly released data on December background checks, it seems plausible that AOBC can hit their estimates for FY 2017, especially with extra revenue generated from their expansion in other departments. For those that keep warning not to catch a falling knife, there is only so much more this company can fall - if it is even falling. AOBC would have to miss by a long shot to justify the price that it's currently trading at. For goodness sake, the world's most reputable gun brand is trading at 8.4 P/E after management announced a 28% revenue increase in FY 2017.
There is reason to believe that CEO and President James Debney is not bluffing, as he has purchased 55,000 shares in the past few weeks. His most recent purchase was 25,000 shares at $20.50 on January 17. CFO Jeff Buchanan had also purchased 10,000 shares at $20.92 on January 9.
Warren Buffet once said, "It's far better to buy a wonderful company at a fair price, than a fair company at a wonderful price." I believe this is an opportunity to buy a wonderful company at a wonderful price.
Disclosure: I am/we are long AOBC.
I wrote this article myself, and it expresses my own opinions. I am not receiving compensation for it (other than from Seeking Alpha). I have no business relationship with any company whose stock is mentioned in this article.