Having opened my position in Gilead (NASDAQ:GILD) in early September of 2015 and given the fact that it is trading near its 52-week lows I believe it is a great time to investigate what is going on with this stock. The stock started off white-hot at the beginning of the year shooting up more than 6% in just the first two trading days but has cooled down since then. With the company's Vemlidy recently getting approval in Europe for the treatment of hepatitis B it has been a pretty horrible showing against an S&P 500 having been behind the index for pretty much after late April of last year. I own the stock in my Portfolio of 12 and the stock hasn't performed to my expectations yet. I feel it is important to examine the specific valuation, financial, and technical situations of Gilead to see what is really going on with the stock right now.

Fundamentals
The company currently trades at a trailing 12-month P/E ratio of 6.59, which is inexpensively priced, but I mainly like to purchase a stock based on where the company is going in the future as opposed to what it has done in the past. On that note, the 1-year forward-looking P/E ratio of 6.58 is currently inexpensively priced for the future in terms of the right here, right now. Next year's estimated earnings are $10.80 per share and I'd consider the stock inexpensive until about $162.
Financials
On a financial basis, the things I look for are the dividend payouts, return on assets, equity and investment. The company pays a dividend of 2.65% with a payout ratio of 17% of trailing 12-month earnings while sporting return on assets, equity and investment values of 29.3%, 93.7%, and 45.9%, respectively, which are all respectable values.
The really high return on assets value (29.3%) is important because it is a measure of how profitable the company is relative to its assets, telling us how efficient a management team is at using its assets to generate earnings(for comparison purposes, Gilead is highest in the biotech industry ahead of Biogen (NASDAQ:BIIB) which sports an ROA of 18.5% and ahead of Regeneron (NASDAQ:REGN) which sports an ROA of 13%).
The really high return on equity value (93.7%) is an important financial metric for purposes of comparing the profitability, which is generated with the money shareholders have invested in the company to that of other companies in the same industry(for comparison purposes, Gilead is highest in the biotech industry ahead of Incyte (NASDAQ:INCY) which sports an ROE of 56.5% and ahead of Celgene (NASDAQ:CELG) which sports an ROE of 38.4%).
The really high return on investment value (45.9%) is an important financial metric because it evaluates the efficiency of an investment that a company makes and if an investment doesn't have a positive ROI then the investment should not be made(for comparison purposes, Gilead is highest in the biotech industry ahead of Biogen which sports an ROI of 23.5% and ahead of Illumina (NASDAQ:ILMN) which sports an ROI of 16.6%).
Because I believe the market may get a bit choppy here and would like a safety play, I believe the 2.65% yield of this company is good enough alone for me to take shelter in for the time being.
Technicals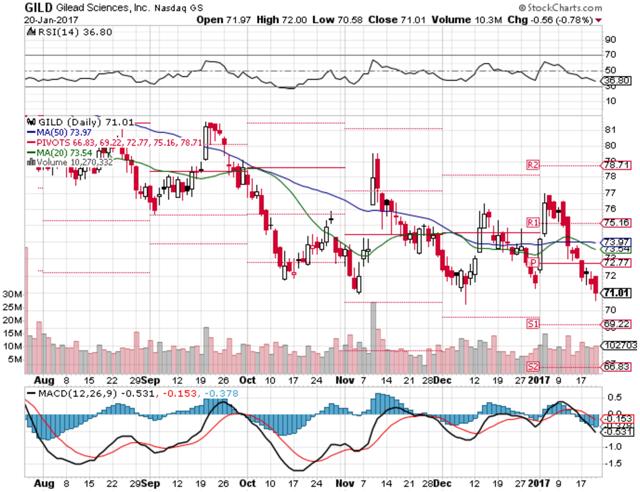 Looking first at the relative strength index chart [RSI] at the top, I see the stock is approaching oversold territory with a current value of 36.8 relative to the rest of the market. Usually a value of 30 indicates an oversold condition. I will look at the moving average convergence-divergence [MACD] chart next. I see that the black line is below the red line with the divergence bars decreasing in height which tells me bearish moment is strong in the name. As for the stock price itself ($71.01), I'm looking at$72.77 to act as resistance and$69.22 t o act as support for a risk/reward ratio which plays out to be-2.5% to 2.5%.
Wrap Up
Fundamentally I believe the company to be inexpensively valued now on next year's earnings estimates. Financially the company does pay a decent dividend and has excellent returns on assets, equity, and investments. On a technical basis the risk/reward ratio shows me there is more risk than reward right now.
If you haven't initiated a position in the name yet then maybe writing the February $67.50 puts is a great way to enter if it gets exercised. By writing the$67.50 put an investor collects$0.87 in premium and if they want to use the proceeds to buy the$75 call for$0.83 I think that would be a great way to be long the stock. If the stock never sees the$67.50 mark at expiration and moves up an investor can cash in on the premium while perhaps make some money off the call option.
I actually initiated my position in Gilead in early September of 2015 and have been pretty upset with the purchase thus far. I will not be buying shares because I'm now a little above my 20% threshold. But I do believe that it offers value until around $86 which happens to be the midway point of the 52-week range.
When it is all said and done, it matters what the stock has done in an investor's portfolio. For me, Gilead is one of my larger positions and has been doing poorly, as I'm down 12.6% on the name, while the position occupies roughly 20.6% of my portfolio. I no longer believe in the name even as a speculation stock. I own the stock for the speculation portion of my portfolio, and I will continue to hold onto the stock for now. My portfolio is up 13.4% since the inception while the S&P 500 is up 9.2%. Below is a quick glance of my portfolio and how each position is performing. Thank you for reading and I look forward to your comments!
| | | | |
| --- | --- | --- | --- |
| Company | Ticker | % Change incl. DIV | % of Portfolio |
| Skyworks Solutions Inc. | (NASDAQ:SWKS) | 11.14% | 10.27% |
| Electronic Arts Inc. | (NASDAQ:EA) | 6.98% | 3.66% |
| Eaton Vance Corp | (NYSE:EV) | 5.99% | 4.87% |
| Facebook, Inc. | (NASDAQ:FB) | 4.52% | 9.18% |
| The Home Depot, Inc. | (NYSE:HD) | 4.15% | 4.79% |
| AbbVie Inc. | (NYSE:ABBV) | 2.47% | 3.86% |
| Starbucks Corporation | (NASDAQ:SBUX) | 0.17% | 4.96% |
| Diageo plc | (NYSE:DEO) | -1.79% | 9.60% |
| General Electric Company | (NYSE:GE) | -2.41% | 4.49% |
| Silver Wheaton Corp. | (SLW) | -6.45% | 7.25% |
| V.F. Corporation | (NYSE:VFC) | -6.58% | 7.21% |
| Gilead Sciences Inc. | | -12.60% | 20.57% |
| Cash | $ | | 9.30% |
Disclaimer: This article is in no way a recommendation to buy or sell any stock mentioned. This article is meant to serve as a journal for myself as to the rationale of why I bought/sold this stock when I look back on it in the future. These are only my personal opinions and you should do your own homework. Only you are responsible for what you trade and happy investing!
Disclosure: I am/we are long GILD.
I wrote this article myself, and it expresses my own opinions. I am not receiving compensation for it (other than from Seeking Alpha). I have no business relationship with any company whose stock is mentioned in this article.