DH Corporation (TSE:DH,OTCPK:DHIFF) is a Canadian provider of financial technology (Fintech), with 8000 clients in over 70 countries. In 1875, DH began operations as a cheque manufacturing and cashing institution. In 2005, it was clear that cheque processing was on the decline, and DH saw the necessity to reposition itself through strategic acquisitions of Fintech companies. Since this shift in strategy, DH has grown revenues and profit rapidly. Today, DH is a fully integrated provider of many different financial technologies for banks, specialty lenders, community banks, credit unions, governments and corporations.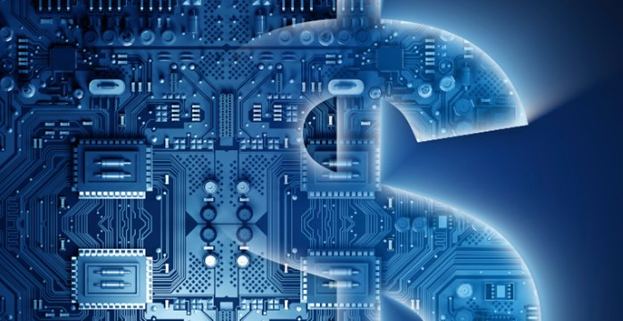 Summary of Recent Events
It all began when DH released surprisingly poor Q3 2016 earnings results a few months ago. Earnings margins as well as EBITDA dropped significantly in two key divisions, and with it dropped the stock price. When all was said and done, DH shares were trading at $15 compared to a pre-earnings level of $30. Management attributed the poor performance to tough market conditions, but the market began to have other concerns. The ability of the company to effectively integrate its acquisitions came under question, as did DH's ability to maintain its high growth trajectory and service its high post-acquisition debt burden.
Today, DH's share price is still 25% lower than its pre-earnings level. I see a lot of growth potential for the company moving forward, and think the stock is undervalued at this price.
Business Overview
DH earns money by providing software and other services that help clients manage cash, payments, loan requests, and collateral faster and more efficiently. The company has three main business segments: Global Transaction Banking Solutions (GTBS), Lending and Integrated Core (L&IC), and the Canadian segment. The numbers in this chart are a bit outdated, but I thought it served as a good illustration for DH's breakdown of services:
Business Segments

Source: Q2 2016 Investor Presentation
GTBS
This segment was created after DH acquired Fundtech in 2015, and provides transaction banking solutions that enable financial institutions and corporate clients to manage all types of payments with a high degree of automation. Customers can also exchange standardized messages over secure electronic networks, manage their cash, liquidity and working capital requirements, implement remote deposit capture, as well as e-billing and internet payment solutions.
L&IC
Lending solutions include services that simplify the lending application processes and provide compliance loan documents. The majority of solutions support commercial, consumer and mortgage lending. Integrated core solutions help customers to manage their technology infrastructure.
Canadian segment
Provides lending solutions that help lenders manage debt collateral and process mortgages, and assist various governments and banks in managing their student lending programs. Cheque processing services are also provided, which have been on the decline for years as consumers shift away from using cheques.
Before discussing the performance of these three segments, we will first take a look at the performance of the Fintech industry as a whole.
The Fintech Industry
With the financial services industry becoming increasingly competitive, the Fintech industry has seen massive growth in recent years:
Industry Financing Growth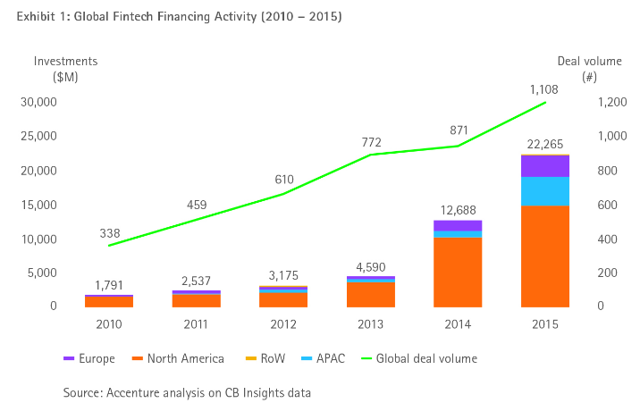 To maintain their competitiveness, banks are being forced to upgrade their technological infrastructure. However, even with this rapid industry growth, DH management has pointed to a drop in new spending by their clients as a factor in slower growth in key businesses recently.
A Macroeconomic Mess
The GTBS and LI&C divisions performed very poorly last quarter, with an EBITDA decline of 30% and 23.3% respectively, due to a variety of factors. We will now look at a breakdown of the causes of this poor performance, but specifically at the effect economic and political issues in the Americas, EMEA (Europe, Middle East, Africa), and APAC (Asia-Pacific) have had.
Revenue Breakdown by Geography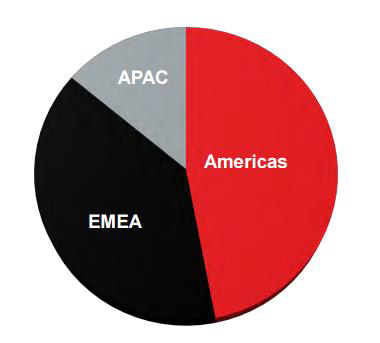 United States
The uncertainty regarding the US election delayed many institutions' investment decisions, negatively impacting DH. Now that the election is over, banking stocks have been performing very well. The initial view is that Trump-led policies will lead to higher inflation and lower regulations for financial institutions, which has increased confidence in the financial industry. As such, the KBW Bank index is up over 20% in the past few months. This renewed confidence should drive investment
Canada
DH's cheque processing service continues to decline, but last quarter the decline was more rapid than expected. On the positive side, lending solutions performed very well last quarter, offsetting the loss in cheque volumes. However, new mortgage insurance rules are likely to put a strain on housing volumes, potentially impacting revenue development for DH's lending solutions in 2017.
EMEA
Poor performance has primarily been driven by DH's European operations. Uncertainty regarding Brexit and the banking sectors' overall poor performance has stifled European investment. This has reduced revenue growth in the GTBS segment.
APAC
If you have not seen the headlines, China has seen huge capital outflows over the past year as the country struggles with its debt burden, among other problems. The risk of a trade war with the new Trump administration has created even more uncertainty, and financial institutions in the country will very likely close their wallets and defer investments for a while.
The Bottom Line
All of the macroeconomic factors discussed above culminated in an abnormally high number of financial institutions choosing to defer their contract renewal decisions until Q4 2016 or Q1 2017. A large amount of revenue is earned when contracts are renewed, so this caused a significant decrease in revenue (down to $55m YoY, a decrease of 10%).
Margin weakness last quarter can be partly attributed to this revenue recognition shortfall, but management expects renewals to stabilize in 2017.
Overall, management will have to show indications that recent operational weakness is not the beginning of a long term trend of slower growth, but rather a temporary stumble. The year end is historically a strong quarter for DH's international operations, so some momentum will have to be shown in the Q4/2016 results that will be released on February 21.
DH Has Responded Well
DH's CEO and CFO responded to the huge earnings sell off by purchasing a combined total of $450,000 worth of DH stock. I see this as a big vote of confidence for the company as a whole, and as support for the notion that DH's earnings issues are a temporary stumble rather than an indication of structural issues.
Operationally, DH is counteracting the instability in Europe and Asia with a new service model called Payments Platform as a Service (PPaaS) that makes it less risky for financial institutions to commit to a long-term contract. This will help DH's top line in 2017.
PPaaS
So what does this service actually entail? According to their Q3 MD&A:
"In this service, the Company and its respective partners will host, implement, and support the Company's Global PAYplus solution for the customer."
This is a big deal. By hosting, implementing, and supporting the payments solutions in-house, DH is removing a lot of the risk that is holding back financial institutions from signing contracts. With the PPaaS model, financial institutions do not have to make any investments into their own technological infrastructure, personnel training, or any of the other costs associated with a technology upgrade because DH is dealing with all of that for them. This is not an ideal situation for DH, as it will require an upfront investment on their part to be able to service these contracts.
"This service has an initial term of 11 years and the Company will receive a fee for each transaction processed on behalf of the customer, with a minimum revenue threshold per year."
This is an ideal contract for financial institutions wary of making investments; they are only paying for each transaction that they make.
"The full amount of the initial minimum contract value is included in bookings and will be recognized in revenue annually after the platform goes live starting in 2017."
It looks like it will take some time for this new service to pick up momentum, but once it does, DH will have a very consistent revenue stream coming in. In the near term this may put more pressure on margins, since DH will have to allocate resources toward servicing new PPaaS contracts in-house. However, the low risk associated with this service is likely to appeal to the customers that have been wary to renew their contracts. Overall, this is a bittersweet position to be in, but a positive indication that DH will be able to drive growth in 2017.
Conclusion
External pressures have been tough on DH over the past few quarters, but things are starting to look up. Operations in North America should get a boost with the financial industry's renewed confidence, but operations in Europe and Asia are likely to remain depressed into the foreseeable future. With the introduction of their Payments Platform as a Service (PPaaS), DH is positioning themselves well to drive growth in those troubled markets.
For an investor with a long-term horizon, this may be a perfect opportunity to purchase DH stock at a discounted price.
Disclosure: I/we have no positions in any stocks mentioned, but may initiate a long position in TSE:DH over the next 72 hours.
I wrote this article myself, and it expresses my own opinions. I am not receiving compensation for it (other than from Seeking Alpha). I have no business relationship with any company whose stock is mentioned in this article.