Ford (NYSE:F) announces its earnings on Jan. 26 and investors will be tuning in with interest. The automobile company's quarterly earnings definitely have been in a downtrend, with adjusted EPS coming in at $0.26 in the company's fiscal third quarter. However, pre-tax profit guidance of $10.2 billion for fiscal 2016 looks safe enough with management confirming the number just last week. Expectations for the fourth quarter concerning earnings are coming at $0.33, which is a good 43% decline in the same quarter 12 months prior. In saying this, the company got a boost with its recent December numbers as car and truck sales came in at 0.3% ahead of December numbers in 2015.
However, I'm of the opinion that due to a plethora of recently launched vehicles (such as the Super Duty and the F-150), we ended the year with bullish numbers in the U.S. Moreover, the increase in the seasonally adjusted annualized selling rate definitely went over well with investors, as bullish sentiment in Ford, for example, reached record highs recently (see below). Ford stock is now up almost 9% since Nov. 4, 2016. This rally has taken place alongside the rising equity markets in the U.S. However, I don't feel as if the share price will continue to rally. Below are some important points to back up my thesis.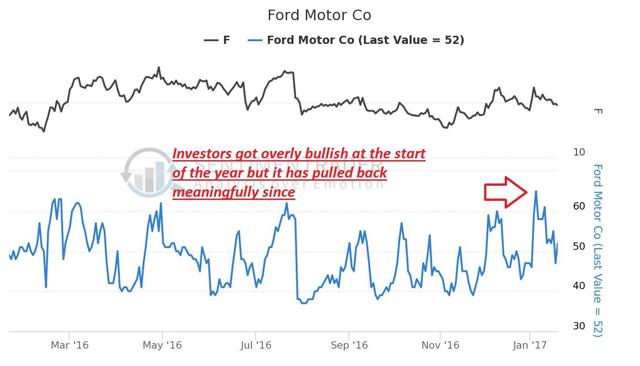 Crude Oil Looks Set to Rise, Helped by Dollar Weakness
Obviously, fiscal 2017 guidance will be key for short-term movement in the share price, but investors should be watching external trends as well. Analysts are already pricing in about a 9% drop in earnings next year, as well as more or less flat revenues. The problem is margins, as truck sales principally produce the lion's share of margins for this company. Despite going to aluminum bodies, for example, and becoming more nimble in its manufacturing operations, I still feel margins will continue to come under pressure in 2017.
Why? I feel that the push into SUVs and light trucks in the U.S. over the past few years has definitely been fueled by low gas prices. Even though sentiment in crude oil remains at pretty optimistic levels, you can see from the chart here that sentiment is dropping while the price of the commodity is remaining elevated. This is a bullish sign long term. Personally, I feel it is because we potentially have seen a multiyear top in the U.S. dollar. This means that all commodities over the long term should rise as the dollar weakens. In fact, if the U.S. dollar does not regain its 50-day moving average soon, I believe we will see meaningful lower prices in 2017, which would be bullish for all commodities including crude oil. This overtime is going to adversely affect Ford's high margins on the truck side of his business, which is where it really makes its money.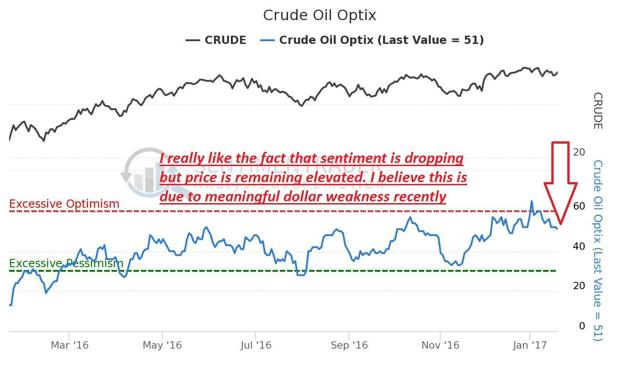 Second-Hand Market to Become Much Cheaper This Year
This is ultimately the problem with investing in a cyclical stock such as Ford. The investor in question is always open to commodity prices, which not only affect customers' buying decisions but also increase the raw materials of the respective cars and trucks. I believe this present cycle has probably topped from the seasonally adjusted annualized selling rate number we got in mid-2016. Therefore, investors should take management's statements on margins with a grain of salt as, fundamentally, they do not have a lot of control over the direction of the market.
Furthermore, Ford has made its intentions clear with respect to investing heavily in its electric and autonomous vehicles over the next three years. In fact, management has already informed the public of probable earnings reductions going forward due to planned elevated investment. The current trailing 12 months average payout ratio of just over 33% means that many investors believe that the company's dividend yield of 4.85% is ultra-safe at its current 4.85%. But is it really? With an exorbitant number of leased cars and trucks that are scheduled to come back on to the secondhand market shortly, this has to, over time, put downward pressure on Ford's margins. Remember that the majority of customers who have bought new vehicles did so because of elevated secondhand prices over the past few years. Therefore, if the floor falls out of the used car and truck market, Ford is going to find it incredibly difficult to move stock in 2017. This has to be another potential headwind facing Ford this year.
Interest Rates to Rise Meaningfully
The U.S. long bond has been unable to recover its 50-day moving average. Therefore, the December lows now become crucial. If they break these, we are going to see significant interest rate hikes this year. U.S. lease terms are at their highest levels in history both in terms of duration (seven years on average) and amount ($30k now is the average lease amount in the U.S.). This can't be good for Ford going forward.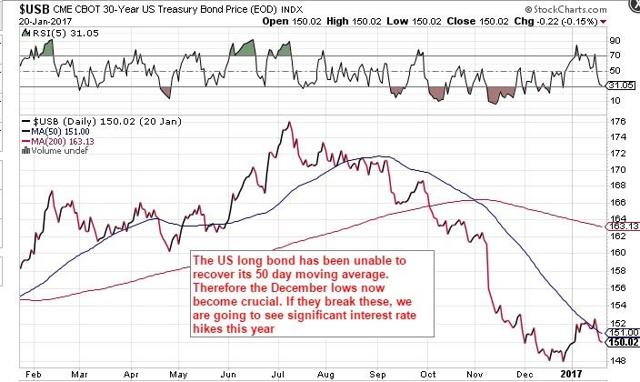 As such, investors should be taking Ford's upcoming Q4 earnings with a grain of salt. Guidance will only move the stock over the near term. Watch commodities, interest rates and the used car and truck market. These will tell you much more about where Ford stock is going in 2017.
Disclosure: I/we have no positions in any stocks mentioned, and no plans to initiate any positions within the next 72 hours.
I wrote this article myself, and it expresses my own opinions. I am not receiving compensation for it (other than from Seeking Alpha). I have no business relationship with any company whose stock is mentioned in this article.