Let us face the harsh truth: Shares of Business Development Company Main Street Capital Corp. (NYSE:MAIN) are priced for perfection. With shares selling for ~$37, investors have to pay a 70 percent premium to the BDC's last reported Net Asset Value. The reward-to-risk ratio continues to be unfavorable at today's price point, and taking profits is the smart thing to do here.
Business Development Company Main Street Capital is a coveted income vehicle, and there are good reasons for that. For one, Main Street Capital has expanded its investment portfolio, and grown its Distributable Net Investment Income in lockstep over time (but DNII growth has already started to slow).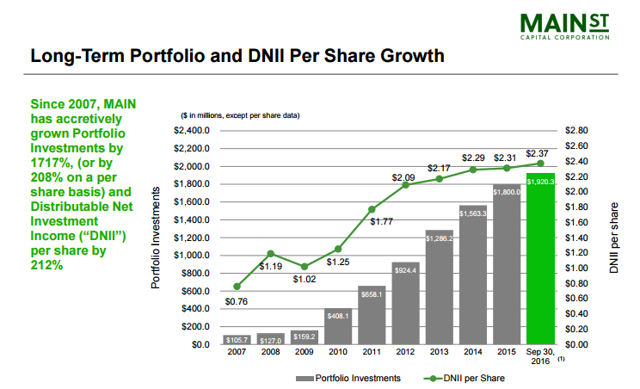 Source: Main Street Capital
Further, Main Street Capital covers its dividend easily with Distributable Net Investment Income, which makes the company a preferred dividend play for income investors. Last but not least, Main Street Capital is part of a small (but growing) group of income vehicles that pay their dividends on a monthly distribution schedule, which has a lot of value for investors in and of itself.
Nonetheless...I Am Going To Leave The Ship...
I am going to sell all of my remaining shares in Main Street Capital in January, even though the investment has been a lucrative one for me: Main Street Capital's shares were throwing off an eight and a half percent yield, which is not at all a yield to complain about. Main Street Capital is not the only Business Development Company that I am selling, though: I have already started to reduce my long position in Prospect Capital Corp. (NASDAQ:PSEC), and for the exact same reason: The current rate of price appreciation will not last forever. It is time to lock in profits.
Main Street Capital's shares are changing hands for 1.70x last reported Net Asset Value, which makes the Business Development Company the most expensive in the sector. Almost all high yield income vehicles have done very well since the election of Donald Trump as U.S. president in November, largely because his proposals to stimulate the economy through tax cuts and regulatory relief have pushed investors' confidence levels up. As a result, money flowed back into high yield, pushing valuations higher, and, in some cases, to unsustainable levels.
While a lot of Business Development Companies are now selling for prices close to Net Asset Value, or even a slight premium to it, Main Street Capital is in a league of its own in terms of valuation and the BDC's shareholders are particularly optimistic about the company's income potential, which may be the biggest red flag. As far as I am concerned, paying a 70 percent premium to the last reported Net Asset Value of $21.62 is excessive, and investors are running a very high risk of overpaying here.
Main Street Capital's shares are priced for perfection, leaving little room for error, and certainly no room for underwhelming Distributable NII results, or deteriorating dividend coverage. Any disappointment in that regard, and investors will run for the hills.
Your Takeaway
I am selling out of Main Street Capital this month because I think the reward-to-risk ratio is no longer tilted in favor of income investors. Investors have chased BDC valuations to new 52 week highs lately, suggesting that companies like Main Street Capital are overbought, which in turn implies outsized correction potential. As much as I love regular income, this high a valuation will not last for long. From a valuation point of view, Main Street Capital is not a Buy.
If you like to read more of my articles, and like to be kept up to date with the companies I cover, I kindly ask you that you scroll to the top of this page and click 'follow'. I am largely investing in dividend paying stocks, but also venture out occasionally and cover special situations that offer appealing reward-to-risk ratios and have potential for significant capital appreciation. Above all, my immediate investment goal is to achieve financial independence.
Disclosure: I am/we are long PSEC, MAIN.
I wrote this article myself, and it expresses my own opinions. I am not receiving compensation for it (other than from Seeking Alpha). I have no business relationship with any company whose stock is mentioned in this article.