Although Wells Fargo's (NYSE:WFC) 4Q certainly could have been better, we do not think it was a bad quarter, as suggested by several analysts. In fact, 4Q revealed a number of important positive trends.
First, the bank's net interest income was up 7% y/y, primarily driven by decent loan growth and a modest benefit from higher interest rates. The company's NIM was up by 5 bps q/q. One can argue that margins were affected by one-off factors, which will likely fade in 1Q. That being said, one-offs contributed 2 bps, while the remaining 3 bps were driven by core fundamentals. We believe higher NII and stronger margins are the main positive takeaway from the results, given that Wells' balance sheet is the least sensitive to interest rates among large-cap U.S. banks. Importantly, Wells believes that its deposit beta will remain low, and that should support its NIM going forward.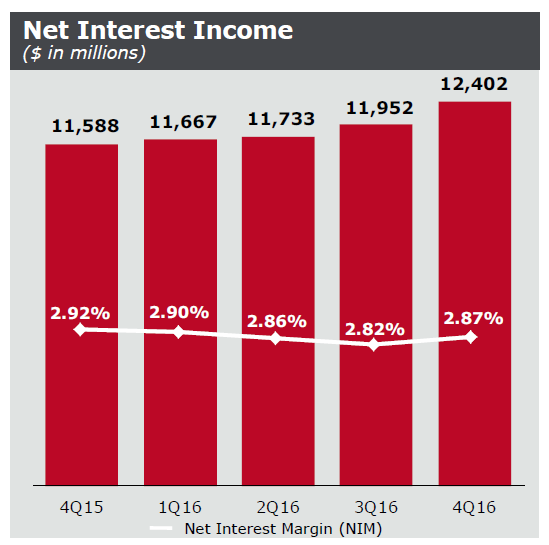 Source: Company data
4Q's efficiency ratio increased to 61.2% from 59.4% in 3Q. The increase could be largely attributed to costs related to WFC's regulatory issues. Although the bank expects its efficiency ratio to remain at an elevated level, it is key to realize that Wells did reiterate its long-term focus on cost-savings measures. According to management, there is an opportunity for branch closures. Wells Fargo accelerated the pace of branch closures in 2016 and closed 84 branches. The company expects up to 200 closures in 2017. The pace of closures should remain at that level or slightly higher in 2018.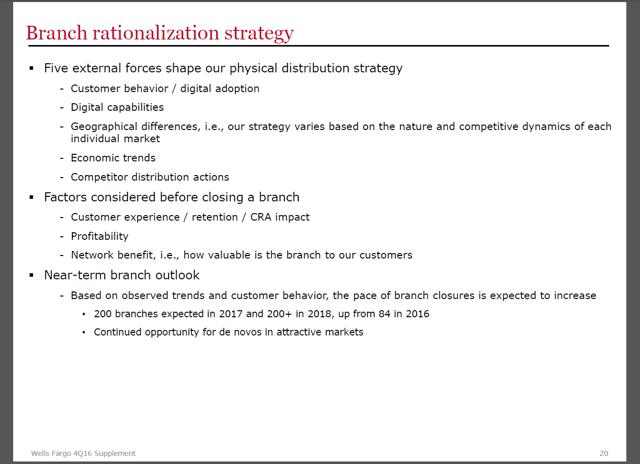 Source: Company data
We believe investors should welcome the fact that, despite multiple regulatory issues, Wells confirmed its focus on cost efficiency. In fact, regulatory challenges did accelerate the pace of the company's savings initiatives. Given that Wells Fargo has more branches than any other U.S. bank, there is still plenty of scope to reduce costs. Once the regulatory issues have been resolved, it will likely announce new round of cost cuts, in our view.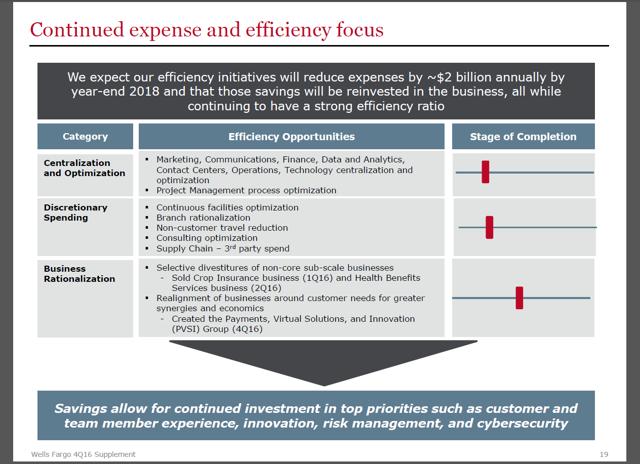 Source: Company data
On a separate note, WFC mentioned that it hired a third-party independent consultant to evaluate the company's sales practices.
The primary argument of those who rate Wells Fargo with a Sell recommendation is that the stock is overvalued and trades at a substantial premium to its peer group. However, "the price-to-tangible book ratio-return on tangible equity" approach refutes the Sell thesis. As the chart below demonstrates, Wells trades at a discount to U.S. regional banks and looks fairly valued compared to other U.S. G-SIB banks.
U.S. banks: RoTE (return on tangible equity) 2017E vs. P/TB (price-to-tangible book) 2017E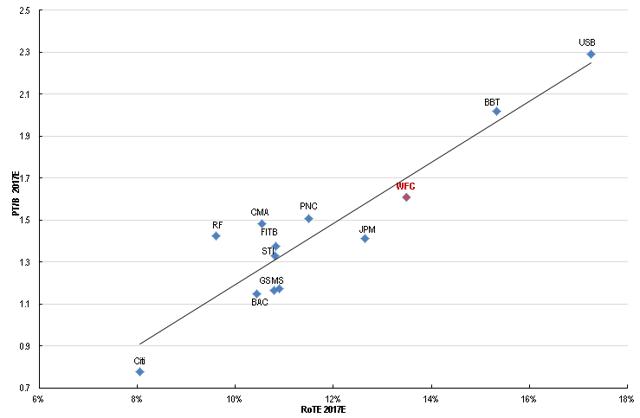 Source: Bloomberg, Renaissance Research
Importantly, Wells used to trade above the sector's regression line. In other words, prior to the sales practices scandal, the market had valued WFC at a regional banks multiple rather than at a G-SIB multiple.
Currently, the stock trades at a 1.61x forward P/TB multiple and a 1.48x forward P/B multiple. Given a 4-6% growth rate in NII and further rounds of cost cuts, a reasonable case can be made that Wells Fargo is a 1.7x P/B bank:

Source: Renaissance Research estimates

Source: Renaissance Research estimates
Bottom line
The quality of Wells' 4Q results was good, and the numbers did reveal several positive trends. The company's focus on cost efficiency metrics should be welcomed by the market, while its low deposit beta is a tailwind for margins. We believe once the regulatory issues have been resolved, Wells Fargo will announce further rounds of cost cuts. That, coupled with mid-single digit NII growth, shows that the stock's valuation has room for multiple expansion.
As a buy-side analyst and a deputy portfolio manager, I oversee a financials-focused fund and will be continuously providing research coverage on developments with global banks, insurers, asset managers and other financial companies. If you are interested in the topic, consider following us by clicking the "Follow" button beside our name at the top of the page. Thank you for reading.
Disclosure: I/we have no positions in any stocks mentioned, and no plans to initiate any positions within the next 72 hours.
I wrote this article myself, and it expresses my own opinions. I am not receiving compensation for it (other than from Seeking Alpha). I have no business relationship with any company whose stock is mentioned in this article.