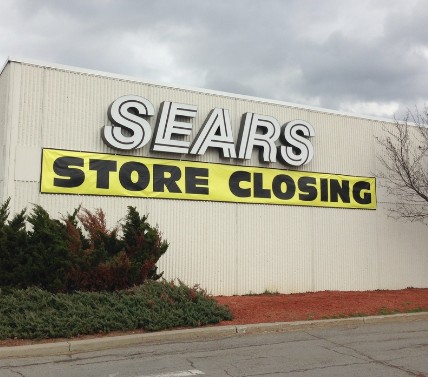 Argument
Sears Holdings (NASDAQ:SHLD) is taking a similar approach to Macy's (NYSE:M) in keeping the business alive by monetizing assets to support its liquidity profile. But turning around the company's operating performance becomes more difficult with a smaller asset base and may just be delaying the inevitable. At a run rate of $2B+ in annual earnings losses, Sears will have difficulty remaining solvent another two years unless it manages to stem these losses or eventuate a turnaround.
Overview
Sears continues to reel from poor sales data and recently incurred a decrease in comparable sales of 12%-13% year-over-year for the holiday period. Sears can continue to maintain its solvency through the consistent fall in free cash flow through asset liquidations, capital market dealings, and (ideally) an uptrend in business activity. But this becomes increasingly difficult to do as the company's asset base dwindles and its lack of cash flow limits capital market access. And the ongoing secular decline in brick-and-mortar retail affects Sears Holdings heavily given the lack of a notable e-commerce presence for its Sears and Kmart brands.
The company's operating losses are substantial. Over the past twelve (reported) months, Sears' EBIT has come to (minus)-$1.68 billion for a margin of -7.2%. Net income losses over this same period have come to (minus)-$2.19 billion for a margin of -9.4% for an EPS of -20.50.
While the company has some level of flexibility with respect to improving its liquidity profile, it's operational troubles are much more embedded. With its cash and short-term investments balance at just $258 million as of the end of Q3 (ending October 31, 2016), drawing down on the asset is not sufficient to cover any shortfall.
Consequently, the company announced a series of recent initiatives to boost liquidty through the sale of Craftsman by Stanley Black & Decker (NYSE:SWK) for around $900 million, $321 million secured against a portion of its real estate holdings from hedge fund ESL Investments (with the potential to boost it up to $179 million through additional property collateralizations), and another ~$1 billion in asset monetization plans.
Sears has just over 200 properties worth roughly $2.5 billion (that aren't already used as part of a collateral agreement on existing loans). Its DieHard and Kenmore brands also remain available. The company remains on pace to sell 150 outlets (108 Kmart and 42 Sears) to reduce its store count, which will work to monetize assets where the value of the property/real estate exceeds the value of the retail business, and generally enhance productivity among its core asset holdings.
So if one includes the sale of Craftsman, properties not subject to financing/debt liabilities, and potential DieHard and Kenmore sales, the company has over $4 billion worth of assets to enhance its liquidity position (or over $4 per share). Considering a run rate of GAAP earnings losses of around $2.2 billion per year, this should give Sears at least another two years of breathing room to stave off bankruptcy. Nevertheless, how the company will go about improving its operational performance remains a key priority. Sears can effectively buy time through asset monetizations, but its high rate of cash burn gives management a limited amount of time to materially improve its business prospects before bankruptcy is likely to be in order.
Debt maturities don't project to have a high level of impact on the company's liquidity in the near-term, with just a $500 million loan due in 2017. If the company faces further cash shortfalls, but believes it can return to operational profitability with a plan that extends beyond the two-year "solvency window," the company will need to rely on access to the capital markets to remain afloat. This hypothetical would be a lose-lose proposition for shareholders. Issuance of equity would dilute shareholders while issuance of debt for a cash flow-negative company is always interpreted as value destructive when it is likely that is will not generate the free cash flow to eventually service this debt.
But if operating losses are pared to go along with a sufficient liquidity profile to offset these losses, it could be positive for share prices. Shareholders could also benefit if the company's operating free cash flow remains above its interest expense long-term to go along with an adequate cash cushion.
Nonetheless, if Sears' debt payments exceed its operating cash flow, while its cash position dwindles, shares are likely to fall in conjunction. And as Sears' asset base is slowly dissolved through liquidations, the company's operational potential and ability to organically create cash flow will continue to erode accordingly. Sears, if not swept up by a corporate buyer, will need to bank on becoming a smaller, more efficient company if it is to exact a turnaround.
However, even at this price point in the market, I am still skeptical whether Sears can bring about the necessary transformation from a strategy that relies on monetizing assets to meet an upcoming liquidity crunch while simultaneously banking on a rebound in operating performance despite a progressively diminishing asset base.
Disclosure: I/we have no positions in any stocks mentioned, and no plans to initiate any positions within the next 72 hours.
I wrote this article myself, and it expresses my own opinions. I am not receiving compensation for it (other than from Seeking Alpha). I have no business relationship with any company whose stock is mentioned in this article.