(Editor's Note: Investors should be mindful of the risks of transaction in securities with limited liquidity, such as AIPUF, APTPF, and AIPBF. Airports of Thailand's listing in Bangkok, AOT.BK, offers stronger liquidity.)
Company Description
Airports of Thailand (AoT) was formed as a result of the incorporation of the Airports Authority of Thailand (a SOE). It became a public company in 2002 and is currently 70% owned by the Thai Ministry of Finance. The remainder is held by institutional and retail investors. The firm's stock is currently traded on the Thai Stock Exchange as well as over the US OTC markets (OTC:AIPUF, OTC:APTPF, OTC:AIPBF)
Despite managing only 6 out of Thailand's 38 airports, AoT accounts for approximately 86% of Thailand's total passenger volumes, as its airports are the major transit/entry destinations of the country. As such, AOT could be considered a proxy to the Thai air-transport industry with a quasi-monopoly.
With regards to the other airports, The Department of Airports (DOA) manages 28 regional airports, and Bangkok Airways manages 3. The Pattaya International Airport is managed by the Royal Thai Navy. We would note that these airports only account for 14% of total passenger volumes.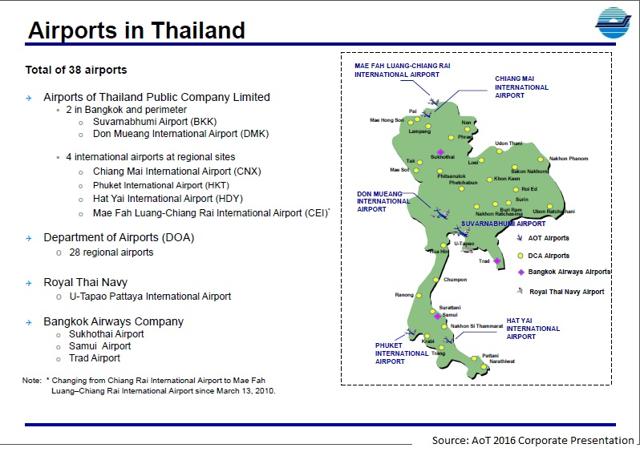 In terms of revenue, aeronautical revenue is the major contributor and accounted for 57% of FYE September 2016 revenues. These include (1) Aircraft Landing and Parking Charges, (2) Passenger Service Charges and (3) Aircraft Service Charges. Non-aeronautical revenues accounted for 43% and comprise of Rentals, Airport Service Charges and Concession Revenues.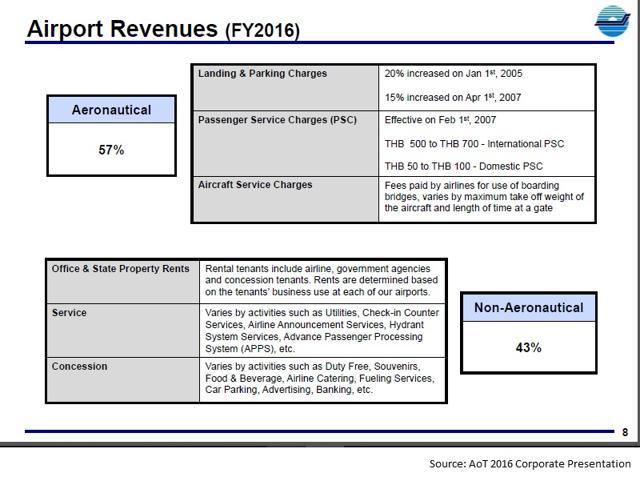 Investment Highlights
Proxy for the robust Thai tourism industry
Despite managing only 6 out of Thailand's 38 airports, AoT accounts for 86% of passenger volumes and 81% of aircraft traffic in Thailand. As such, the firm is an excellent proxy to benefit from growth in the Thai tourism industry. Competition is minimal and the firm enjoys a near monopoly.
Looking forward, AoT will likely remain the dominant Thai airport player by far as its airports remain key entry/transit hubs for the country. As a comparison, the busiest non-AoT airport is in Krabi, which only handled 3.69 million passengers in 2015.
Thailand has been a popular tourist destination and we expect this trend to continue. A brief look on TripAdvisor revealed that 5 out of the top 25 destinations in Asia were in Thailand, namely Bangkok, Kathu, Krabi, Chiang Mai and Bophut. In addition, Thailand has also been labeled as a bargain for backpackers. Cumulatively, this illustrates that Thailand is favored by travelers with a wide range of budget and supports tourists' interest in the country.
Foreign tourists arrivals have grown at a 13% CAGR, from 16 million in 2010 to 33 million in 2016. We view such growth rates as remarkable as Thailand had experienced numerous tourism-negative incidents over the years such as (1) the bombing inside the Erawan Shrine in Bangkok in 2015, (2) bombing in Hua Hin and Phuket in 2016, (3) anti-government protests between November 2013 and May 2014, (4) the 2014 Thai coup d'état, all of which were expected to dent demand significantly. We believe this illustrates Thailand's attraction as a tourist destination and thus the country will benefit from rising affluence in Asia Pacific and the further growth of low cost carriers as more tourists visit the country's popular destinations such as Bangkok and Phuket.

Visible growth plans in place to grow revenue and profits.
AoT's airports enjoy strong utilization rates (based on passengers volumes), and 5 out of its 6 airports had passenger volumes in excess of the stated capacity.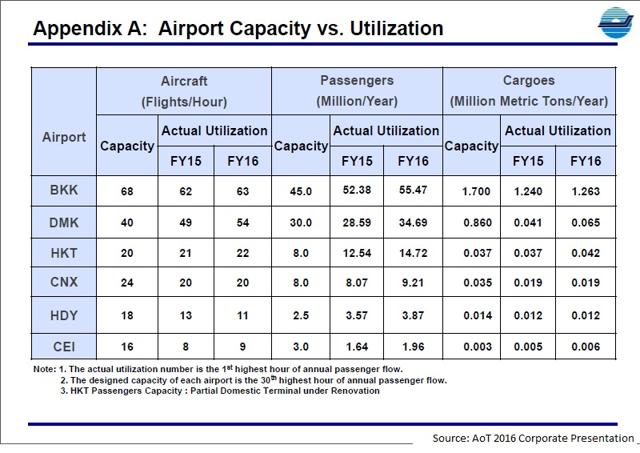 In view of the capacity constraints and future demand, the firm has commenced expansion plans to boost the capacity of its Suvarnabhumi airport by 100% to 90 million by 2021.

Furthermore, total passenger capacities of all 6 airports is planned to increase to 181 million by 2030. The envisaged growth in passenger volumes will support the firm's aspirations to benefit for rising air-transport demand in the region.
AoT's plans to further capacities will be supported by the firm's plans to apply for an increase in Passenger Service Charge. We opine that the hike is well justified by the higher operating costs upon completion of the expansion plans.
AoT's plans will also grow its non-aeronautical revenues as additional commercial space at the expanded airports as well as the opening of new terminals will result in higher rental and concession incomes, in line with the increased volumes of commercial activities in its airports.
Cumulatively, we are positive on AoT's clear plans to grow its revenues to benefit from the region's growing air-transport demand.
AoT's operations are strong cash flow generators
Strong operating cash flows allow AoT to fund its growth via internal resources and also provide consistent and growing dividend payouts to shareholders. The firm has a policy of paying 25% of its net profit as dividends to shareholders after deduction of all reserves specified by the company.
In view of AoT's consistently strong cash flows generation ability, we opine that the firm is likely able to continue its dividend payouts to shareholders. However, we also note that AoT has budgeted a CAPEX of up to THB194 billion, of which the majority (THB118 billion) are to be incurred in the next 5 years. The significant CAPEX could potentially be factored in the company's plans when deciding on dividend payouts during the same period.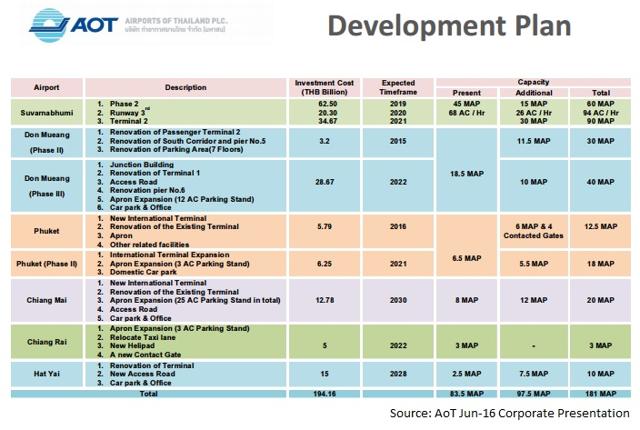 Attractive long-term fundamentals but valuation remains a concern
Using figures from Reuters, we observe that AoT currently trades at a premium to Chinese and Southeast Asian airports (in terms of price-to-book and LTM PE), which are all trading at <2.5x P/B and <20x LTM PE. We would also note that the Chinese airports are also enjoying undergoing a structural growth phase, with rising affluence leading to records outbound travels from China.

Hence, we opine that the firm is excellent as a company but as a stock, we would prefer to enter given a more favorable price point. This is especially so considering that foreign tourists arrivals are only expected to grow 4% to 7% in 2017 (versus a 13% CAGR from December 2010 to December 2016). Moreover, AoT is currently in the midst of a CAPEX upcycle till 2030, with a CAPEX of up to THB194 billion budgeted.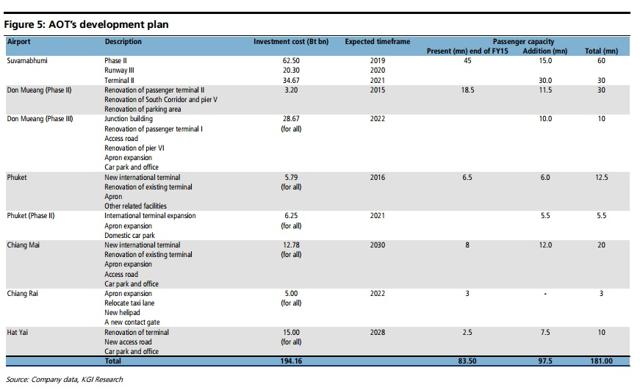 As discussed above, foreign tourists' arrivals have been increasing consistently despite the various negative incidents over the years. We believe this highlights Thailand's resilience as a favored tourist destination, and henceforth, we do have a favorable view of the company's long-term prospect and would look for entry opportunities in times of share price correction, which we opine presents a more favorable risk-reward profile. We would also note that AoT's share price had fallen to THB356 per share in October following the announcement of a crack-down on zero-dollar tours which negatively affected Chinese tourists' arrivals in Thailand.
Catalysts
Potential catalysts for the firm's share price to pull back would likely be broad events which are negative to Thailand's tourism industry such as terrorist attacks, government policies which affect tourists' arrival and social unrest within the country.
Potential Investment Risk
Delays in implementing airport charge increases
As discussed above, a part of AoT's earnings and margin expansion is premised on the Passenger Service Charges hikes going through. Delays or failure in implementing those hikes will affect the firm's margins adversely as operational costs and depreciation is expected to increase significantly post expansion.
Events adverse to Thai tourism
AoT's revenues are dependent on air traffic (via Landing and Parking Charge as well as Aircraft Service Charge) and passenger volumes (via Passenger Service Charges) while most of its cost base is relatively fixed. As such, negative events such as social unrest within Thailand, outbreak of terrorist attacks and disease outbreak in the country would affect the firm's revenues and margins adversely via lower air traffic and passenger volumes.
Airlines consolidations/bankruptcies
The consolidations of airlines will lower air traffic volumes into AoT airports, thus lowering revenues earned from Landing/Parking Charges as well as Aircraft Service Charge
Disclosure: I/we have no positions in any stocks mentioned, and no plans to initiate any positions within the next 72 hours.
I wrote this article myself, and it expresses my own opinions. I am not receiving compensation for it (other than from Seeking Alpha). I have no business relationship with any company whose stock is mentioned in this article.
Additional disclosure: Thank you for your time in reading the above article. I write on a wide range of companies on a regular basis. If you are interested in obtaining the latest updates, you could do so by following me on a real-time basis by clicking "Follow" button near the title. This article is intended to provide information to interested parties. As I have no knowledge of individual investor circumstances, goals, and/or portfolio concentration or diversification, readers are expected to complete their own due diligence before purchasing any stocks or other securities mentioned or recommended. This post is illustrative and educational and is not a specific recommendation or an offer of investment product or services. Past performance is not an indicator of future performance.
Editor's Note: This article discusses one or more securities that do not trade on a major U.S. exchange. Please be aware of the risks associated with these stocks.