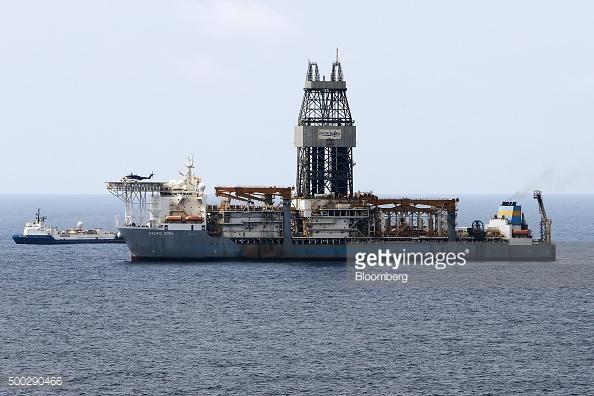 Schlumberger (NYSE:SLB) reported Q4 earnings Friday. The company generated revenue of $7.11 billion and eps of $0.27. Schlumberger beat on revenue by $40 million. I had the following takeaways on the quarter:
North America Delivered
The OPEC supply cut has driven oil prices and energy-related names higher. However, it has not had a substantial impact on the bottom lines of oil services companies. Last quarter Schlumberger's total revenue and revenue from North America fell 2% sequentially. That might have changed this quarter. At December 30, 2016, the North American rig count was up 4.4% Y/Y. The region delivered for Schlumberger this quarter.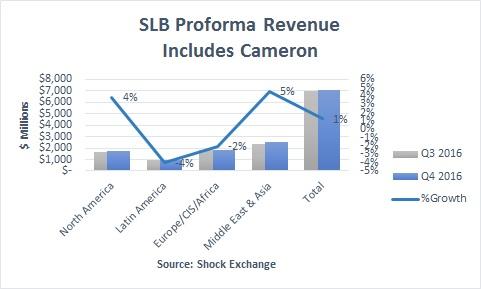 Total revenue was up 1% Q/Q, which North America was up 4%. ex-Cameron, land revenue grew by double-digits. This is exciting, yet not as impactful as it could be Halliburton (NYSE:HAL) or Baker Hughes (BHI) who have more exposure to North America land drillers. For now, North America represents about 25% of Schlumberger's total revenue. Hydraulic fracturing activity was strong and drilling equipment sales were higher on the rising rig count.
Latin America was down 4% mainly due to budget contraints in Mexico and Central America. Meanwhile, Middle East & Asia revenue was up 5% on strong fracturing and unconventional land resource developments. Overall top line growth was nothing to write home about. However, North America delivered as expected and if oil prices continue to rise SLB should deliver another solid quarter in Q1 2017.
Cameron Might Have Bottomed
Schlumberger's acquisition of Cameron International diversified its revenue stream; it has been a thorn in the company's side since the deal closed in the first half of 2016. In Q3 Cameron's revenue declined 13% Q/Q, which stymied the company. Subsea is expected to be the last segment of the oil services space to rebound. You could not tell it by Cameron's Q4 results. Its $1.3 billion in revenue was off 36% Y/Y, but flat sequentially. Operating income margins fell from 16% in Q3 to 14% this quarter, yet the stabilizing top line was encouraging.
Its OneSubsea segment reported an 11% increase from strong activity in Europe/CIS/Africa and Latin America. OneSubsea and Surface Systems were partially offset by a decline in Drilling Systems and a declining backlog. In my opinion, positive traction from Cameron would be the biggest boon to earnings, and potentially the stock.
Schlumberger Is Still Overvalued
Schlumberger has cut costs relentlessly since the rout in oil prices. The company incurred $675 million in restructuring and merger integration costs in Q4, of which $234 million was related to workforce reduction. EBITDA margins appear to have stabilized at 23%, down from the 28% - 29% Schlumberger enjoyed when oil prices were much higher. Margins are still the envy of the big four oil serivces companies, which include HAL, BHI and Weatherford (NYSE:WFT).
Management expects 2017 North America E&P to rise 30%, led by the Permian. That should lead to higher spending on equipment and oil services this year. International E&P is expected to be more constrained. That said, any upside in oil services spending is likely priced into the stock. SLB trades at 19.9x trailing EBITDA, yet EBITDA has been flat to declining over the past year. I do not believe its revenue or earnings growth justifies its trading value. Avoid the stock.
Disclosure: I am/we are short WFT, HAL, SLB, BHI.
I wrote this article myself, and it expresses my own opinions. I am not receiving compensation for it. I have no business relationship with any company whose stock is mentioned in this article.