It seems hardly a week goes by without another retailer preannouncing or taking down their forward guidance due poor holiday sales or intense competition. Target (NYSE:TGT) joined the parade last week, taking down their fourth quarter guidance from $1.55-$1.75 (analyst expectations were right in the middle at $1.65) to $1.45-$1.55. After the sell-off, Goldman dutifully downgraded the stock from Neutral to Sell.
The warning followed other brick and mortar retailers' similar disappointing announcement such as Macy's (NYSE:M) and Kohl's (NYSE:KSS). If you believe that it is over for brick and mortar, then I would stop reading this article and go buy Amazon (NASDAQ:AMZN) right now. Similarly, if you are a momentum investor looking for a quick buck, this is not your pick either.
On the other hand, if you believe there is a future for both online as well as physical retailers, and you are patient while collecting a 3.7% dividend, then Target presents an opportunity- as well as many other solid retailers that have sold off when pessimism runs high and no end seems to be in sight - much like other sectors have when they have entered a downturn seemingly lasting forever. This is an old play book that repeats itself time and again, much as the financial sector did after the Great Recession and the Oil Majors after the oil price declines of 2015.
If you are trying to pick the ultimate bottom, this may not be the best stock- even with a 3.7% dividend. The $2.40 in dividends the company will pay in the coming year will be small consolation if the stock drops another $5-10 or even more, which is entirely in realm of possibility. After all, investors snapping up the stock at over $80 a little over 9 months ago, did not expect to be down more 20% either. But then, they were paying more than 16X for earnings and had high expectations, leaving themselves vulnerable for negative surprises.
Having accepted the fact that I am a poor market timer, my preference is to accumulate shares in quality companies over periods of time when the stocks are experiencing pull-backs that allow me to be opportunistic when adding to my positions. And I am prepared to hold them for a very long time. In my opinion the retail sector in general, and Target in particular, provide such an opportunity with compressed PE multiples, high dividend yields and low future expectations- which rewards shareholders with higher PE multiples once the sentiment turns.
The Numbers:
It is interesting to note that Target is expected to make more than $5 in EPS for the first time ever in 2016, even after the recent earnings preannouncement. This compares to $4.69 in 2015 (adjusted for gain in sale of CVS (NYSE:CVS) pharmacy and restructure charges), $4.22 in 2014 and $4.29 in 2013 (see 2015 Target Annual Report, page 23). The GAAP results (not adjusted for onetime items such as restructurings and gains from the sale of businesses) for diluted EPS are $5.31, ($2.56) and $3.07 in for 2015, 2014 and 2013 respectively. (Note that the company's fiscal year ends in January.)
Revenues in the meanwhile have increased from $71.3B in 2013 to $72.6B in 2014 and $73.8B in 2015- prior to the sale of its pharmacy operation to CVS for $1.9B which closed in December 2015 (the division had sales of $3.8B with COGS of $3.1- and per the company its effect on EBIT was negligible).
Over the past 10 years, the company has grown:
Revenue from $59.5B in 2006 to an estimated $70B in 2016 (lower revenues compared to previous year due to sale of pharmacy unit),
EPS from $3.21 in 2007 to estimated $5.05 in 2016, largely driven by share repurchases: the company reduced its share-count from 869M to less than 600M in the same time period
Dividends from $0.44 in 2007 to the present $2.40 annual run-rate (with a pay-out ratio below 50%).
Sources: Zacks.com, Morningstar.com, Company Investor Relations web site.
Despite its challenges and self-inflicted wounds such as the massive data breach of 2013, the disaster that was its foray into Canada, this is hardly a company in decline. In fact, the company has been generating cash from operations in the range of $5B consistently over the past 5 years, providing ample coverage for continued share buybacks and dividends. In fact, even with little to no growth, the company will successfully drive EPS growth in the coming years through reductions in shares outstanding: on Sept 21, 2016, the company announced a new $5B share repurchase program. At the time, it had repurchased 125M shares for $8.8B under a previously announced $10B program and expected to complete the program by end of 2016.
Even under a no growth scenario, the company can grow EPS by close to 6% annually simply by reducing the shares outstanding. Similar growth can be achieved in dividends with the same total payout as the distribution is spread over fewer shares. Assuming a stock repurchase rate of $2B/year (which is roughly half of what the company has been doing in the last 2 years) and $1.3B in dividends/year, one can expect 9% annual returns.
I have run 2 scenarios to illustrate my point:
Scenario 1: No Growth- Company continues to pay $1.3B in dividends and repurchase $2B in shares each year
Scenario 2: "Optimistic"- Net income grows at 2%, Dividends and share repurchases grow commensurately
Figure 1- Scenario Analysis: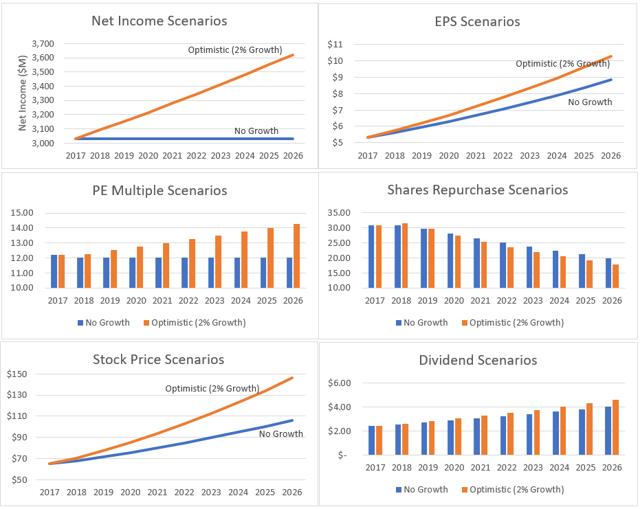 Source: Author's Work.
What is interesting to note is that even with no income growth and no PE multiple expansion, the company can deliver total EPS growth of 66% in 10 years, resulting in a stock price of $106 (PE of 12) and total dividend payout of $31.56 (maintaining a payout ratio below 50%). That is a total return of $72.73 for a $65 investment, or a 9% CAGR.
And if the company manages a small amount of growth (2% annually) with some PE multiple expansion, the company just about doubles EPS, and stock price can reach $146 with a PE multiple of 14.25. Add in $34.32 in dividends, the total return is $115 with translates to 12% annual returns. Yes, if the company can grow its bottom-line just 2% a year, one can potentially compound their investment at 12% for a decade!
Table 1: Summary of Scenarios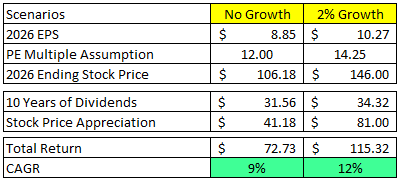 Source: Author's Work
While I call 2% an optimistic scenario based on the recent stagnation in Target's sales and earnings, the company has been busy making adjustments to its business model to combat secular changes in the retail industry. These changes- primarily in the form of emergence of online retailers and dominance of Amazon, as well as the oversaturated retail landscape (which I also talked about in my previous article on Macy's) is causing many retailers to rationalize and consolidate their store base. Furthermore, many are attempting to blunt Amazon's growth by developing their own online channels and exclusive brands.
In Target's case, their online sales made up only 3.4% of their total sales (see page 18 in 2015 Annual report), translating to ~$2B revenue- not an insignificant number, but immaterial compared to their overall sales. Furthermore, the high growth rates (40%) they were seeing in this channel has slowed down to mid-teens.
On the other hand, they have been more successful in creating their own exclusive brands that cannot be purchased elsewhere. To this end, they have 10 brands that have each crossed the $1B threshold. Moreover, their initiatives in the supply chain such as reducing out of stock items are also bearing fruit. Given all the of the above, I can see Target emerging from this rough patch as a stronger and better company, better positioned to compete in the new retail world.
Having said that, if they are not successful, and this turns out to be the beginning of a secular decline, Target owns a valuable real-estate portfolio. It is difficult to make an accurate assessment of the market value of Target's real-estate portfolio: as of January 31, 2016, they were carrying $6.1B in land and $27B in Buildings and Improvements- with $16.2B in accumulated depreciation written off against the buildings. I am certainly not advocating a spin-off as some hedge funds have for Macy's real-estate portfolio. Nevertheless, it is comforting to know there is value that can be unlocked in case my thesis does not work out as expected. Even if Target's real estate has not appreciated, taking it at face value (zeroing out accumulated depreciation) would more than double current shareholder equity from $13B to close to $30B- resulting in a book value of $50/share. Should a hedge fund agitate for such a spin-off and start running their own valuation analysis, I would suspect the net book value would be even higher.
Conclusion:
The entire retail sector has been under pressure of late due to secular changes and oversupply. However, this is an opportune period to pick through the beaten down names and select those companies that will be survivors and emerge stronger. In my opinion, Target presents such an opportunity- and with so much negative sentiment reflected in the stock, it can deliver respectable returns even if underlying business does not grow. Moreover, any positive surprise in the results will have a disproportionate effect on the stock- setting it up for a significant upside.
Disclosure: I am/we are long TGT, M, KSS, AMZN.
I wrote this article myself, and it expresses my own opinions. I am not receiving compensation for it (other than from Seeking Alpha). I have no business relationship with any company whose stock is mentioned in this article.