The three most interesting points in the latest Baker Hughes North America Rotary Rig Count report are a large jump in the Permian, a surprising revival in Cana Woodford and another sizable rise in the number of rigs in Canada. While it is natural to be mesmerized by the steady and speedy recovery, in light of Schlumberger Limited (NYSE:SLB) Q4 2016 earnings discussion, a question arises: does the rapid pick-up in activity represent a misallocation of capital?
The Permian: ramping up at the pace of early 2014
The rig count in the Permian basin rose by 13. In recent times, similarly large increases occurred during two weeks following November 30 OPEC meeting. A rise of this magnitude is, however, more the exception than the rule. The last time Permian oil (NYSEARCA:DBO) rigs increased by the same or a greater number was on March 7, 2014, which saw the count climbing by 14 rigs compared to the prior week.
The following exhibit shows a faster than expected rise in the Permian rig count. It is a modified and updated version of a chart from an article on the Permian's production potential. The reported rig count values from May 13 (when the lowest, prior to the subsequent rise, count of 133 was observed) to December 2, 2016 are shown in blue. The green line is a straight-line forecast based on the rise up to December 2, estimated at 15 rigs per month. The newly added orange data points are the rig count observations after December 2 and up to January 20. The take-away is that the Permian oil (NYSEARCA:USO) rig count has been rising faster in the preceding month and a half than in H2 2016.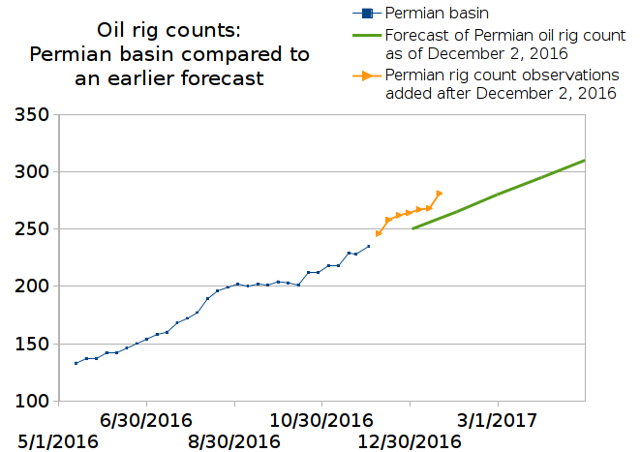 Source: Baker Hughes North America Rotary Rig Count and author's analysis
Where is Cana Woodford and why is its rig count up by so much?
Cana Woodford is one of the major basins itemized by Baker Hughes. Aside from reports by a few companies such as Cimarex Energy Co. (NYSE:XEC), it is mentioned far less often than the Permian. Indeed, even Cimarex nowadays tends to emphasize the company's "Premier position in the Delaware Basin". Yet in the latest Baker Hughes report Cana Woodford made a surprising appearance, with rig count rising by 9, all classified as oil (NYSEARCA:SCO) rigs, to yield the all-time high of 45 oil rigs.
First things first, Cana Woodford is in Oklahoma. The name might stem from the fact that it involves the Woodford play located mostly in Canadian county. Based on the historical pattern of being primarily a natural gas basin, it is odd to see the newly added wells being classified as oil wells. Indeed, even the latest presentation Cimarex delivered on January 5 at the Goldman Sachs Global Energy Conference shows natural gas to constitute over 50% of production, with the share of oil (NYSEARCA:UWTI) not exceeding 20%. Even production curves in the presentation are shown in units of millions of cubic feet equivalent rather that barrels of oil equivalent, underscoring the focus of the company, and perhaps the basin as well, on natural gas.
The following exhibit shows locations of Oklahoma wells spud since the start of 2016 in Blaine, Canadian and Kingfisher counties. I believe future updates may reveal many more recent well locations in Canadian county.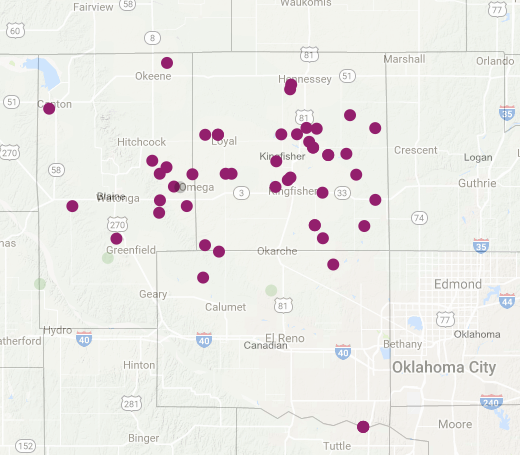 Source: WellDatabase
The newly added rigs might, however, represent a hint of a new development not yet covered in Cimarex' presentations. They might be in the "eastern corridor, which is much oilier":
[ Jason Smith - Bank of America ] ... can you just talk about how the Cana-Woodford fits from a capital allocation standpoint into next year ...

[ Thomas E. Jorden - Cimarex Energy Co. ] ... a lot of what we're looking at in the Woodford next year is on that eastern corridor, which is much oilier. It's offering outstanding returns, and I think you will see a joint project along that eastern corridor in 2017. And we're in the process of formulating that, but yeah, it'd be an oilier project.

[ John Lambuth - Cimarex Energy Co. ] Yes. It's an exciting project because, as our partner elaborated - I saw their write-up on it - it is a long lateral development project. It's 10,000 foot laterals in an area where we get very good condensate yield, with very good rate of returns.
The current market environment has one barrel of oil (NYSEARCA:OIL) selling for $52. In contrast, one barrel of oil equivalent of 100% natural gas changes hands at $20.22 with Henry Hub marker at $3.37 per MMBtu. It is not a surprise then that a discovery of an oily channel in what was previously seen as a liquids-poor basin would change the economics dramatically and lead to new rig deployments.
Is capital being misallocated?
Schlumberger brought up an intriguing perspective on a possible reason for the speedy recovery in North America as compared to elsewhere. Compare the company's characterization of the domestic market,
land operators in North America, where continued negative free cash flows seem less of a constraint, as external funding is readily available and the pursuit of shorter-term equity value takes precedence over full-cycle return on investment
to how the company sees other markets:
In the international markets, operators are more focused on full-cycle returns and E&P investments are generally governed by the operators' free cash flow generation.
In other words, there may be a misallocation of capital to "land operators in North America".
Rig count rising in the face of a vastly narrowed contango and reduced expectations of longer-term oil prices
There is another way to evaluate how sensible, economically, the quick recovery is in the rig count. At 281 oil rigs, the Permian oil (NYSEARCA:UCO) rig count is back where it was in late March and early April 2015. On April 1, 2015,
the front month WTI future settled about $2 lower, at $50.64 compared to $52.68 on January 20;
the 12-month future was at $58.32 versus the latest settlement of $56.10;
the 24-month future, the longest-dated contract that might still have some liquidity and be representative of market conditions, settled at $61.64 compared to the latest value of $56, representing a $5.64 higher expectation of longer-term oil (NYSEARCA:XOP) prices than presently.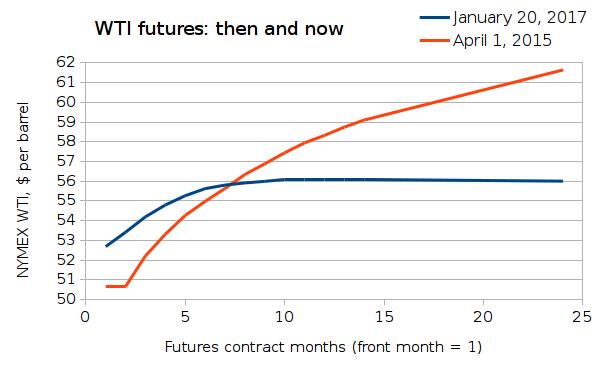 Source: Quandl and author's analysis
The front month - 24 months contango spread narrowed from $11 on April 1, 2015 to only $3.32 as of January 20. To put it simply, the NYMEX WTI futures curve has flattened dramatically since last time in March and April of 2015 the Permian oil (NYSEARCA:BNO) rig count was at its current level. Oil producers who hedge will likely find that currently they are not able to lock in a term price as high as in April 2015.
Conclusion
The ongoing rise in the number of rigs drilling for oil in the Permian is supported by the higher spot price of oil. Yet it is taking place in the face of the headwinds of lower longer-term oil price expectations. Expanding activity is facilitated by the market rewarding growth and an easy availability of capital, particularly equity. The result could be very good for the domestic oil supply in the medium term.
Note from the author: Thank you for reading. If you like this article, please follow me by clicking the "Follow" link at the top of this page and choosing "Real-time alerts on this author" to be informed of my latest ideas.
Disclaimer: Opinions expressed herein by the author are not an investment recommendation and are not meant to be relied upon in investment decisions. The author is not acting in an investment, tax, legal or any other advisory capacity. This is not an investment research report. The author's opinions expressed herein address only select aspects of potential investment in securities of the companies mentioned and cannot be a substitute for comprehensive investment analysis. Any analysis presented herein is illustrative in nature, limited in scope, based on an incomplete set of information, and has limitations to its accuracy. The author recommends that potential and existing investors conduct thorough investment research of their own, including detailed review of the companies' SEC filings and consult a qualified investment advisor. The information upon which this material is based was obtained from sources believed to be reliable, but has not been independently verified. Therefore, the author cannot guarantee its accuracy. Any opinions or estimates constitute the author's best judgment as of the date of publication and are subject to change without notice. The author explicitly disclaims any liability that may arise from the use of this material.
Disclosure: I/we have no positions in any stocks mentioned, and no plans to initiate any positions within the next 72 hours.
I wrote this article myself, and it expresses my own opinions. I am not receiving compensation for it (other than from Seeking Alpha). I have no business relationship with any company whose stock is mentioned in this article.