Toshiba (OTCPK:TOSYY) disclosed that it will likely sell a roughly 20% interest in its semiconductor unit for between 200 billion yen and 300 billion yen ($1.77-2.65 billion), while retaining a majority stake and keeping the new company in group earnings. Its semiconductor unit is largely NAND flash memory production.
One possible idea being floated as part of the spin-off plan is a partial sale to Western Digital Corp. (NYSE:WDC).
As a backdrop to this article, Toshiba and Western Digital operate key flash memory plants together in the Mie Prefecture city of Yokkaichi. Memory chips accounted for the majority of the 1.57 trillion yen in sales of Toshiba's semiconductor operations in fiscal 2015.
Toshiba invented both NOR and NAND memory, and first established the flash memory market in 1984. SanDisk had been a long-term partner of Toshiba since 2001, and the joint venture had provided SanDisk with stable NAND supply. The two companies collaborated in developing BiCS3, which they claim was "the world's first 3D NAND technology with 64 layers," up from 48 layers in the previous BiCS2 tech. The technology is now in production, with commercial volumes of BiCS3 expected to become available by mid-2017.
Western Digital in 2016 acquired SanDisk for $19 billion, assuming all contractual agreements between Toshiba and SanDisk.
Table 1

Demand (Million Gb)

2015

2016

% Change

2017

% Change

Mobile

23,825

30,585

28.4%

38,386

25.5%

SSD

33,497

62,476

86.5%

113,591

81.8%

USB/flash

21,770

28,892

32.7%

33,767

16.9%

Other

9,884

11,680

18.2%

14,697

25.8%

Total

88,976

133,633

50.2%

200,441

50.0%

Supply (Million Gb)

2015

2016

% Change

2017

% Change

SK Hynix (OTC:HXSCF)

10,710

16,001

49.4%

22,700

41.9%

Samsung (OTC:SSNLF)

31,844

53,990

69.5%

82,480

52.8%

Toshiba

40,470

47,435

17.2%

63,160

33.2%

5,878

20,119

242.3%

28,248

40.4%

Other

74

66

-10.8%

95

43.9%

Total

88,976

137,611

54.7%

196,683

42.9%
(Source: The Information Network)
Besides inventing flash memory and introducing the first chip in 1984, 3D NAND was introduced by Toshiba in 2007. Toshiba manufactures NAND chips from a complex of fabs in Yokkaichi in Mie Prefecture in Japan (see photo below). Today, Toshiba and Western Digital produce 3D NAND flash in their recently opened New Fab 2. Also, the two companies have begun to convert Fab 5 to 3D NAND.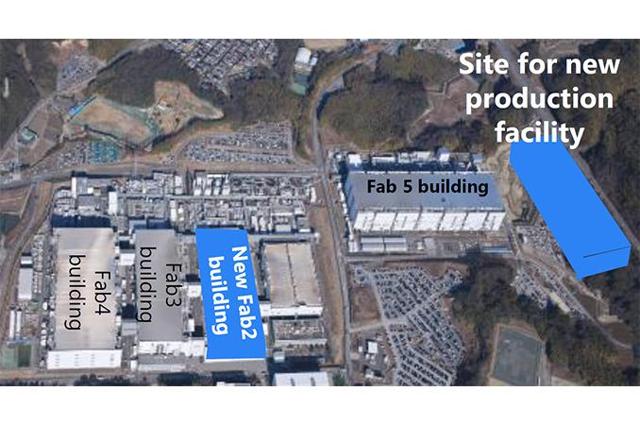 Shown in Table 2 are Toshiba's NAND capacities by fab. The old Fab 2 building, which was the initial "Flash Vision" JV plant with SanDisk, ended its 200mm wafer production in 2010 and is replaced by the New Fab 2. Fab 3, the first 300mm megafab, was maxed out in Q1 2009 and continues to run at 150K WPM. In Q1 2009, Fab 4 was running at 160K WPM. By the middle of 2011, Fab 4 was maxed out at 200K WPM. Fab 5, Toshiba's 3rd 300 mm megafab was completed in 2011, and is currently being converted to 3D NAND.
Table 2

Fab

Q1 2009

Q1 2016

2

0

0

3

150

150

4

160

200

5

0

100
Western Digital and Toshiba currently operate these fabs under three business ventures in 300-millimeter NAND-flash manufacturing facilities in Yokkaichi, Japan, which provide leading-edge, cost-competitive NAND wafers for end products.
Flash Partners Ltd., which operates primarily in Toshiba's Fab 3 facility, was formed in September 2004.
Flash Alliance Ltd., which operates primarily in Toshiba's Fab 4 facility, was formed in July 2006.
Flash Forward Ltd., which operates primarily in Toshiba's Fab 5 facility, was formed in July 2010.
In mid-July 2016, Toshiba and Western Digital opened the New Fab 2 in Yokkaichi, Japan. Construction of New Fab 2 had begun in September 2014.
WDC is a 49.9% owner in Flash Ventures, the moniker for the three business ventures as well as the New Fab 2.
In early November 2016, Toshiba finalized plans to build a new production facility to make 3D NAND. Construction is supposed to start in February 2017, completed in mid-2018, and high-volume production to be started in 2019. WDC intends to extend the joint venture partnership with Toshiba to the new wafer fab, but the proviso in the agreement in the Flash Ventures plan is there is no certainty as to when and on what terms WDC would participate with Toshiba in any investment in, or use of, the new wafer fab, if at all. This is noted in WDC's most recent 10-K.
Shown in Table 3 are market shares of NAND flash suppliers from Q1 2010 through Q3 2016. There are numerous takeaways from this chart, but I wanted to focus on Toshiba and SanDisk/WD. Since WDC acquired SanDisk in Q2 2016, all data points prior to that quarter were SanDisk revenues. As a 49.9% owner in Flash Ventures, WDC is contractually obligated to purchase half of Flash Ventures' NAND wafer supply or pay for 50% of the fixed costs of Flash Ventures. A majority of its flash memory is currently supplied by Flash Ventures and, to a much lesser extent, by third-party silicon suppliers.
The Flash Ventures obligation between Toshiba and Western Digital is the same as it was with SanDisk.
Over the past 11 quarters, Toshiba's share averaged 20% more than SanDisk's share. Since SanDisk and now WDC are obligated to purchase 50% of output, I suspect Toshiba's 20% premium in share, which equates to a 20% premium in revenue, is based on profit margins on merchant sales to its customers.
Table 3 - Market Shares of NAND Flash Suppliers 2010-2016 (Percentage Revenue-Based)

Samsung

Toshiba

SanDisk

/WD

Micron

SK Hynix

Intel

Q1 '10

39.2

34.4

-

12.1

7.9

6.4

Q2 '10

40.4

33.1

-

12

8.3

6.3

Q3 '10

39.7

35.7

-

10.2

9.4

5

Q4 '10

37.5

35.5

-

10.7

10.4

5.9

Q1 '11

36.2

35.1

-

11.4

10.7

6.6

Q2 '11

40.1

27.8

-

11.3

13.1

7.7

Q3 '11

37.5

31.6

-

11.3

11.8

7.8

Q4 '11

35.9

28.5

-

13.2

13.6

8.8

Q1 '12

33.9

32.9

-

14.2

11.5

7.6

Q2 '12

41.2

24.7

-

14.9

11.6

7.6

Q3 '12

39.3

26.2

-

14.4

11.6

8.5

Q4 '12

38.7

27.6

-

12.3

12.7

8.6

Q1 '13

37.2

28.9

-

13.7

12.3

7.9

Q2 '13

37.8

28.7

-

11.7

14.6

7.2

Q3 '13

38.4

28.9

-

11.1

14.1

7.6

Q4 '13

31.7

19.9

20.5

12.3

9.4

6.2

Q1 '14

30

21.4

18.9

14.5

8.2

7

Q2 '14

30.8

20.5

19.7

12.9

9.5

6.6

Q3 '14

29.7

22.6

18.8

12.2

10.3

6.5

Q4 '14

27.9

21.9

18.2

13.7

11.4

7

Q2 '15

32.6

19.1

13.4

15.2

11.7

8

Q3 '15

31.5

20.5

15.4

13.8

10.9

7.8

Q4 '15

33.6

18.6

15.8

13.9

10.1

8

Q1 '16

35.1

21.6

15.1

13.3

7.9

6.9

Q2 '16

36.3

20.1

16.1

10.6

10.3

6.5

Q3 '16

36.6

19.8

17.1

9.8

10.4

6.3
Who's going to take up Toshiba's offer?
Below are my thoughts on the companies that may have an interest in Toshiba's plan.
Western Digital
According to the latest 10-K from Western Digital:
"If Toshiba does not or we do not provide sufficient resources or have adequate access to credit, these investments could be delayed or reduced. In addition, in the event that lease financings for Flash Ventures are not available on favorable terms or at all, more cash would be required to fund these investments."
Currently, as a 49.9% owner in Flash Ventures, WDC is contractually obligated to purchase half of Flash Ventures' NAND wafer supply or pay for 50% of the fixed costs of Flash Ventures.
WDC is dependent on Flash Ventures and other strategic relationships with Toshiba for its NAND flash memory supply, and therefore, its business, financial condition and operating results, and its ability to realize the anticipated benefits from the merger will be dependent on the success of Flash Ventures and other strategic relationships with Toshiba, according to the company.
With the downturn in the HDD business, WDC must increase its investment in Toshiba in CAPEX spend for continued NAND supply, conversion of 2D to 3D NAND in the fabs, and the construction and equipment placement of the new NAND fab.
To illustrate Western Digital's need outside its core HDD business, net revenue was $13.0 billion for 2016 - a decrease of 11% from the prior year, primarily due to lower HDD unit shipments. According to The Information Network's report "The Hard Disk Drive (HDD) And Solid State Drive (SSD) Industries: Market Analysis And Processing Trends," total HDD shipments for 2016 decreased to 185 million units, compared to 229 million units in the prior year.
Seagate
Seagate (NASDAQ:STX) is in the same boat as Western Digital. A major supplier of HDDs, revenue in fiscal year 2016 decreased approximately 19%, or $2.6 billion, from fiscal year 2015 as a result of a decrease in shipments by 43 million units and price erosion.
I discussed this in a recent Seeking Alpha article entitled, "Will Micron Technology's Slap In The Face From Seagate Technology Catalyze A JV With Tsinghua Unigroup?"
"SK Hynix is expected to set up a joint company with U.S.-based data storage company Seagate as part of its plan to bolster its presence in the NAND SSD market. SK Hynix will hold a 51 percent share and Seagate to hold the remaining 49 percent."
Executives at Seagate have already stated that they don't want to integrate a foundry-level, NAND chip-making business into its existing operation. But that was before:
a shortage of NAND has resulted in increased ASPs; and
Toshiba announced its newest fab for the production of 3D NAND, as I mentioned above.
Intel
If we refer back to Table 3, Intel had a 6.3% share of the NAND flash market in Q3 2016 - a share that has been decreasing for the past four quarters.
But Intel's new NAND Flash fab in Dalian, China, was supposed to achieve 10,000 wafers per month at the end of 2016, and its capacity will continue to expand gradually on a quarterly basis in 2017.
SK Hynix
Another possibility is SK Hynix. Toshiba has leading-edge 64-layer 3D NAND technology, but needs an infusion of money for R&D. SK Hynix could benefit from Toshiba's NAND technology (design and processing capabilities), as SK's 3D NAND technology trails that of Samsung and MU. Both companies are jointly developing MRAM and nanoimprint lithography technology.
Chinese
I've written numerous articles in Seeking Alpha articles about China's interest in memory. Three new Chinese DRAM and NAND companies could be in operation in a few years as China maintains an aggressive strategy to increase its semiconductor manufacturing capabilities.
China's Tsinghua Unigroup initiated plans to buy U.S. memory manufacturer Micron Technology for $23 billion in 2015, but the bid was ultimately turned down by Micron executives.
An investment in Toshiba by Tsinghua would be beneficial in two important ways:
It would be significantly smaller than the $23 billion offer to MU, albeit for a smaller percentage of the company (see below).
It would circumvent President Trump's proposed 35% duty on imports of Chinese-made products into the U.S.
Others
Bloomberg reports that non-memory manufacturers have expressed an interest, including equipment manufacturers Canon (NYSE:CAJ), Tokyo Electron (OTCPK:TOELF), as well as private equity firms Bain Capital LP and Permira. My focus of this article is the impact of this spin-off on other NAND users and suppliers.
How much will it cost as an investment?
The cost is difficult to ascertain, because Toshiba has not expressed clarity on the terms. Toshiba is considering a spin-off of its semiconductor business into a separate entity and then sell a 20% stake in the new company for $2.7 billion. But is that only for the new fab? It is not completely clear how the spin-off would affect the other four fabs that are jointly owned by Toshiba and WDC. Would Toshiba sell 20% of their 50.1% share in these four fabs?
Assuming the spin-off is just for the new fab, the investor will need to spend $2.7 for the 20% share. But what about the new fab? Would the investor spend 20% of the cost or spend 50%, which is what SanDisk and WDC paid as their share in the four fabs? The new fab would probably cost $5 billion.
In other words, what does the investor get for the $2.7 billion and 20% of the spin-off? Until we get some additional clarity from Toshiba, we cannot value the terms of the deal. But the stakes are high:
Toshiba is in desperate straits financially by incurring massive losses on its U.S. nuclear power plant business.
Western Digital's floundering HDDs business will continue to plummet, and SSDs are its imminent salvation.
China's Tsinghua Unigroup seeming has deep pockets, and an investment has huge benefits.
We could see a battle for Toshiba's share, and if Western Digital doesn't win, its revenues going forward will be dramatically impacted. If it does win, the short-term bottom line will be negatively impacted as it shells out $2.7 billion.
Micron Technology could benefit. As I discussed in the Seeking Alpha article "Will Micron Technology's Slap In The Face From Seagate Technology Catalyze A JV With Tsinghua Unigroup?" the move by Seagate to SK Hynix as its NAND supplier from traditional supplier MU created a vacuum in the latter company's revenue stream.
If Toshiba picks a company other than WDC, that vacuum could be filled by getting additional NAND from MU, but it raises the issue of whether WDC would be willing to buy on the open market as Seagate was, or would continue its policy of demanding a stake in a company to guarantee supply. MU would have a say in the latter matter, and it would probably say no.
Disclosure: I/we have no positions in any stocks mentioned, and no plans to initiate any positions within the next 72 hours.
I wrote this article myself, and it expresses my own opinions. I am not receiving compensation for it (other than from Seeking Alpha). I have no business relationship with any company whose stock is mentioned in this article.
Editor's Note: This article discusses one or more securities that do not trade on a major U.S. exchange. Please be aware of the risks associated with these stocks.