Retailer Big 5 Sporting Goods (NASDAQ:BGFV) was able to capture positive momentum from bankruptcies throughout the space to drive positive same-store sales growth for the second consecutive quarter. While Q4 earnings and same-store sales growth are going to be solid, Big 5 has yet to show any information that invalidates the long-term bear case. Let's take a deeper look at preliminary Q4 results to provide some context to where Big 5 currently stands. I continue to believe the firm is on a trajectory to become a long-term zero.
A history of comps
Oftentimes, investors are too shortsighted when looking at same-store sales trends, which leads them to overrate or underrate recent performance. I think Big 5's 3.1% comp sales growth in Q4 is a prime example of overrating performance when put into context of historical trends.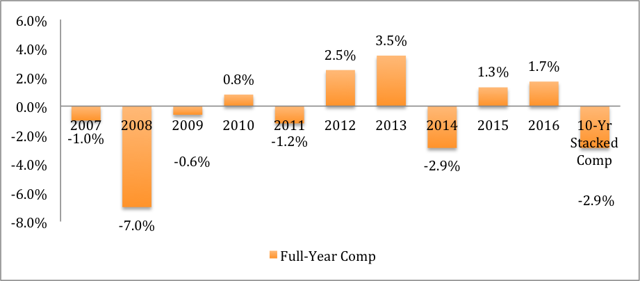 Source: BGFV SEC Filings
As we can see, Big 5 stores are actually ~3% less productive now than they were 10 years ago. This is in spite of less bricks and mortar competition and survivorship bias as less productive stores have been closed. Additionally, prior to closings of The Sports Authority and Sports Chalet, Big 5's comp sales growth was negative. How quickly the market forgets that same-store sales fell 1.7% y/y in Q2 and declined 3.7% y/y in Q1 of 2016. In short, I believe that anyone extrapolating a few good quarters to be a long-term trend is ignoring the realities of a business that has been declining for a decade.
Margins will be pressured again
In addition to a steady long-term downtrend in earnings, I believe the recent margin strength at Big 5 will be short-lived. Merchandise margins were up 70 bps y/y in Q4'16, and I think this is simply a result of the competitive dynamic from store closures. Big 5 possess a stranglehold on some markets where they were the only bricks and mortar game in town. I believe Big 5 may maintain some of this strength in bricks and mortar because I do not anticipate much investment in the space to bring in additional competition. It is important to note that Dick's Sporting Goods (NYSE:DKS) has been expanding in California due to the lack of competition. Dick's superior product assortment and store size will likely steal share from Big 5.
However, bricks and mortar is not a particularly important dynamic in the competitive atmosphere. Rather, I believe online presents the most pertinent competitive threat to sales and margins. Amazon (NASDAQ:AMZN) continues to drive greater price transparency, faster shipping times, and an excellent shopping experience. Big 5 provides very little to combat Amazon's competitive strengths, and frankly, Big 5 offers little in terms of differentiation. The combination of Amazon and other retailers could easily steal Big 5's $1 billion in sales.
See you at zero
Overall, I do not think recent sales "strength" at Big 5 warrants a revision to the long-term bear thesis. If anything, it confirms that the stock is best served for short-term trading and not a long-term investment. Big 5 may see a spike here or there due to a short-term phenomenon, but ultimately, the firm does not offer enough value to compete and thrive for the next decade plus. I continue to believe shares are going to be worth zero over the next 5-10 years.
Disclosure: I/we have no positions in any stocks mentioned, but may initiate a long position in AMZN over the next 72 hours.
I wrote this article myself, and it expresses my own opinions. I am not receiving compensation for it (other than from Seeking Alpha). I have no business relationship with any company whose stock is mentioned in this article.