A review of Crown Crafts, Inc. (NASDAQ:CRWS) reveals one of the dangers of relying on screens and checklists to identify stocks for acquisition. CRWS "checks the boxes" on so many things I look for in a stock - it is a small, under-followed company with a history of consistent free cash flow generation, selling at a reasonable multiple, with no "debt" (more on this below), and offering an above average yield that is well supported with meaningful insider ownership. What's not to like?
CRWS sells infant and toddler products, primarily bedding and blankets, but also bibs, bath products, table and floor covers, and accessories. Products are sold primarily under their NoJo and Neat Solutions brands, and are available in big box retailers like Wal-Mart (NYSE:WMT) and ToyRUs/BabiesRUs, as well as online at Amazon.com (NASDAQ:AMZN). The company was founded in 1957, but remains relatively small, employing only 135 people at YE16. Products are sourced from China, and imported to the US, primarily by container ships through the Port of Long Beach, CA.
CRWS has shown no growth over the past several years. In fact, 2017 sales appear to be tracking toward an eight year low (see chart below), but EBITDA is consistently around $10 million/year. At a current price of around $7.80 with 10.06 million shares outstanding, no debt, and $10.2 million of cash on the balance sheet, CRWS's EV/EBITDA is just over 6x, and the stock is trading at 1x sales and 12.4x trailing EPS. Oh, and it's yielding 4.1% ($0.08 quarterly) and pays a special dividend sporadically (paid $0.40/shr earlier this month). While the valuation metrics appear reasonable, I believe that the share price has been supported by the dividend, and that those shareholders chasing yield have left themselves with little margin of safety.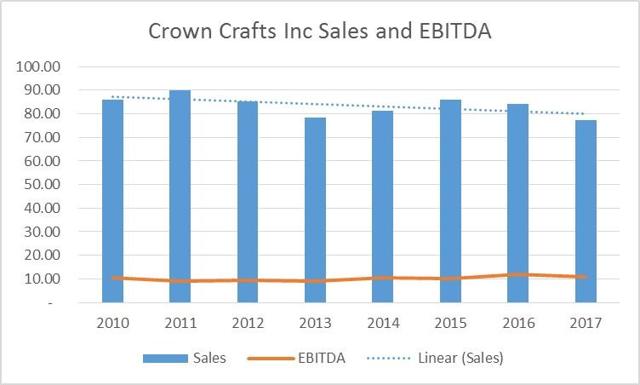 Source: Author's chart based on data from CRWS's forms 10-K and 10-Q
Why am I cautious about CRWS? My primary concern is with sales (or the decline thereof). CRWS's sales are vulnerable at both the macro and micro level. Declining birthrates in the US (particularly first babies) is a macro level headwind that is unlikely to change in the foreseeable future. 97% of CRWS's sales are in the US, and infant and toddler items are often handed down after the birth of the first child.
Two-thirds of CRWS's sales are through Wal-Mart (42%) and ToysRUs/BabiesRUs (23%). On the one hand, this is good as parents of newborns often shop at these stores. Conversely, both have had their market shares challenged by other traditional and online retailers, forcing both to squeeze suppliers for lower prices, margins or other concessions. CRWS has managed to maintain its EBITDA margin and its percentage of sales to these two retailers has remained relatively steady over the past eight years, but the concentration is a cause for concern.
Almost two-thirds of CRWS's sales are of licensed products, the largest of which is their license with The Walt Disney Company (NYSE:DIS). Sales of Disney licensed product totaled 46% of FY16 revenues. Again, if you are going to sell products for infants and toddlers, Disney characters are not a bad thing to build your business around. But CRWS's license with Disney expires in December 2017. I have no insight into whether the license will be renewed or, if renewed, under what terms. CRWS's royalty expense has totaled about $9 million each of the past two years and was expected to increase to more than $10 million this year. The loss of the Disney license would be a major blow to CRWS, and a renewal at a higher cost could squeeze CRWS's margins.
As noted above, essentially all of CRWS's product is sourced from China and imported to the US. The Trump administration has threatened additional taxes and tariffs on imports, particularly targeting China. While CRWS may attempt to pass any incremental cost on to its customers, both Wal-Mart and ToysRUs will be facing this issue with a number of (much larger) suppliers and will likely push back. Conversely, a reduction in the corporate tax rate, as proposed by the Trump administration, could be beneficial to CRWS as its tax rate has been in the 35% range for the past several years.
Another issue for shareholders to be aware of is the continual dilution of their position. Over the past eight years, CRWS's fully diluted share count has increased from 9.3 million shares to 10.06 million. Options on an additional 112,500 shares were exercisable at April 3, 2016 at an average of $6.72/shr and the 10Q for the period ended October 2, 2016 indicated options on 172,500 shares were outstanding at an average exercise price of $7.38/shr. While these numbers are not huge, the combination of stagnant sales, with potential margin pressure, and a steadily increasing share count is not the recipe for EPS growth.
So, CRWS is a solid micro-cap company, with a long operating history, facing some demographic headwinds and flat-lined sales. They have successfully maintained long-standing relationships with two dominant big box retailers, but sales are concentrated, all products are imported from China, and a highly visible and desirable character license is maturing later this year. The company pays an above average dividend, but share counts have been steadily increasing. What is the appropriate price for this company's shares?
Most of CRWS's competitors are privately held. Only Summer Infant Inc. (NASDAQ:SUMR) is a direct public comparable. SUMR currently trades at a forward P/E of 10x, at 1.8x book value, at 0.2x sales and 5.6x cash flow according to Morningstar's website. CRWS trades at a forward P/E of 13x, at 1.9x book value, 1.0x sales and 7.3x cash flow according to the same website. Based on this limited comparison to another micro-cap stock in the same business, CRWS appears to trade at a premium to SUMR. This is probably warranted given SUMR's history of operating losses and lack of any current dividend, compared to CRWS's steady operating performance and well supported dividend.
Traditional discounted dividend and discounted cash flow models are not particularly useful if you assume zero growth (CRWS's dividend has remained unchanged for the past four years and it is difficult to envision growth in EPS or cash flow given the declining sales trend). The projected value is essentially whatever price you need to obtain the dividend yield equal to your required return.
Looking back at CRWS's trading multiples over the past eight years, the stock has traded between a low of $1.86 in FY10 and $10.24 a few months ago. CRWS's P/E multiple has ranged from 3.6x to 16.0x, with a median of 11.3x. Applying this multiple to CRWS's current TTM EPS of $0.64/shr results in a value of $7.24/shr. Applying the same methodology to CRWS's price to tangible book value yields a $7.40/shr based on a current TBV of $3.60/shr and a median multiple of 2.05x. CRWR's median P/Sales ratio has been 0.75x over the past eight years. Applying this multiple to the current TTM sales implies a share price of $5.75.
On an enterprise value basis, CRWS has traded at a median low EV/EBITDA multiple of 5.3x and high EV/EBITDA multiple of 7.1x over the past eight years. Based on a current TTM EBITDA of $10.74 million, this implies a total enterprise value of $56.9 - $76.3 million. With no debt, an adjusted cash balance of $6.2 million ($10.2 million at 10/2/16 less $4.0 million special dividend paid), and 10.06 million share outstanding, the resulting market price for the equity is $6.27 - $8.20.
At a current market price of $7.80, CRWS is trading at a high valuation using any of its historic trading multiples. While all of these metrics are backward looking, I see no clear path to higher Sales, EPS, or EBITDA in the future and therefore no basis to support multiples toward the higher ends of the ranges.
CRWS's 4.1% dividend yield appears secure, but for all the reasons outlined above, I believe there is far more downside risk than upside potential in CRWS stock.
There are much safer ways to earn 4% these days.
Disclosure: I/we have no positions in any stocks mentioned, and no plans to initiate any positions within the next 72 hours.
I wrote this article myself, and it expresses my own opinions. I am not receiving compensation for it (other than from Seeking Alpha). I have no business relationship with any company whose stock is mentioned in this article.
Editor's Note: This article covers one or more stocks trading at less than $1 per share and/or with less than a $100 million market cap. Please be aware of the risks associated with these stocks.