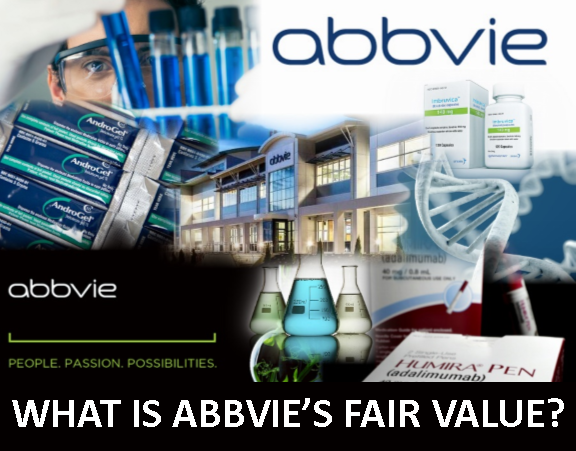 The healthcare sector declined on Tuesday once again because of comments made by President Donald Trump over the weekend around the drug industry. Investors hate uncertainty, and this has led to stock price pressure and volatility in the sector. One stock I have been following is AbbVie (NYSE:ABBV). Since being spun off from Abbott Laboratories (NYSE:ABT), the company has had impressive dividend growth and currently offers a generous 4.13% dividend yield. Has all this attention on drug pricing opened up an opportunity to pick up a decent yielding, high dividend growth company? Let's take a look.
WHERE ARE WE AT?
Most of the current valuation metrics show that ABBV may be undervalued at present. ABBV's current price to earnings ratio is 16.53. YCharts reports that the 4-year average is 25.72x. Gurufocus reports that the 4-year median is 18.89x. The industry median is currently 27.62x. The market is also averaging 25.5x.
The infographic below further shows that ABBV's PEG ratio is 0.8x, which is considered good value based on next year's expected growth, and that its price to book ratio which is 15.6x is overvalued based on its assets when compared to the healthcare industry average. Furthermore, the EV/EBIT is 14.19, which is considered overvalued based on Warren Buffett's fair value multiple of 10.0x. The P/FCF is 14.42, which suggests that the stock is slightly undervalued when applying the 15.0x standard generally sought by investors. Putting it together, the results are mixed. The price is overvalued when assessing ABBV's assets and earnings before interest and taxes but appears undervalued in the amount paid per dollar of free cash flow and EPS.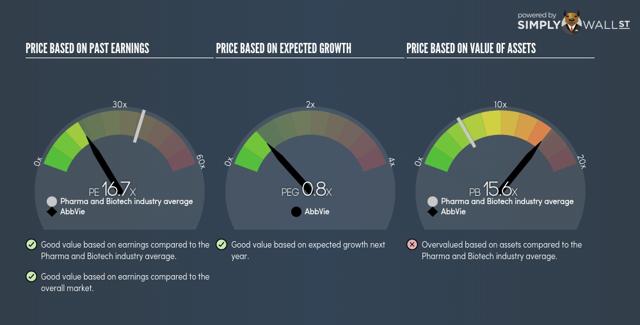 Source: SimplyWall.St
At present, there are 9 analysts with buy ratings, 2 with outperform ratings and 11 that have issued a hold rating. There is no sell or underperform ratings, which is a positive sign. The current consensus among the 22 analysts is to hold ABBV and that this rating has held steady since last month. Like the valuation ratios, analysts also appear to have mixed feelings about ABBV's price.
WHERE ARE WE GOING?
The infographic below shows what analysts are predicting as ABBV's earnings per share over the next few years.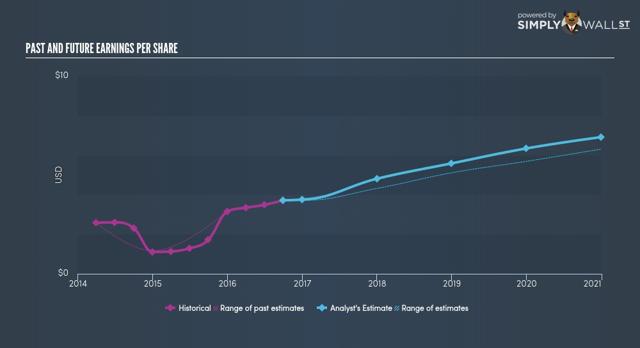 Source: SimplyWall.St
ABBV's EPS came in at $4.29 in FY2015. ABBV is expected to announce an EPS of $4.82 in FY2016. This would represent growth of 12.35%. Analysts are estimating a FY2017 EPS of $5.50 (range of $5.28 to $5.95), FY2018 EPS of $6.34 (range of $5.69 to $6.89) and FY2019 EPS of $6.92 ($6.31 to $7.68). This represents year over year growth of 14.11%, 15.27% and 9.15% respectively. These estimates seem lofty to me unless ABBV strikes another blockbuster drug, but it hinges much more on ABBV's ability to protect its patent covering Humira from biosimilar encroachment. ABBV's future 5-year growth estimate is 14.60%, which is considerably higher than the industry's long-term growth rate of 8.70%. These estimates demonstrate that there are high expectations for ABBV and that the company should continue to grow over the next few years.
If analyst's estimates are accurate, then ABBV is currently trading at 11.2x FY2017 earnings, 9.8x FY2018 earnings and 8.9x FY2019 earnings. This presents a very attractive entry price now for future earnings. If I use the more conservative median 4-year PE ratio (mostly because ABBV does not have a long history yet), based on ABBV's EPS estimates, the stock would be trading around $103.90 in FY2017, $119.76 in FY2018 and $130.72 in FY2019. Compared to the current price, the FY2017 price represents 67.96% upside potential.
Over the next 12 months, analysts are estimating that ABBV's median price estimate will be $70.00, which represents 13.2% upside from the current price. The range runs from a low of $56.00 (9.5% downside) to a high of $90.00 (45.5% upside). Using a PE multiple of 18.89x and the estimated EPS of FY2016 of $4.82, this gives a price of $91.05. These estimates suggest that there still remains some downside risk, but the upside potential is 4x greater than the downside risk, which presents a favorable risk/reward argument.
IS ABBVIE TRADING AT FAIR VALUE?
I used a reverse DCF to determine how much the market expects ABBV's growth rate to be. With shares trading at $61.86, the market is pricing in earnings to grow at 13.88%. This is slightly below the 14.60% growth analysts are estimating over the next 5-years. An EPS growth rate of 13.88% would translate into an EPS of $4.89 in FY2016, which is even higher than what analysts are expected or the company for that matter. This could suggest that the market may be getting ahead of itself slightly.
What is my fair estimate for ABBV? To answer this question, I calculated the fair value of ABBV using three models: Discounted Cash Flow, Graham's Formula, and EBIT multiples.
The inputs I used for the DCF was the 5-year long term growth rate of 14.60%, a discount rate of 9%, a terminal rate of 2% and a starting FCF value of $5.14B. This provided a fair value estimate of $65.01.
The inputs I used for the Graham's Formula include a growth rate of 14.60%, and EPS estimate of $4.82 and a 20-year AA corporate bond rate of 3.68%. This provided a fair value estimate of $124.48.
The inputs I used for the EBIT model has a conservative, normal and aggressive case. Based on ABBV's past 4-year EV/EBIT history, I chose a multiple of 14.19x for the conservative case, 14.73x for the normal case and 15.82x for the aggressive case. Revenue estimates were $25.71B in each case. This resulted in fair value estimates of $53.12, $55.81 and $61.20 respectively.
The table below provides a summary and calculations of the estimated fair value of ABBV.
| | | | | | |
| --- | --- | --- | --- | --- | --- |
| Current Price | DCF | Graham | EBIT | Average FV | Median FV |
| $61.86 | $65.01 | $124.48 | $55.81 | $81.77 | $65.01 |
Source: Old School Value
Based on these calculations, the average fair value estimate is $81.77, and the median fair value estimate is $65.01. Based on today's stock price, ABBV is currently undervalued by 32.19% or 5.09%.
Below you will find my risk/reward chart based on the long-term growth rate (14.60%) and the average and median fair value estimates. The red and green lines in the price action chart below represent the trading range of ABBV based on that growth rate. Obviously, when the stock is near the top line, it is not the time to buy, and when it is near the bottom line, it is time to consider buying.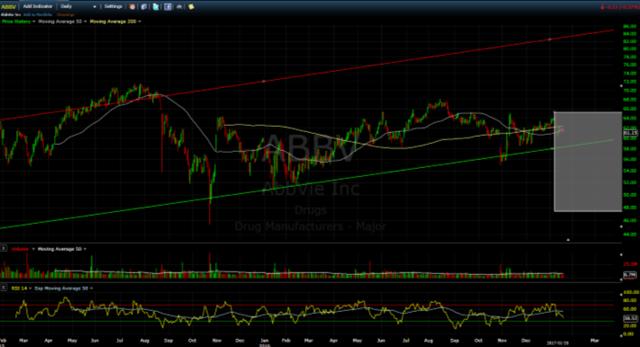 Source: Freestockcharts.com (daily view)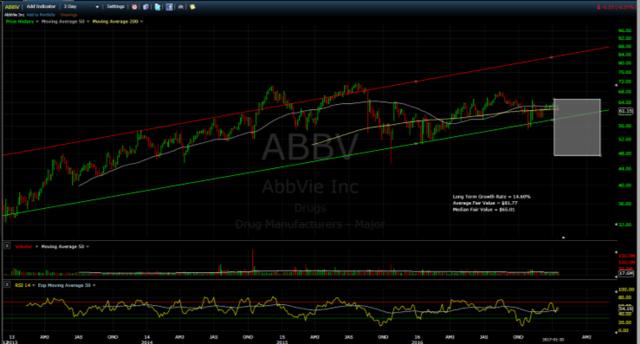 Source: Freestockcharts.com (3-day view)
As you can see in the daily view chart, ABBV is right in the buy price box, but it is more in the upper end of the box as I choose the median fair price estimate in this case as I feel that the Graham formula is inflating the average fair price estimate. As I see it, there is only a margin of safety of 5.94%. ABBV could be considered a buy at these levels, but some investors may want to wait for a greater margin of safety.
CONCLUSION
This analysis shows that ABBV is slightly undervalued at the moment. Patient investors could continue to wait it out for a greater margin of safety and a higher dividend yield. Such opportunities may continue to occur depending on President Trump's emphasis on the industry. The share price may continue to face other pressures due to the emergence of biosimilars that threaten ABBV's sales of Humira, which is its main revenue generator. However, ABBV also has an impressive pipeline of drugs, including some in phase 3 trials, which could propel the stock higher when those results come through. I should also point out that ABBV continues to raise its dividend in the double digits and is one year removed from being considered a dividend challenger. Having said that, analysts see upside potential for the company, and if President Trump doesn't tackle drug prices, you can probably expect a swift recovery to fair value in the stock price.
As a result, I initiated a long position in ABBV.
I hope you enjoyed this article. Please consider following me as a Seeking Alpha author by clicking the "Follow" button at the top of the article beside my name Accelerating Dividends if you want to be notified when my future articles are published. Thanks for reading.
Disclosure: I am/we are long ABBV.
I wrote this article myself, and it expresses my own opinions. I am not receiving compensation for it (other than from Seeking Alpha). I have no business relationship with any company whose stock is mentioned in this article.