The drug industry is clearly out of favor, with many stocks in bear markets. The one-year and two-year charts comparing the S&P 500 with major biotech, big pharma and generic drug ETFs show the horrendous price action of all three drug sectors.
The following charts compare the S&P 500 with iShares Nasdaq Biotechnology (NASDAQ:IBB), Market Vectors Generic Drugs (NASDAQ:GNRX), and PowerShares Dynamic Pharmaceuticals ETF (NYSEARCA:PJP). (GNRX was launched on Jan. 12, 2016.)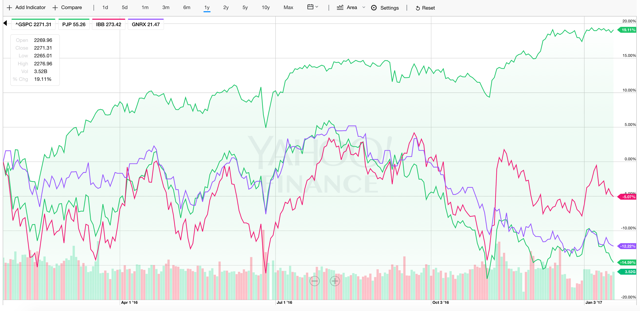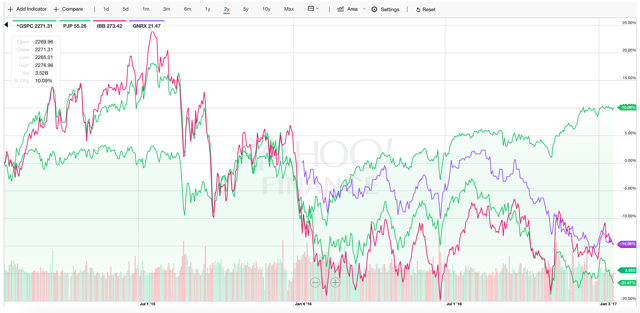 (Source: Yahoo.)
Arrow Loop Research still has small positions in a few drug companies, including Novo Nordisk (NYSE:NVO) and Teva Pharmaceuticals (NYSE:TEVA), but we're wavering.
Here are one-year and two-year charts of several individual companies in the biotech, generic and big pharma sectors, including three companies on Morningstar's 5-Star list, Valeant Pharmaceuticals (NYSE:VRX), Akorn Inc. (NASDAQ:AKRX) and Biomarin Pharmaceuticals (NASDAQ:BMRN).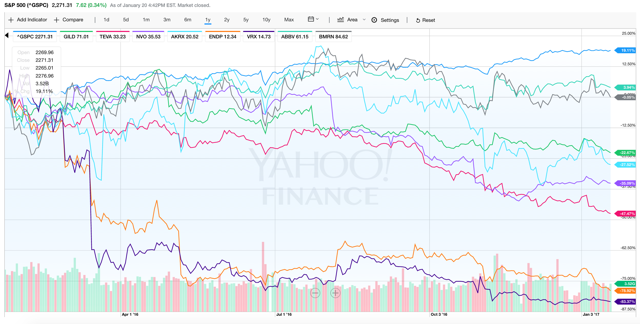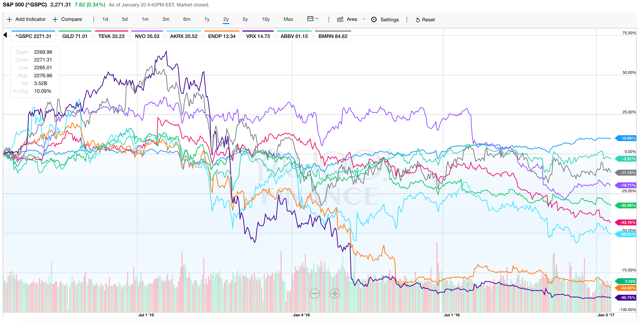 (Source: Yahoo.)
Value investors see many drug company stocks as compelling buys. These companies have approved products, sales, profits and are trading at lower than ever P/E ratios.
Morningstar has been adding some of these stocks to its 5-Star (highest rated) buy list. Recent additions are stocks that have dropped in price enough to offer significant upside to Morningstar's proprietary "fair value" estimates.
Here is Morningstar's complete list of 5-star companies, as of Jan. 20, 2017.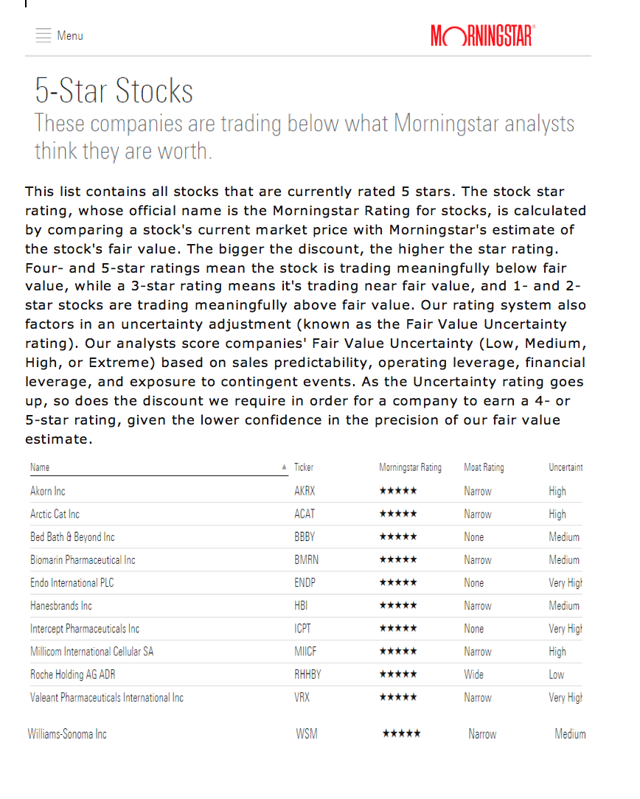 Source: Morningstar.
Morningstar's 5-Star Rated Drug Companies
Akorn Inc.
Biomarin Pharmaceuticals
Intercept Pharmaceuticals (NASDAQ:ICPT)
Roche Holdings (OTCQX:RHHBY)
Valeant Pharmaceuticals
​Morningstar's appraisals includes "Moat" ratings which measure the extent to which a firm is protected from new competition. The "Uncertainty Index" reflects how much confidence Morningstar has in its own estimates. Higher certainty and wider moat values are both positive attributes.
Morningstar feels that many biotechs and generic drug companies stocks are currently trading at or near bargain prices (4 or 5 Star ratings) and look very tempting on a backward-looking basis.
We agree that many drug stocks look like bargains and we previously entered a few positions, e.g. TEVA and NVO. However, we have not been adding to our drug stocks positions lately.
With many drug companies making their debuts on the Morningstar 5-Star list, why aren't we more enthusiastic? In short, we are considering a slew of negative factors which may kick in very soon.
Pricing Pressure, Earnings Reductions and P/E Contraction
Over the past decade many drug companies racked up EPS growth through regular and significant price increases. Political pressure to restrain these price hikes, or even roll them back, has resulted in lower than projected earnings, lower estimates for growth, and P/E compression from historical levels.
Pharma stocks are unlikely to repeat the record of the dot.com era where stocks shed huge amounts over multi-year periods, sometimes on the road to bankruptcy. For the most part, we are not worried about that. However, we expect the stock prices of drug companies to settle in new, lower trading ranges.
The biggest threat is the potential for the government to begin allowing, and implementing, negotiated drug prices for Medicare and Medicaid.
Earnings would get hit. Stock prices would almost certainly fall further. Under that scenario, historical P/Es may not be seen again, especially for companies selling off-patent drugs. Pricing power is a huge swing factor. If companies can't raise prices, growth may decline. P/Es will expand as the "E" part of the equation decreases.
When earnings falls, "P"s have to come down to maintain the same P/E ratio. But old P/E ratios may not even be justified. Pharma shares are cheap now because the future is unknown and the political environment is so unpredictable.
That is why we have scaled back our enthusiasm for drug stocks. We're hesitant to put new money into this sector.
We own small positions in a few biotech, generic and pharma companies. Our holdings include:
Novo Nordisk
Teva Pharmaceuticals
Exelixis (NASDAQ:EXEL)
We have not sold but are also not adding to these positions. Fundamentally, we'd like to see more clarity about earnings expectations. Technically, we'd like to see some signs of reversals. Neither has occurred yet. There have been few signs of a rebound in this group.
Value Traps
Gilead (NASDAQ:GILD) is an example of a possible value trap. Many of Gilead's drugs sell for thousands of dollars per course of treatment. That makes GILD especially vulnerable to drug pricing pressure. Morningstar awards the stock four stars (out of 5) and calls fair value as $98. The good news is that GILD, at its Jan. 20, 2017 price of $71, looks cheap. It is down from an all-time high of $123.40.
The bad news is that it might still drift lower if things play out badly on pricing.
Morningstar gives TEVA four stars and calls fair value as $45. Like GILD, TEVA is cheap enough that it might rally. Its $40.5 billion purchase of Allergan's (NYSE:AGN) generic drug portfolio last year, though, might not be the bargain management thought it would be. TEVA's current market cap of $33.73 billion, including the purchased assets, is now lower than what it paid for aquiring AGN's generics business. TEVA had paid $33.43 billion in cash and approximately 100 million Teva shares, which are now worth considerably less than they were then.
Conclusion
We may not get back to historical P/Es for companies like GILD or TEVA anytime soon due to the current political environment.
Earnings estimates may prove optimistic and be subject to downward revision.
Pharma stocks are riskier than their present day valuations might suggest. Proceed with caution. Underweight the group.
Paul Price contributed to this report.
Disclosure: I am/we are long TEVA, NVO, EXEL.
I wrote this article myself, and it expresses my own opinions. I am not receiving compensation for it (other than from Seeking Alpha). I have no business relationship with any company whose stock is mentioned in this article.
Editor's Note: This article discusses one or more securities that do not trade on a major U.S. exchange. Please be aware of the risks associated with these stocks.