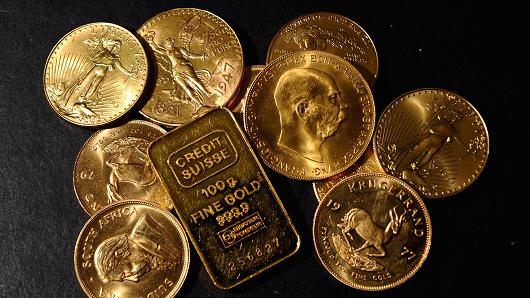 Investment Thesis:
This article examines potential benefits of investing in various gold mining companies as a proxy for gold bullion.
Prior studies have demonstrated that investing in gold miners can provide, to varying degrees, a significant hedge against inflation and protect against an economic down cycle that may happen sooner than expected.
With the US stock valuation now at its highest level since the last technology bubble, it is unlikely that the S&P 500 will continue to trend up significantly in 2017, and, conversely in fact, may fall brutally depending on an uncertain outlook with a weaker dollar favored recently by Trump and his advisors, which is always bullish for gold.
Gold and the dollar traditionally trade inversely because a stronger US currency can make commodities pegged to the dollar -- including precious metals -- more expensive to buyers using other currencies.
Nevertheless, on the other hand, some analysts expect the Fed to tighten monetary policy in 2017 by more than investors are expecting which may support a strong dollar as the spread of the interest rates between the US and other central bank widens. Some analysts have forecasted gold in the low 1,000/Oz.
I will not try to defend one position in this debate and play another prophet, thereby too many are already running the show. We have simply to recognize that we do not know, because it is too early to reach a logical assumption.
One thing for certain is that volatility will increase in 2017, giving the character contradicting of this situation and a "preservation" strategy should be adopted to balance risk in your portfolio which must include gold.
This contradictory gold outlook sets the perfect stage for an accumulation strategy using the gold miners as a proxy for gold as a hedge.
Below, I will present nine gold miners that are widely traded, which represent a large sample of companies in term of revenues and gold production.
Commentary:
I am using the most recent quarter results, which is 3Q'16 and will probably update this article later in 2017, when the 4Q'16 results will be announced.
The nine gold miners that I will talk about in this article are:
If you want more information on any particular gold miner, just click the company name above, and you will be directed to my article about the third-quarter 2016 results.
I will compare here nine gold miners using a set of different balance sheet data and production indicated below.
Revenues
Gold production
AISC
Total debt or long-term debt
Cash and Cash equivalent
Share outstanding
1 - Revenues for the 3Q'16 and the 9 months 2016.

2 - Gold production for the 3Q'16 and the 9 months 2016.

3 - AISC 3Q'16.

AISC (by-products):
Generally, to use by-product accounting a single metal has to contribute at least 80% to revenue - the rest of the metals that contribute 20% to revenue are "by-products". If gold metal cannot pass this 80% test, then all the metals are thought to be "co-products". By-product accounting allows companies deduct the revenues received from the by-products from the costs associated with producing all metals at the mine. Any AISC above $900/ Oz is not a good indicator.
4 - Cash on hand and total debt at the end of 3Q'16.

Conclusion:
To compare the different gold miners and their intrinsic strength, I use an empirical classification based on a ratio using the net debt, revenues per share and AISC. The lower the ratio the better of course.
The two best gold miners are NEM and AEM followed by ABX, IAG and KGC. The other four are scoring above 50 and should be considered more a tool for trading.
| | | | | | | | |
| --- | --- | --- | --- | --- | --- | --- | --- |
| Company | Ticker | Shares Outstanding in million | Net debt in $million | Net debt/ shares | Revenues/ shares | AISC $/Oz | Ratio |
| Newmont Mining Corp. | NEM | 537 | 2 453 | 4,57 | 14,6 | 876 | 8,8 |
| Agnico Eagle Mines Ltd. | AEM | 224 | 576 | 2,57 | 9,8 | 822 | 11,4 |
| Barrick Gold Corp. | ABX | 1 165 | 5 891 | 5,06 | 7,1 | 731 | 35,1 |
| IAMGOLD Corp. | IAG | 427 | 0 | 0 | 2,3 | 1081 | 47,1 |
| Kinross Gold Corp.. | KGC | 1 245 | 977 | 0,78 | 2,8 | 977 | 49,7 |
| Gold Resource Corp. | GORO | 58 | 0 | 0 | 1,5 | 907 | 60,7 |
| GoldCorp Inc | GG | 854 | 2 298 | 2,69 | 4,1 | 905 | 65,2 |
| Eldorado Gold | EGO | 717 | 189 | 0,26 | 0,9 | 903 | 144,0 |
| Yamana Gold Inc. | AUY | 948 | 1 407 | 1,48 | 1,9 | 911 | 211,8 |
However, it is important to look at the company in details, before making your final decision. A 3-month chart comparison is also a good indicator and seems to confirm that Goldcorp, Eldorado Gold, Gold resource and Yamana Gold are not doing particularly well.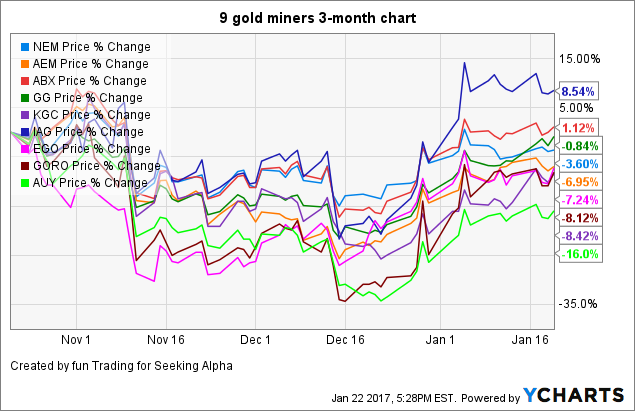 I believe NEM, and AEM, present the best technical and a solid balance sheet. Both companies should be accumulated on any weakness.
Today, the question of a paramount importance is what to expect about gold price in 2017? Hard to know really as I stated in the investment thesis. Nonetheless, it is important to balance your portfolio and use the gold miners as a hedge against an overheated US stock market that can collapse at any moment.
Important note: Do not forget to follow me on the gold miners. Thank you for your support.
Disclosure: I am/we are long AEM AND NEM.
I wrote this article myself, and it expresses my own opinions. I am not receiving compensation for it (other than from Seeking Alpha). I have no business relationship with any company whose stock is mentioned in this article.