I first established a bearish outlook on Under Armour (NYSE:UA) (NYSE:UAA) in August of last year both via bearish articles on Seeking Alpha and posts on StockTwits when it traded in the mid-$40's. I argued that the company was overvalued and that its margins would continue to suffer due to a number of factors; since then, the company's share price has declined by over 30%. Despite this sharp share price deterioration, I strongly believe that the company's share price will continue to struggle and will outline why in this article.
If you have read my previous articles on footwear companies, you'll know that I also established a bearish outlook on Nike (NYSE:NKE) when it traded in the high $50s. Nike stock has since declined by about 15%, but I noted in recent articles that my outlook on Nike is less bearish than it was before due to the share price decline. However, this is not the case with Under Armour. I'm just as bearish on the company and its future prospects as I have ever been, and am highly confident that the company's shares will continue to decline. I would caution those trying to call the bottom on Under Armour as I feel that the company's shares still have quite some room to fall.
Before I begin, I'd like to add that some of the points in this article will be similar to ones I've made in prior articles on Under Armour - I included them again here for added emphasis and for readers who haven't seen my previous articles on the company.
It's About the Aesthetics
The overwhelming consensus among fashion-conscious teenagers and millennials is that Under Armour's products, in particular footwear, are simply unappealing.
Here are a few samples of tweets that serve as a good representation of the overall sentiment towards Under Armour products on social media: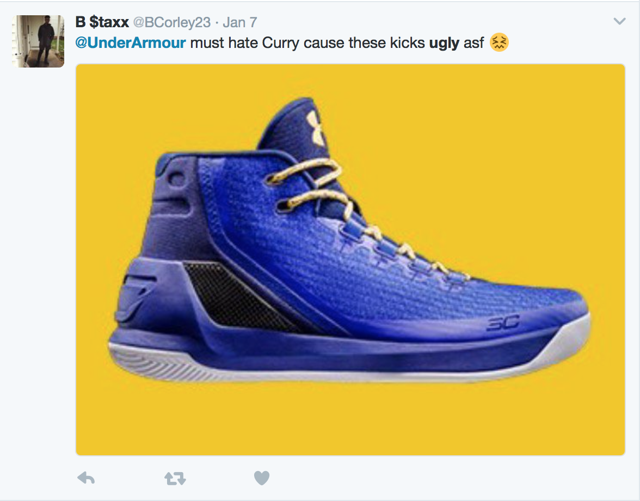 I'd like to add a few comments as I know that a couple of handpicked tweets are not definitive pieces of evidence by any means. I encourage readers to search through Twitter on their own with queries such as "Under Armour ugly", "Under Armour beautiful", etc. and perform the same searches with Adidas (OTCQX:ADDYY) or Nike substituted. You will find, as I have, that the general consensus on social media is that Adidas and Nike products tend to be more aesthetically appealing, whereas UA's products and logo are the opposite.
Also, the reason why I'm including this in my article is that Under Armour needs the sales and support of younger individuals and people in more populous, urban states such as California and New York. I've written about this phenomenon in prior articles, but will recap it here as I feel that it is very important information for UA shareholders.
As per Google Trends data, California and New York aren't in the top 25 states that search for Under Armour. Conversely, these two states are both in the top 3 of states that search for Adidas and Nike. The implications of this data are quite enormous: first off, it shows that Under Armour is not popular in two of the three most populous US states. In order to maintain high growth rates in the US, the company needs to start gaining popularity in those two states, most likely at the expense of Nike and Adidas. To do so, it has to capture the fashion edge that Nike and Adidas products have.
Under Armour's gear is seen as primarily performance-oriented, which is why the company has had trouble securing the support of younger people, who tend to place more importance on aesthetics. This demographic is important because they tend to be quite sneaker-crazy and constitute a large portion of the footwear-buying public (yes, this is the same demographic that pay upwards of $2000 for certain Adidas Yeezy Boost models).
I'm mentioning footwear in particular because Under Armour is relying more on footwear for growth than it has before. As per the company's 10Q report, footwear grew by 42.1% on a year/year basis, whereas its apparel sales only grew by 18% in Q3 2016. In order to maintain solid growth and support the company's still-high valuation levels, the company needs to continue growing footwear at a high clip. However, I am predicting that UA's footwear sales will slow considerably in coming quarters because the company's products and shoes in particular simply do not have the aesthetic appeal that I believe is necessary to continue to take market share from Adidas and Nike.
In addition, the Curry craze that took place last year is over - sure, Curry is still a superstar and performing well, but he simply is not as visible or as talked-about as he was last year. This is due to a number of factors, including Kevin Durant's move to the Warriors and decreased media attention.
This is supported by the below chart, which shows search queries for Curry leveling off significantly from the start of the 2015-2016 basketball season to the present.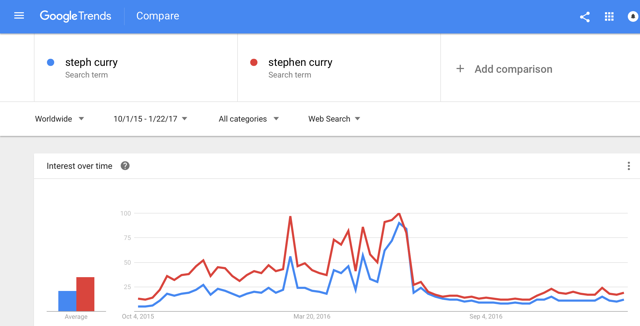 Empirical Evidence
I'm also going to include some personal observations that I feel are important to note. However, as with all personal anecdotes, please take them as illustrative, supplementary information. I feel that my perspective on the sportswear industry may be a bit different than others partly due to several factors: I'm a teenager myself and grew up in a Los Angeles suburb, but am currently attending an Ivy League school in the Northeast. I think this has given me sort of a dual-perspective on the industry and has allowed me to gauge the regional differences in popularity of various sportswear brands such as Adidas, Nike, and Under Armour.
I've written about this in prior articles but will reiterate that Under Armour is not popular on the west coast. I admit that this is quite a blanket statement and may not apply to all regions of the west coast equally but from my observations, UA products simply aren't as popular in the west as they are in the east. This is further supported by the Google Trends data mentioned above, as no west coast states appear in the top 25 states that search for UA.
This is why I believe North American growth will continue to slow (North American sales were up 16% in Q3 2016), which in my viewpoint will cause the company to miss on its targets for revenue growth. The company warned that growth would slow to the low 20's on a percentage basis, but I believe that even this level of growth will not be achieved in coming quarters given my concerns about UA's footwear products, which are the fastest-growing division of the company.
The Skechers Parallel
I see numerous parallels between Skechers (NYSE:SKX) and Under Armour, mainly in that Skechers is another company that suffered a large share price deterioration due to slowing growth. The company did well among older people but failed to attract the attention and wallets of teenagers, which is what caused its North American sales growth to flatten and its share price to halve.
The two companies are clearly very different in a multitude of ways, but I would warn Under Armour investors that the company will suffer the same fate if it is unable to expand from its current base of customers and appeal to the teenage and other more fashion-conscious demographics.
Balance Sheet Woes
As I've written in previous articles, the company's bottom line continues to suffer. Operating margins were 7.2% in Q3 2016, down from 10.3% in Q3 2015. Gross margins were also down due to a number of factors, including an increased concentration of footwear sales, which are typically less profitable than apparel sales. The company also appears to be losing some of its pricing power, and I believe its deal with discount-retailer Kohl's (NYSE:KSS) is an example of the company succumbing to lower-prices in an effort to maintain revenue growth.
The company also continues to accumulate debt, purportedly in order to maintain growth levels. Total liabilities increased by 47% in Q3 2016, whereas total assets increased by 35%. Increasing debt, lower margins, and slowing growth are warning signs for shareholders, and it will be important to see whether or not the company is able to reverse these trends.
This is my conclusion based on reading through the company's 10Q filing and my own analysis of the company's gameplan. Expect Under Armour's margins to continue hurting as the company increases expenditures in order to maintain growth and fend off fierce competition from Nike and a resurgent Adidas.
Conclusion
The company's shares, while they have taken quite a beating the last year, will fall more if the company isn't unable to sustain high levels of growth. Shares currently trade at a price-earnings multiple of 43 and a price-sales ratio of about 2.5, so there is considerable room to the downside if the company continues to miss growth and profit targets.
International growth is touted as a big reason to be bullish on UA, but I would take this with a grain of salt. International sales still comprise only about 15% of Under Armour's sales and I don't believe growth in this area will be enough to counteract slowing domestic sales growth. I would advise Under Armour shareholders to bear in mind the concerns laid out in this article and watch to see if my predictions will be fulfilled.
I will keep readers updated via articles on this site and am always welcome to disagreements and queries either in the comments section or via email (email address is in my Seeking Alpha bio). Thanks for reading!
Disclosure: I/we have no positions in any stocks mentioned, and no plans to initiate any positions within the next 72 hours.
I wrote this article myself, and it expresses my own opinions. I am not receiving compensation for it (other than from Seeking Alpha). I have no business relationship with any company whose stock is mentioned in this article.