Noble Corporation (NYSE:NE) released its latest fleet status report on Jan. 19, 2017. Kudos are in order to NE management for continuing to release monthly FSRs, while many other driller's have reverted to a quarterly schedule; this is valuable investor information and ideally should be released by an participant's on a monthly basis.
NE was happy to announce contract extensions for two of its newer working jackups (Noble Roger Lewis and Noble Scott Marks, both F&G JU-2000Es built in 2007 and 2009, respectively) with current customer Saudi Aramco (ARMCO). As would be expected, the extension dayrates on both extensions reflected a 5% decline, to $159,000, from the current $167,000 day.
Older jackups also working for Saudi Aramco were noted as having the 2017 dayrates under review. Given that the Noble Joe Beall and Noble Gene House (both Modec 300C-38 built in 1981 (though rebuilt in 2004 and 1998, respectively) are currently operating at a rock bottom $65,000/dayrate, it is a little shocking to consider a further downside for these rigs.
In NE's December FSR, the company noted that Shell (NYSE:RDS.A), which can be considered its marquee client, exercised the right to idle two rigs for a combined 1,095 days. This action, which followed OPEC's decision to curtail supply, suggests the degree NE will go to satisfy Shell and the continuation of weakness in ultra-deepwater activity. Contrary to recent excitement about new contracts and the expectation of future contracts, Shell's actions should be considered a sober reminder that 1) E&P activities are still being curtailed, and 2) there are a tremendous number of rigs that can potentially fulfill tender requirements. In other words, the rush to contract has not, to date, occurred and when it occurs expect contracting near-shore (jackup) at cost-plus levels.
One of the measures I continue to look at with respect to drillers is debt yields. As bondholders best case scenario is simply getting paid par (100 cents on the dollar), they are extremely sensitive to risks of default, non-payment and forced restructuring. Therefore, it was interesting/comforting to see that NE's 2020 debt continues to trade for a relatively modest 7.5% yield, about the same yield as in Q3 2015.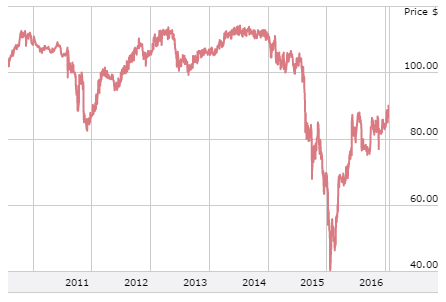 Source: FINRA via Morningstar
In summary, NE remains a beleaguered driller that's respected by its customers and flexible to a fault. Although debtholders are not worried, shareholders should restrain their enthusiasm.
Disclosure: I/we have no positions in any stocks mentioned, and no plans to initiate any positions within the next 72 hours.
I wrote this article myself, and it expresses my own opinions. I am not receiving compensation for it (other than from Seeking Alpha). I have no business relationship with any company whose stock is mentioned in this article.