Introduction
Canadian National (NYSE:CNI) is set to report Q4 2016 and full year 2016 results on January 24, 2016.
Let's preview what we can expect from the report based on what the other rails have reported and the macro environment. With this information we can predict if there will be a better entry point ahead or a possible trade brewing.
Positive segments
I expect double digit increases quarter-over-quarter for the US grain segment of CNI. Canadian Pacific (NYSE:CP) reported a 18% jump while Union Pacific (NYSE:UNP) had a strong showing in agricultural products of 7%.
Coal remains weak for the US rails but saw a slight uptick for CP so I expect this segment to roughly flat for CNI which could provide a nice headline story about a bottom in coal.
Weak segments
Automotive, chemicals, inter-modal, forest products, and most other segments should see single digit declines for CNI. Weak plastic pricing has hurt chemical deliveries and the overall commodity complex remains much weaker than at the end of the bull market in 2014.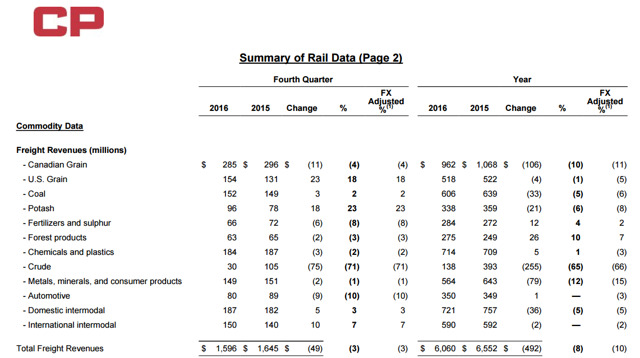 Canadian Pacific saw a sharp drop off in Crude but this makes up less than 5% of segment revenues for the Canadian rails. CNI groups chemicals and crude together so I expect that segment to be down -5% or more.
Coal and Cost Savings Still In driver seat
The overall story for the rails has been hoping for a bottom in coal and extracting cost savings from the business. Expect CNI to tout their costs savings and efficiency program if it reaches the 400-500 million mark that CP claimed it did. The coal number will provide the headline that will move the stock.
If CNI can achieve positive coal growth for this quarter or keep it flat, I see little downside in the stock. The sector still has support from M&A rumors around CSX that occurred a few days ago. A bullish position on earnings has a small chance to be crushed if an article comes out dispelling those rumors but since CNI is neither a potential suitor or target it should suffer the least.
EPS
CNI reported $1.18 in EPS in Q4 of 2015. I expect a slight increase in EPS even with negative revenue thanks to cost cuts and share buy backs. These two levers have been the deciding factor in the rails keeping their EPS in growth territory this quarter. A number around $1.25 to $1.30 seems like a fair bet.

Valuation
Before righting this section I figured CNI would be over 20 times earnings but I was pleasantly surprised. It is one of the cheapest of the major Class I railroads at ~15 times trailing earnings. Forward analysts estimates have earnings growing substantially this year so even if we back off from those wild dreams the valuation is still compelling.
It appears that the two Canadian rails are getting significant discounts to the group. This may because of the weak loony or the fact that they have limited USA exposure which most investors appear bullish on. I find this confusing as CNI has consistently been one of the best operators and there appears to be much overlap between the rails concerning their coal and commodity exposure.
The stock only yields 1.62% which could indicate overbuying but the payout ratio is low at 33% so that is not worrisome.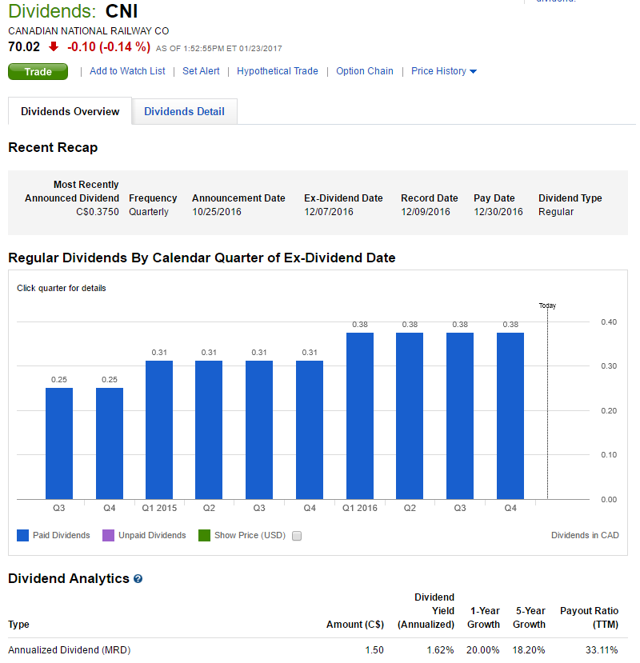 Conclusion
I predict a modest jump in EPS for CNI's Q4 results with weakness in most segments except coal and US grain. Chemicals, crude and automotive should have single digit declines. Buybacks and cost reductions will overcome slightly lower total revenue to provide the EPS growth.
The market is clearly discounting the Canadian rails as compared to their US peers. I think CNI's valuation is attractive currently and even though CP is priced similarly, I prefer CNI due to less drama and speculation as well as history of being the superior operate in its history of operating as a private railroad outside of government control.
Disclosure: I am/we are long UNP.
I wrote this article myself, and it expresses my own opinions. I am not receiving compensation for it (other than from Seeking Alpha). I have no business relationship with any company whose stock is mentioned in this article.