Qualcomm (NASDAQ: QCOM) has sold off as of late, suffering from a double whammy of an Apple (NASDAQ: AAPL) lawsuit and then analyst downgrades. As of writing, shares have declined 18% in the last five days.
On first glance, this appears to be a situation to buy a blue chip dividend grower at a reasonable price. However, looking deeper, this may not be the case.
The Business:
Briefly, Qualcomm is in the business of mobile technology. It produces hardware and leverages its patent portfolio to license technology generating revenue. Chances are you have at least one device in your possession that has a Qualcomm chip in it.
The Qualcomm CDMA Technologies (QCT) segment produces hardware for smart devices that allows them to transmit and receive mobile data. However this is a highly competitive environment and although Qualcomm was the pioneer at the smartphone revolution, it is facing increasing competition from other chip makers. Increasingly, smart device producers are beginning to also develop their own in house products as well.
The second major segment - Qualcomm Technology Licensing (QTL) - licenses Qualcomm's intellectual property and then collects revenue based on other hardware companies using this intellectual property.
Looking at revenues, over the last three years overall revenues have been declining by about 4%. In the QCT segment revenues are declining a bit faster - 6% per year - while in the QTL segment they are essentially stagnant with a 0.42% change per year.

Source: Qualcomm 2016 Annual Report
Earnings:
Despite the decline in revenue, earnings have been nicely growing, by about 4.5% in the last three years and by about 11% in the last 10 years. Despite the declining revenues, Qualcomm has begun cost cutting initiatives that are driving earnings growth, although management anticipates that will begin stagnate in 2017 based on recent guidance.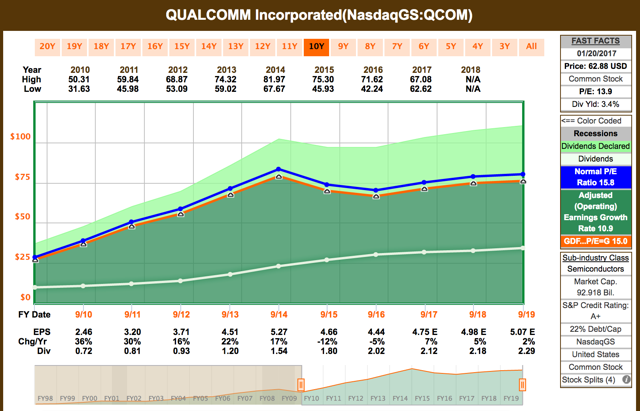 Source: FASTGraphs
The Dividend
Admittedly the first thing I was attracted to with Qualcomm was its dividend growth. Management has a shareholder friendly policy and it has a 10-year dividend growth of 17% - all while sporting a current 3.85% yield.
Does Qualcomm Have a Moat?
Despite being a big name large cap, I think Qualcomm has a small moat.
The first business segment - QCT - has no moat. Recall that this segment accounts for two-thirds of current revenue. Chips are a commodity and the lowest cost producer wins. Qualcomm is not winning, as its revenue in this segment is declining. Management is playing catch up with cost cutting initiatives, but there is no moat here and it shows.
The second business segment - QTL - has a small moat. Recall that this segment accounts for one-third of current revenue. The intellectual property Qualcomm licenses to generate revenue is an intangible asset that does give it a durable competitive advantage. However, as mentioned above, this business model is coming under increasing fire, most recently by Apple. An unfavourable court ruling against Qualcomm would be a major blow to this business model.
Valuation:
Paradoxically, one of the investment downgrades that triggered the sell off had a target price of $70, which based on current prices represents a ~23% margin of safety.
Looking at Capital IQ data, a DFC yields a fair value of $80, creating a ~ 33% margin of safety.
From the ratio point of view, Qualcomm trades at a P/E of 14 with a P/FCF of about 12. This equates to an earnings yield of 7% and a free cash flow yield of about 8%.
At first glance these numbers don't seem unreasonable. However put into the context of a declining business with a razor thin moat that is actively being challenged, I do not think there is a margin of safety.
Investment Thesis:
Despite the drop, I do not think Qualcomm is a particularity attractive investment. Yes, the dividend growth is nice, but at the end of the day you have a declining large cap company, with a razor thin moat, that is actively being challenged.
Yes, some of this is baked into the price, but let's not forget Qualcomm is a large cap that already has a lofty valuation based on i) massive inflows into the large cap market with the growth of indexing and ii) general optimism with a recent market run up.
Think about it this way - would you pay for a small cap with unfavorable business characteristics, declining revenue, and a P/E of 14? Probably not.
Thus, despite initially looking attractive, I will pass on Qualcomm for now but I will re-assess with any further weakness in the share price.
What do you think about Qualcomm? Please feel free to let me know in the comments section below.
Disclosure: I/we have no positions in any stocks mentioned, and no plans to initiate any positions within the next 72 hours.
I wrote this article myself, and it expresses my own opinions. I am not receiving compensation for it (other than from Seeking Alpha). I have no business relationship with any company whose stock is mentioned in this article.
Additional disclosure: I am not an investment professional and I recommend you do your own due diligence about any of the stocks discussed.