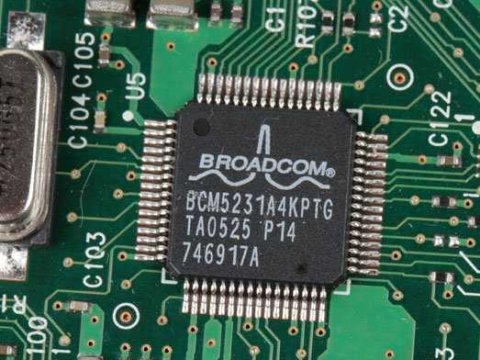 The market has mostly been in a consolidation mode since mid-December. It has been digesting its big post-election gains, and waiting for the incoming administration's plan for the economy.
The NASDAQ, on the other hand, is beginning to pick up steam. I continue to add technology positions back to my portfolios. Here is one that I have recently added.
Everything has to come together all at once for me to able to name my current favorite stock.
First I have to like the overall market. I wrote in my article last week that I remain bullish on the U.S. stock market. In the article, I outlined my reasons for still having a BUY SIGNAL on the market. I published that BUY SIGNAL on the market back in my weekly newsletter of March 27th, 2009.
In addition to a favorable outlook on the overall market, I also like to own stocks that are in a favorable sector of the market. Since the surprise election of President Trump, it has been the mostly the Financial, Banking, and Insurance sectors that have led the market higher. In fact, many stocks in those sectors are up 25%-35% since election-day.
This a now a very different market environment than the one that we had in the months and years leading up to the election. I wrote in an early July article that we were beginning to enter into a rising interest environment.
I then followed up with an article in late July that we were entering into a new period of time that presents unprecedented risk in the bond market. The bond market has sold off significantly since that time.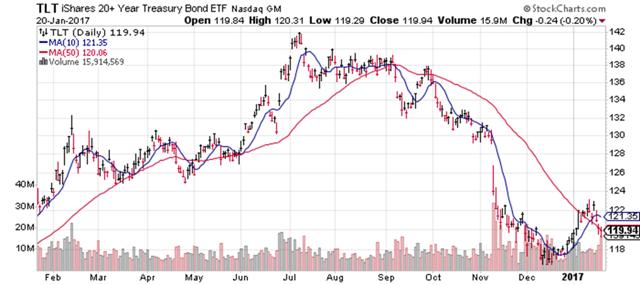 I continue to avoid the bond market entirely. I believe that interest rates have a lot, lot further to go towards normalization. This does not bode well for the most popular form of investing in the market today- asset allocation.
A rising interest rate environment is very favorable for certain asset classes and sectors, however. I wrote all about the dos and dont's of a rising interest rate portfolio in an early November article. I continue to be heavily weighted in those sectors that I mentioned in that article today.
I have also mentioned many times on my national daily radio show that up until two weeks ago the NASDAQ was lagging far behind during the Trump rally. The Semiconductor sector, on the other, has been behaving well since the Spring of 2016.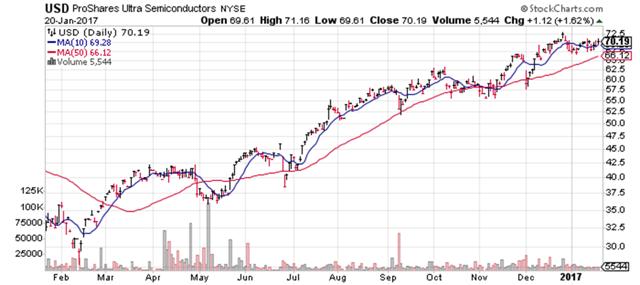 The Semiconductor Sector, on a relative basis, continue to be the #2 ranked sector in the overall market.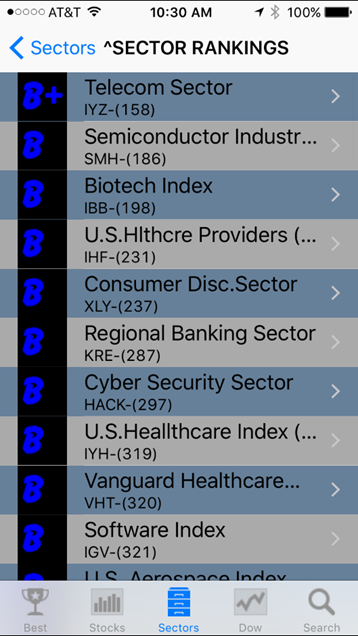 Data from Beststocksnowapp.com
My favorite stock now resides in the Semiconductor Sector. Two conditions down, three to go.
I like strong stock charts. I loathe buying stock in a downtrend. I am also a bit wary of stocks that have recently made parabolic moves higher. I am also not a big fan of stocks that are in dull, sideways trends. Why not wait for a catalyst like a breakout? Without naming my favorite stock yet, look at the one-year chart of it below.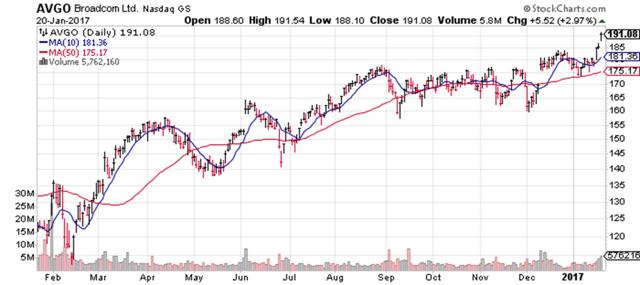 The stock once again broke out of a sideways trend this past week. Now I have three out of five conditions in place, let's look at numbers four and five.
I like value, but I do not like to buy a stock only because it is undervalued. There are too many value traps out there. That is why I have more conditions than just value that I like my stocks to meet.
Let's take a look at the current valuation of my favorite stock: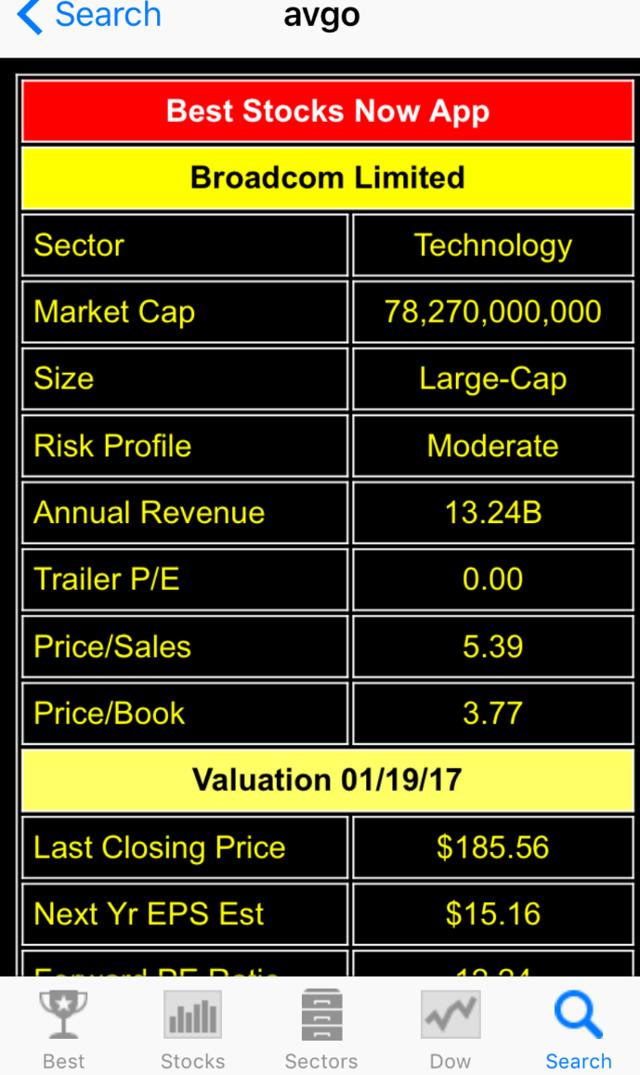 Data from Beststocksnowapp.com
Okay, the cat is now out of the bag. My current favorite stock is Broadcom (NASDAQ:AVGO). Here are a few basic facts about the stock before we get to its current valuation.
This is the former Avago Technologies. When they bought Broadcom, they changed their name accordingly. The company is headquartered Singapore.
Broadcom is now a very formidable player in the semiconductor sector with a market cap of just over $78 billion. They design and make chips mostly for the telecom, industrial, automotive, and computing markets.
I currently own it in my Premier Growth Portfolio which is made up of mostly large-cap stocks that currently meet all of my stringent criteria.
So, now that we have some basic information about the company, let's get back to its current valuation.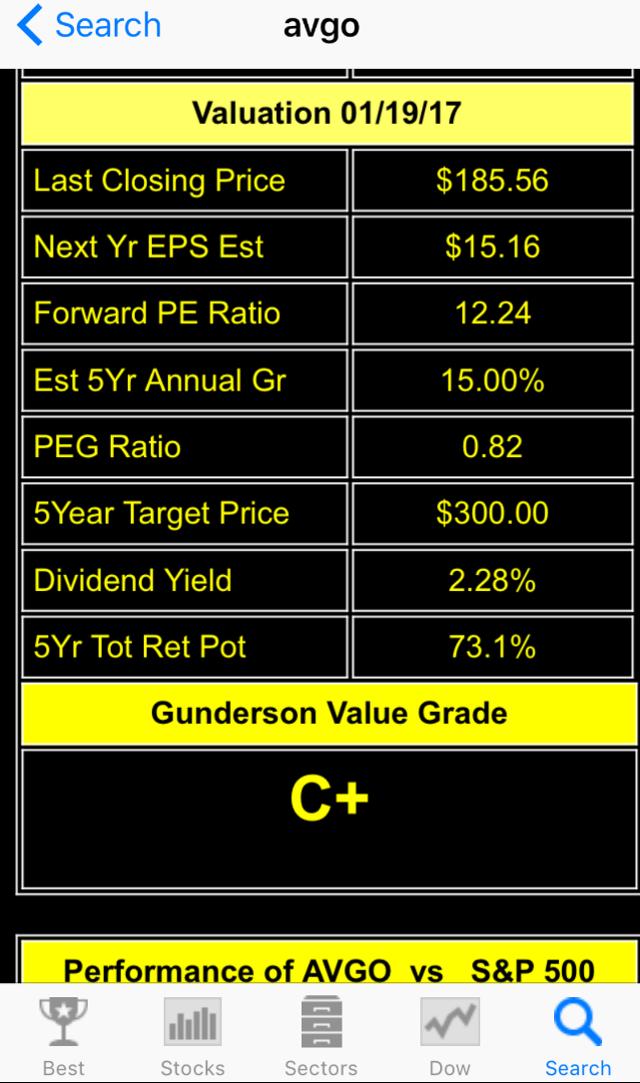 Data from Beststocksnowapp.com
The stock is currently trading at just 12.2X forward earnings. This is based on a current price of $185.56 and next year's earnings estimates of $15.16 per share. This is a very reasonable forward PE ratio when compared to the current forward PE of the overall market which stands at 17.1X.
In addition to this low forward PE ratio, the stock is also trading at a very large discount to its forward, expected growth rate. The consensus annual earnings growth estimate for the company currently is 15% per years. When the forward PE is divided into this number we get a very favorable PEG ratio of 0.82.
In other words, the stock is trading at a discount to its growth rate. This is very favorable for a professional growth investor like me. I am currently getting growth at a reasonable price.
Furthermore, when I extrapolate Broadcom's earnings potential out over the next five years and then apply a multiple that I think is appropriate for the stock, I get a five year target price of $300 per share.
Now for my last requirement: I like stocks that are performing better than most.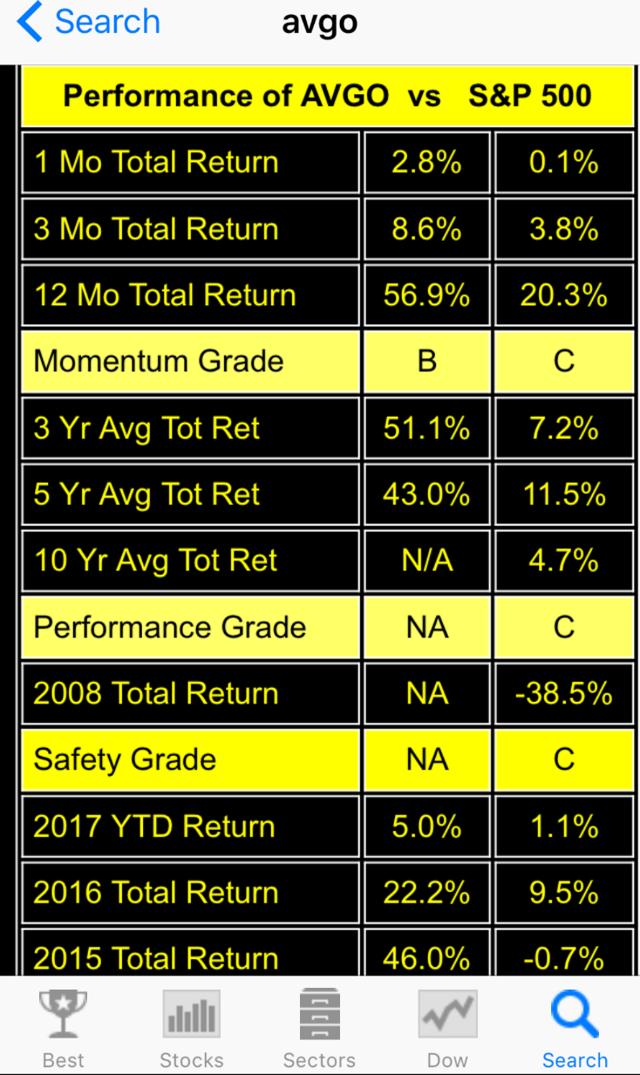 Data from Beststocksnowapp.com
As you can see from the screenshot above, Broadcom has outperformed the market by a wide margin (alpha) for the last one, three and five years. In other words, alpha seekers have found it in Broadcom.
There are obviously no guarantees that Broadcom will continue to deliver the goods to investors going forward, but I sure do like what I see right now. It seems that the probabilities are currently in my favor.
Having said that, Broadcom represents just one of 25 positions that I currently own in my Premier Growth Portfolio. The others that I own also possess these same qualities at the current time.
Broadcom is currently ranked at #50 overall in my proprietary ranking system of 4,188 stocks, exchange traded funds, and mutual funds.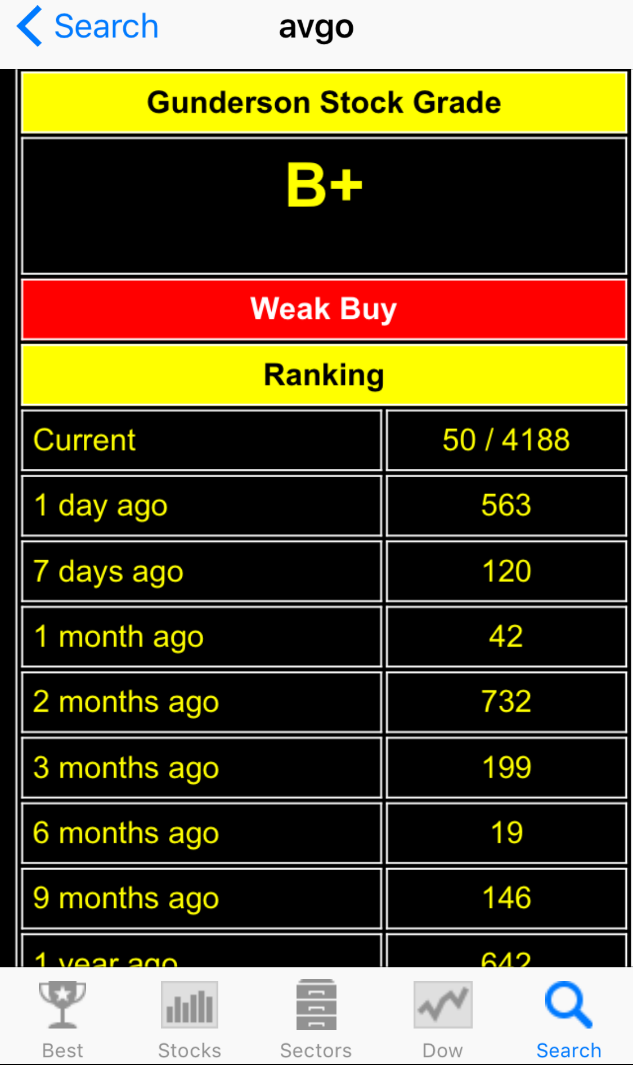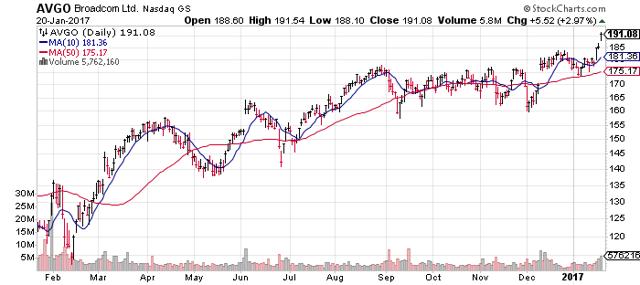 Disclosure: I am/we are long AVGO.
I wrote this article myself, and it expresses my own opinions. I am not receiving compensation for it (other than from Seeking Alpha). I have no business relationship with any company whose stock is mentioned in this article.