Investors are chasing REITs again, and prices have quite significantly risen in the last couple of weeks. Though I think that Digital Realty Trust, Inc. (NYSE:DLR) is one of the best datacenter Real Estate Investment Trusts out there, the REIT's shares are now on the expensive (and overbought) side, potentially tilting the odds against income investors over the long haul.
I penned a piece in December on Digital Realty Trust (before the latest surge in price), recommending the datacenter REIT to income investors for a whole bunch of reasons. The biggest reason was that the Real Estate Investment Trust continuously raked in more funds from operations per-share year after year. Above average growth in FFO enabled the REIT to increase its dividends at a good clip, too, which is something income investors always appreciate. There is nothing better than steady dividend growth that reflects the growing value of an investment.
And that was not even all: Digital Realty Trust has had excellent dividend coverage. Over the last five quarters, the Real Estate Investment Trust covered its dividend easily with core FFO and adjusted FFO. Digital Realty Trust's AFFO payout ratio sat at only 70 percent, leaving significant headroom for dividend growth. In other words, investors had very few reasons to be concerned with respect to Digital Realty Trust's dividend coverage.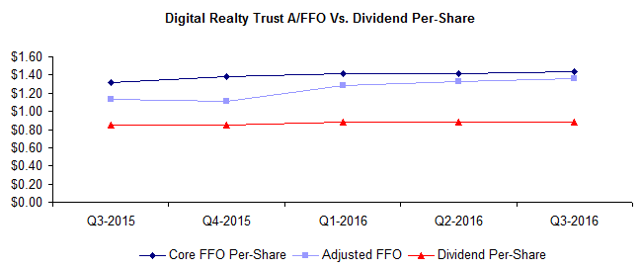 Source: Achilles Research
Further, the REIT has no significant near term debt maturities and a highly diversified customer base, two additional features that worked in favor of Digital Realty Trust.
Getting Expensive And Overbought
As great as those stats are for Digital Realty Trust, the REIT is certainly no longer a bargain thanks to the surge in price since December.
A piece of Digital Realty Trust's business today sells for ~19.5x Q3-16 run-rate adjusted funds from operations, which puts the REIT in about the same valuation category as overpriced Realty Income Corp. (NYSE:O). Though Digital Realty Trust has beaten its peers in terms of per-share FFO growth in the last decade, I think the datacenter REIT is now on the brink of being overvalued. Further, The Relative Strength Index flashes a value of 72.39, hinting at overbought sentiment, which in turn implies an unfavorable reward-to-risk ratio.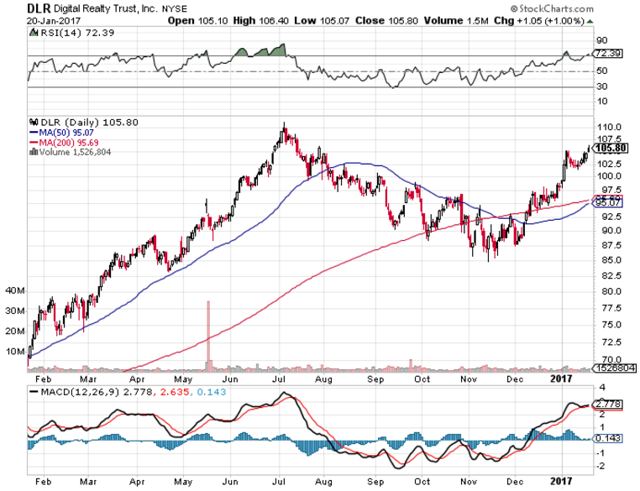 Source: StockCharts.com
Your Takeaway
I have a favorable opinion of Digital Realty Trust based on its above average per-share FFO growth, excellent dividend coverage, and financial strength. Digital Realty Trust is a top shelf datacenter REIT, there is no question about it. What's questionable, though, is Digital Realty Trust's valuation, which has run a little ahead of itself in my opinion. Digital Realty Trust's shares sell for ~20x run-rate adjusted FFO, which is a proud price to pay. Also, the REIT's dividend yield has fallen to ~3.3% thanks to the surge in valuation in the last two months. As far as I am concerned, the reward-to-risk ratio is no longer compelling, and investors may want to wait for a drop before buying.
If you like to read more of my articles, and like to be kept up to date with the companies I cover, I kindly ask you that you scroll to the top of this page and click 'follow'. I am largely investing in dividend paying stocks, but also venture out occasionally and cover special situations that offer appealing reward-to-risk ratios and have potential for significant capital appreciation. Above all, my immediate investment goal is to achieve financial independence.
Disclosure: I am/we are long O.
I wrote this article myself, and it expresses my own opinions. I am not receiving compensation for it (other than from Seeking Alpha). I have no business relationship with any company whose stock is mentioned in this article.