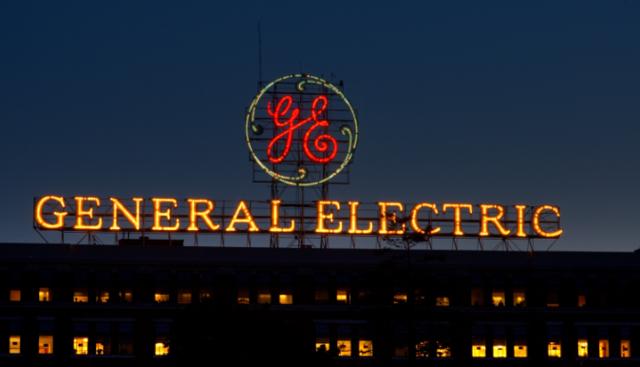 General Electric (NYSE:GE) has struggled mightily in my view since it embarked upon its plan to get rid of most of its Capital division several quarters ago. The promise was to turn GE into a high-margin industrial powerhouse but that simply hasn't turned out to be the case. The Alstom buy was a mistake to my eye and I've been critical of it since the day it was announced. In addition, GE shares have continued to move higher despite the fact that little to no actual progress has been made with respect to expectations that were set when management told us Capital was essentially going away. Q4 results were messy and looked rather like disappointing Q3 results with GE missing its own reduced guidance for revenue. I literally don't see any reason to own this stock at 18 times earnings as the outlook turns ever more dreary with each passing quarter.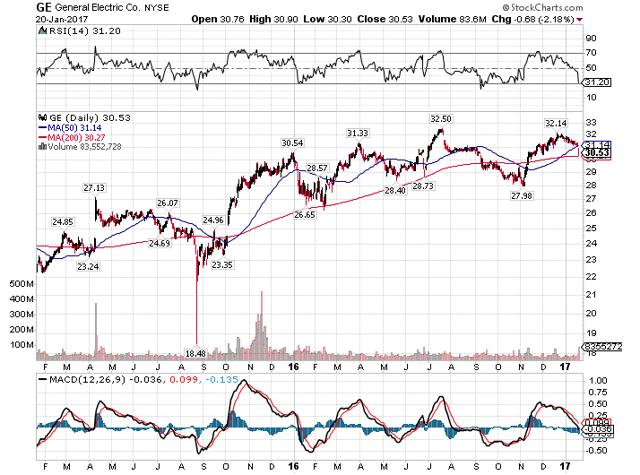 The disappointment starts with revenue as GE's industrial organic revenue was down slightly. This was weaker than its reduced guidance of flat to +2% as GE continually deteriorated throughout 2016. I've been calling this out for some time but it has looked to me that most investors were simply choosing to ignore the glaring red flags with respect to revenue. GE continues to take immense amounts of orders but isn't so great at actually making good on them.
Orders were up 4% in Q4 and the backlog was up another 2%, now at $321B, although the equipment segment of the backlog did fall by $5B. GE, however, continues to take more orders than it can fill and to be honest, I don't remember when the backlog actually moved down. Backlogs are great but only to the extent that orders are filled at some point and GE just isn't there. That's hurting revenue continuously and creating a situation where investors continue to have faith but that faith is punished by weak actual results.
Revenue in Power (+20%), Renewable Energy (+29%) and Aviation (+7%) helped to offset marked weakness in the Oil & Gas (-22%), Transportation (-23%) and Lighting (-29%) businesses to bring the entire industrial business close to flat. GE has a lot of moving pieces and that diversification helps smooth results in tough times but the problem is that the diversification has led to a situation where GE seemingly cannot grow revenue in any sort of meaningful way under any circumstances. Quarter after quarter we see GE struggle with revenue and while bulls will complain conditions in the O&G business are tough, what will the excuse be next quarter and the one after that? It's always something and GE simply cannot figure out how to get out of its own way with respect to growing revenue. The "wait until next quarter" attitude is tiring.
I'm not trying to sound overly bearish and indeed, I owned GE for a long time. I much preferred the version of GE with a huge Capital arm that made enormous sums of money to the anemic, also-ran Industrial GE has become without it. But that version of GE is dead and gone and as the facts have changed, so has my opinion. Even the most steadfast bull cannot deny that GE is struggling to grow revenue much more so than it said it would when it began this transformation and if that doesn't alarm bulls, I'm not really sure what will.
Except, of course, for an equally disappointing performing with respect to margins. Part of the plan with getting rid of Capital as well as some lower margin businesses was to see operating margins move up into the high-teens. That hasn't happened either and GE posted Industrial margins of just 15% on a non-GAAP basis for 2016. Weakness in revenue has precluded any sort of progress on this front and it is absolutely critical for the bull case.
I bought into the high-margin case a couple of years ago but rather quickly realized it wasn't going to happen and the last few quarters have justified my skepticism. Q4 was yet another example as industrial margins were down 100bps Y/Y, something shareholders simply shouldn't tolerate at $30+ per share. There is way too much priced into the stock at these levels with GE struggling like it is and as time goes on, there is a smaller and smaller chance GE will grow its way into its share price and more of a chance that the share price comes down to meet weak fundamentals.
GE did return $30B to shareholders in 2016, quite the move by anyone's standard. I expressed skepticism when the Capital plan was announced that it would be able to buy back enough shares to offset the lost earnings of Capital and that certainly proven to be the case. GE's share count is down in the mid-teens Y/Y and while that's great, it is nowhere near enough to offset what GE has lost. Also keep in mind that as divestitures slow down, $22B in buybacks annually will become a pipe dream. There is absolutely no way GE can sustain anything close to $22B in buybacks per year and that means that from here on out, GE will actually have to produce earnings growth to hit its lofty targets. With no buyback crutch or the excuse that the transition is still ongoing, management needs to deliver in 2017 after a very disappointing 2016.
The problem is that there is no evidence that GE can actually do that. Organic revenue is supposed to grow around 4% this year and while that seems possible with Alstom included, given all of the weakness it is seeing at its other businesses, it would take a miracle for it to produce anything higher than that. GE may benefit from any infrastructure plans the new Administration is cooking up but that likely won't come to fruition until at least 2018 in terms of hitting companies' bottom lines. Either way, building that and sizable EPS growth into the stock seems imprudent given that GE is still struggling to grow and even maintain - let alone grow - its margins.
Further, there is very strong resistance at $32 given that GE has tried no less than three times to break out and has been rebuffed each time. It's pretty apparent that this is the line in the sand for bears and when the stock reaches $32, people begin to sell. And why not? At today's price of just over $30, GE is going for about 18 times this year's earnings, 1.5X its projected growth rate if you think it can hit 12% EPS growth this year. I think that is going to be very tough to do considering the problems it has had with respect to revenue and margins and the fact that it won't have $22B to spend on buybacks either. GE is going to have to produce this year or I think investors will lose patience; the latter seems like the more likely outcome to me.
I don't see the appeal here as every time GE reports, it disappoints. This went on for all of 2016 and given very weak momentum heading into 2017 but an elevated stock price, something has to give. I can't imagine GE is suddenly going to figure it out and get all of its segments moving forward at the same time so for me, the bias is down. We know the ceiling is $32 until further notice and given all the fundamental weakness we've seen - there's plenty to go around - I also don't see a catalyst for punching through that level. Any downside move will likely stop at $28 and we'll have to see from there but at the very least, GE is dead money and you can do better.
Disclosure: I/we have no positions in any stocks mentioned, and no plans to initiate any positions within the next 72 hours.
I wrote this article myself, and it expresses my own opinions. I am not receiving compensation for it (other than from Seeking Alpha). I have no business relationship with any company whose stock is mentioned in this article.