In this article, we're checking in on HollyFrontier Corp. (NYSE:HFC). The company popped up on my radar because they are well-positioned to benefit from the Trump administration's declared agenda points to fix onerous regulations affecting the company, as well as tax cuts for this American business. The market began recognizing the potential benefits coming to HFC as Trump's election triggered a rally in the share price, taking it from $22.70 to $29.98. My discounted cash flow model projects further room to run if business continues as usual while Trump delivers a twofold boon to this merchant refiner. Let's get to the story.
Free Cash Flow and RIN Regulation Impact
HFC's 10-year track record shows an average annual free cash flow generation of $332.6M. During that time, the company has grown substantially from $4.5B annual revenue to over $10B. Balancing the growth in the company's production with the unusual boom years of 2012 and 2013, I'm comfortable $300M annual FCF is a conservative an achievable average for this company.
Here's a look at the track record of FCF: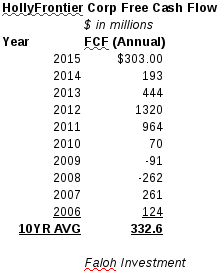 The Renewable Indeification Number (RIN) market is a place where HFC has to go in order to buy sufficient RINs that the EPA instructs the company to purchase based on their volume of gasoline production. The EPA recently bumped the ethanol blending requirement by 50%, which will likely cause disaster for HFC and other merchant refiners in the short term via squeezing the price for each RIN higher, as merchant refiners bid the price up in order to acquire the artificial RIN product. The refiners and the blenders (which sell RINs to refiners) reported all-time record prices for RINs throughout the second half of 2016.
HFC reported a cash outlay exceeding $60M for RINs during the quarter in their most recent earnings call this November. The company has not reliably reported quarterly RIN costs in the materials I have reviewed, but given the reported figures available I estimate the company has expended $100M cash for RINs during the trailing 12 months. This expense comes directly out of the company's net income and free cash flow available to owners.
President Trump has made it clear he is interested in removing burdensome regulation, and has especially targeted the EPA for housecleaning. Carl Icahn, declared Trump's special advisor on regulatory reform, is expected to deliver hard line guidance to Energy Secretary Rick Perry, advising him to remove the RIN burden from merchant refiners like HFC.
Altogether, I expect HFC will produce a poor FCF number in the coming earnings report, but their long-term average will hold at over $300M free cash flow generated per annum. So that's the figure I will use to build the DFC Model valuation.
Acquiring a Unique North American Asset in Canada
HFC's pending acquisition of a Canadian base oil refiner is timely because its being made during a period of time in which the dollar is strong. The transaction, valued at $1.13B, is likely to contribute $50M FCF or more each year under the assumption HFC management paid a reasonable multiplier on its earnings. More details about the performance of this investment will be available in earnings reports made later this year.
Tax Rate Cuts
President Trump has put forward a target corporate tax rate of 15% from today's 35%. Historically, HFC has paid in excess of 30% of its income in taxes. If the burden were decreased, the company will experience substantial improvement in its free cash flow generation. As an example of the impact a tax cut to 15% will have on the company, we'll use HFC's 2015 net income of $740M and FCF of $303. FCF under a 15% tax rate would have been $396M, a substantial improvement of nearly 33% in real earnings available to owners like you and me.
Valuation
The company's Q4 2016 financials will be available next month. Overall, operations appear to be coming in with worse results than 2015's $303M FCF. We know the company will report spending of nearly $100M cash on RINs for 2016, accounting for a portion of the inferior operating results.
2016 being a tough year, I forecast some of this pressure will continue throughout 2017 and therefore forecast a free cash flow of $200M for that year. After that, I forecast a return to the average level of free cash flow demonstrated by the company and a moderate growth rate of 5% per annum. The growth assumption is to incorporate new earnings sources, including the aforementioned $1.13B refinery acquisition and investments to expanding refining capacity. Here are the results of the model: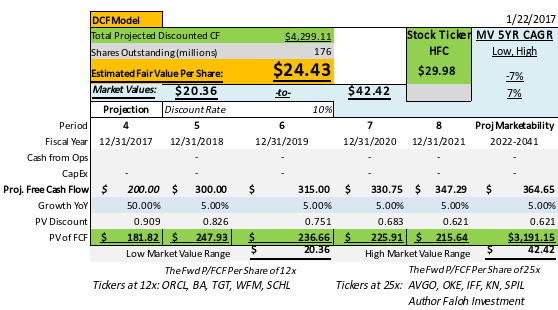 Source: Faloh Investment, YCharts
The DCF model returns a fair value of $24.43 against today's price of $29.98. The model is based purely on cash flow generation, and doesn't take into account the company's multi-billion net tangible asset base, which sufficiently accounts for the $5.55 premium to the firm's fair value.
Final Word
HFC will take a few more lumps from the RIN market until Trump's administration gets the situation under control. Once the RIN burden is removed, HFC will easily reach the $300M per year free cash flow targeted by this model. The market will react positively and bring HFC to the top of its market value range of $42.42 at some point during the next five years. This company will soar if tax cuts further boost earnings.
My price target is therefore $42.42, representing a 7% annual compounded growth rate over the next five years.
Disclaimer: This article represents the opinion of the author as of the date of this article. This article is based upon information reasonably available to the author and obtained from public sources that the author believes are reliable. The author does not guarantee the accuracy or completeness of this article. This presentation is the author's interpretation of the information contained in the article. The author may close his investment position at any point in time without providing notice. The author encourages all readers to do their own due diligence. This is not a recommendation to buy or sell a security.
Please click the + icon next to my user name and follow me, Faloh Investment, as I work to keep you informed on further developments as the market continues to present major value opportunities.
Disclosure: I/we have no positions in any stocks mentioned, and no plans to initiate any positions within the next 72 hours.
I wrote this article myself, and it expresses my own opinions. I am not receiving compensation for it (other than from Seeking Alpha). I have no business relationship with any company whose stock is mentioned in this article.