A number of banking stocks continue to defy the pundits. In this short series' first installment, "Banks 1, Bears 0," we covered how Wells Fargo & Co. (NYSE:WFC) put together a remarkably strong earnings report, and yet the shares continue to trade below reasonable fair value estimates.
Now we turn to Bank of America (NYSE:BAC).
Oft-maligned, and always in the newsfeed, post-earnings Bank of A stock hasn't moved much. The shares need a breather. Post- election, shares jumped 35%. Since ~$12 trough in late June 2016, BAC investors have enjoyed almost a double.

What You Need to Know
Headline Numbers Were Sound
4Q 2016 EPS registered $0.40, a bottom-line beat versus consensus. Revenues came in a little light, but were still 2% greater than a year earlier. This capped a fine FY 2016: earnings per share popped 14.5%, revenue was up a percent, and management avoided any significant regulatory hiccups.
Management Continues to Drill Non-Interest Expense
Earnings climbed despite flat revenue due to management's prime mover: wringing out expenses. After years of fits and starts, it finally appears the shtick stuck. Non-interest expense fell throughout 2016, with 4Q figures settling at $13.2 billion.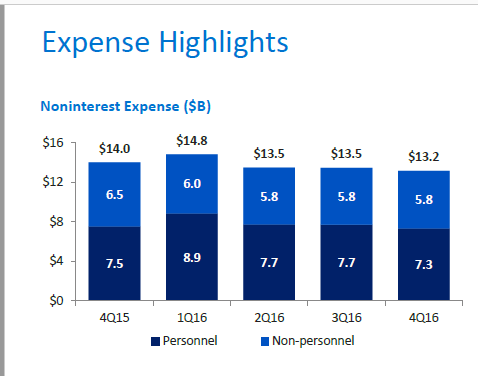 source: BAC 4Q 2016 earnings presentation material
Full-year 2016 expenses were $55 billion. Hearkening back to 2011, Bank of America non-interest expense totaled $77 billion.
Management targets a $53 billion annual non-interest expense run-rate. Extrapolating fourth quarter actual results yields the goal.
Meanwhile, the 2016 efficiency ratio (non-interest expense over revenue) was a respectable 65%. This was a good comp versus the 69% mark in 2015.
Basic Narratives Remain Intact
The other corporate storylines held together, too.
Deposits, loans, and net investment income rose. Year-over-year deposits gained 5%, loans grew 3%, and net interest income was up 5% with no improvement in Net Interest Yield. The figures weren't quite as strong as those reported by Wells Fargo, but nonetheless must be considered strong.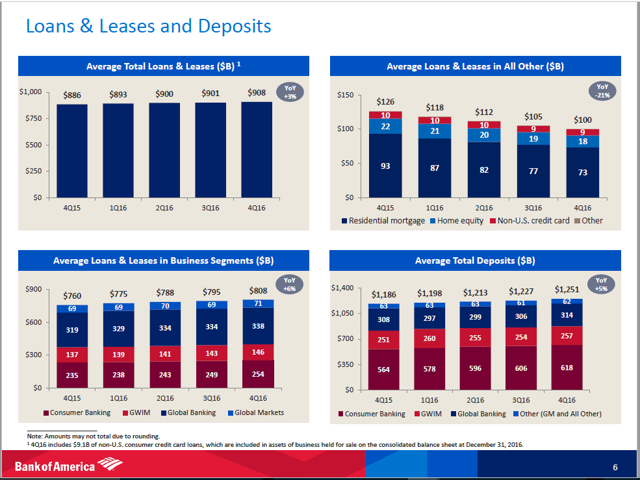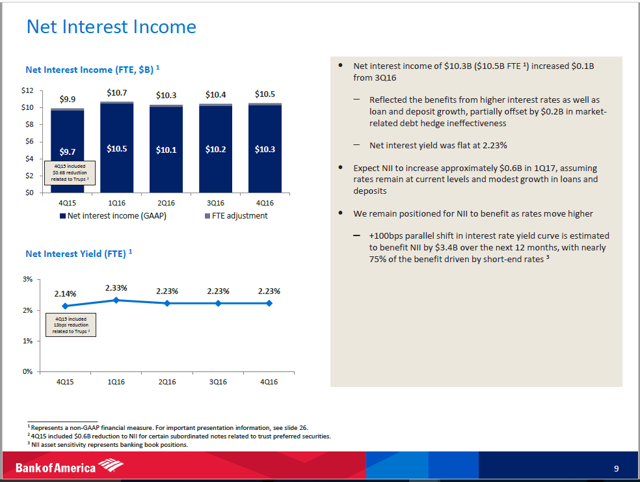 Bank capitalization as measured by the CET1 ratio (advanced approaches) was 10.8%, a point better than 2015, and comfortably ahead of the 2019 threshold target.
Keep an eye on the fine print: figures presume Federal regulators approve BoA's internal analytical models. To date, the Fed hasn't provided such approval. See footnote 6 (tiny type) at the very bottom on the presentation slide below: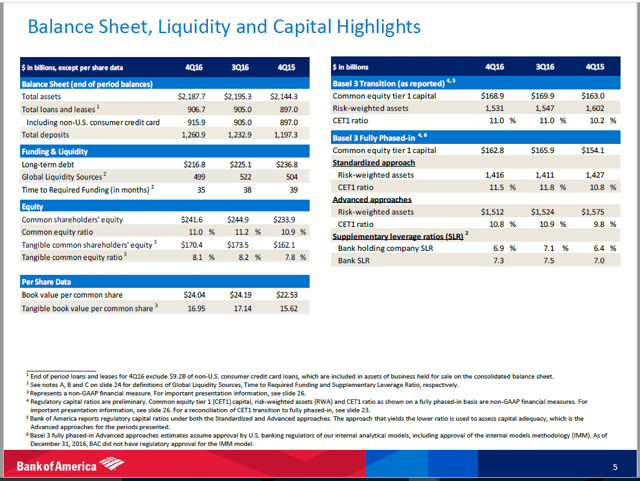 Credit quality remained outstanding. Bank of America is not chasing lower-qualified borrowers. 4Q 2016 Net Charge Off ratio dropped to 0.39%, the company's lowest NCO%....ever. The full-year print was 0.43%, now aligned with standard-bearers Wells Fargo and U.S. Bancorp (NYSE:USB), and far ahead of JPMorgan (NYSE:JPM):

Return-on-assets and Return-on-equity continue to grind higher, but have not yet reached top bank peers, nor management's internal objectives. A "good" bank should be able to generate at least 1% on total assets, and 10% on common equity. Bank of America full-year 2016 figures were RoA 0.82%, and RoE 6.7%.
Return-on-Tangible-Common-Equity (RoTCE) was 9.54%.
The shortfall hasn't been lost on the Street. During the latest conference call, CLSA analyst Mike Mayo peppered BAC management about expectations to generate a 1% return on assets and double-digit RoTCE. In management's defense, RoTCE been trending higher.
Included in CFO Paul Donofrio's 4Q conference call remarks was this exchange with Mr. Mayo:
Mike, a couple of things, one is, if you look across the last three quarters, the return on tangible common equity was 10.5%, 10.28%, 9.92%, so you have a fourth quarter seasonal decline in trading, so it'll pick back up in the first quarter and we look forward to that going back up.
Putting It Together
2016 marked the year whereas Bank of America turned the corner. By most key bank measures, the business is now performing near-par with peers. Due to relentless expense management, EPS improved markedly. Revenue held up. Deposits and loans grew smartly. Credit quality improved to record highs.
Net interest income gained 5%, without the benefit of appreciable interest margin improvement. Folks, NIMs are unlikely to stay down much longer.
Looking Ahead to 2017
Bank of America set itself up to be more levered to higher interest rates than many contemporaries. CEO Paul Donofrio's offered details during last weeks' earnings conference call. The most salient remarks are found below:
CFO Paul Donofrio
Although I am not likely to give specific NII guidance in most quarters, the move[ment in] Q1 '17 is expected to be significant. So we wanted to provide some near-term perspective. As you think about Q1 '17 versus Q4 '16, the benefit from the absence of negative market related ineffectiveness will be offset by two less days in the quarter, so you can effectively take this quarter's NII as a starting point. Now assuming interest rates remain at current levels and we see modest loan and deposit growth, we believe we will earn approximately $600 million in additional NII in Q1, primarily driven by the Q4 rate increases in both the long and short end. From there, we would expect continued growth in 2017, assuming modest loan and deposit growth and stable short-term and long-term interest rates. With respect to asset sensitivity as at 12/31 and instantaneous 100 basis point parallel increase in rates, it is estimated to increase NII by $3.4 billion over the subsequent 12 months.
During the ensuring Q&A session, he elaborated a bit more.
Analyst John McDonald
Hi, good morning. Paul, I was wondering if you could give us a little more split, some of the drivers of the net interest income increase that you are expecting to recur between the fourth and first quarter, the $600 million, how much is that is driven by the Fed hike we saw on the short end and how much of it might be the long end in rates versus loan growth?
CFO Paul Donofrio
Sure. Let me - maybe the simplest way to sort of answer that question would be to take you back to 9/30, right, when the inter-sensitivity on the long end was $2.1 billion. We saw 75 basis point increase in long end rates since then, so 75 basis points times $2.1 billion is $1.6 billion. At that time, the short end sensitivity was $3.3 billion. We saw 25% of 1%, 25 basis points. So $3.3 billion times 25%, that's another $600 million. So together, that's $2.4 billion. As you can see, just in the changes in the interest sensitivity, you divided by 4, you get your $600 million. Again, I would emphasize that we see NII growing from there as we moved to '17 assuming again we have modest loan growth, modest deposit growth and a stable short-term and long-term interest rate environment.
Analyst John McDonald
Okay. And then the reason the 5.3 future sensitivity has now moved to 3.4 as you have rolled $2 billion into your base case outlook?
CFO Paul Donofrio
Yes. Conceptually, we have captured the decline in sensitivity. We are going to capture the decline in sensitivity that you just experienced in our NII over the next 12 months and you can see that under the calculation I just did for you.
What's It Mean?
Mr. Donofrio spotted the full-year 2016 EPS baseline: $1.50. In 2017, with no additional Fed rate increases, and "modest" loan and deposit growth, Bank of America should generate incremental $2.4 billion net interest income: $1.6 billion on long rates, and $0.8 billion on short rates.
If we assume a 30% tax rate, BAC nets ~$1.7 billion, or $0.17 per share. The bank has to do next to nothing to accomplish this. It's simply a function of collecting extra interest on deposits, and reaping higher interest on loans.
Therefore, without much fuss, Bank of America should make $1.67 per share next year.
But what if the Fed DOES increase rates?
If we premise 2 one-quarter-point increases, say one in April and a second in September, this bumps net interest income by $0.8 billion on the short end, and perhaps $100 million or so on the long end. If BAC grosses another $1 billion NII on the 2 increases, the company will net ~$0.7 billion after taxes. It's a $0.07 delta; lifting our 2017 estimated EPS from $1.67 to $1.74.
This presumes no incremental improvement in expenses.
Does This Make Bank of America Shares A Deal?
Maybe. You decide.
I offer readers 3 different Fair Value Estimate methodologies for consideration.
Price-and-Earnings
Under the simple philosophy, "Price follows earnings," we can take our $1.74 estimate and multiply it by a 14x multiple. Accepting this approach yields a $24 stock. The following F.A.S.T Graph illustrates this.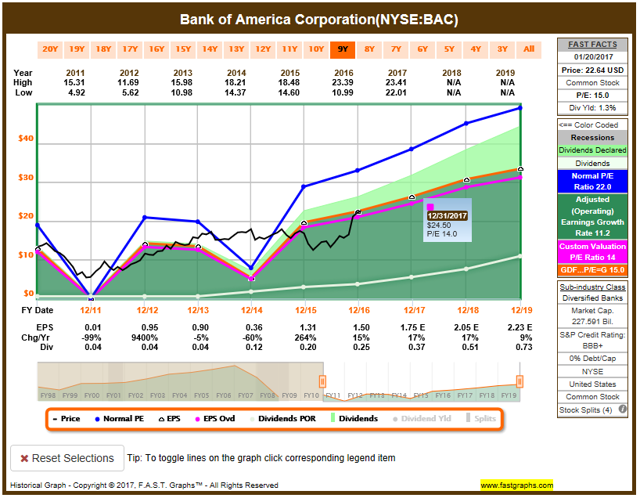 The pink line represents a 14x multiple. Notice current 2017 EPS consensus analyst forecasts are $1.75, not far from our own projections based upon management's conference call discussion.
RoTCE
For those who've followed my work here on S.A., you know I contended BoA would not attain a share price on par with book value until the bank demonstrated it could consistently earn RoTCE above its cost-of-capital.
Bank management has stepped up.
Using current beta, I calculated Bank of America's cost-of-capital to be ~8.4%. 2016 full-year RoTCE was 9.54%. Therefore, I believe Bank of A has earned a FVE ~1.14x its tangible book value. For the period ending December 31, 2016, the company reported $16.95 TBV/share.
Using this methodology, Bank of America stock has a Fair Value Estimate just north of $19.
Graham Number
A third valuation process involves utilizing the Graham Number. I find the Graham Number to be a reasonable benchmark when evaluating large banks.
The Graham number is named after Benjamin Graham, referred to by many as the grandfather of fundamental investing.
Graham Number = SQR (22.5 x EPS x BV per share)
The 22.5 in the formula accounts for Graham's view that a stock trading below Fair Value should have a ttm P/E not more than 15, and a price-to-book ratio not more than 1.5 (15 x 1.5 = 22.5).
For Bank of America, plugging in $1.50 EPS and $24.04 book value per share offers a Graham Number derived $28.50 FVE.
Bottom Line
In 2016, Bank of America turned the corner. The numbers and the story line jelled. Furthermore, the bank's management leveraged the business to particularly capitalize on higher interest rates. Now that rates have moved up, and probabilities indicate more hikes are on the way, BAC is well-situated.
Surveying several Fair Value Estimate methodologies, one can make a reasonable argument the shares remain discounted, though the stock is not longer cheap. Nonetheless, if the bank keeps expenses down, and continues to lever its assets to higher interest rates, investors could enjoy some strong gains through the cycle.
Please do you own careful due diligence before making any investment decision. This article is not a recommendation to buy or sell any stock or securities. Good luck with all your 2017 investments.
Disclosure: I am/we are long BAC.
I wrote this article myself, and it expresses my own opinions. I am not receiving compensation for it (other than from Seeking Alpha). I have no business relationship with any company whose stock is mentioned in this article.