While there are many styles of investing, there are two contrasting approaches on when to buy a stock. One approach is to buy the breakout either from some price congestion or a breakout to a new high. The contrasting approach is to buy the dip or the pullback in price. I have used both approaches before and I have had success with each approach as well as misses with each approach. A stock that has pulled back or declined quite a bit over the last two months is the Minneapolis, MN retailer Target (NYSE:TGT). Target has 1,803 stores and is known by many Seeking Alpha readers for its status as a dividend aristocrat. It has raised its dividend for 45 consecutive years. This includes a 7.1% raise most recently in June, 2016.
Target closed Friday at $64.10. See Chart 1 below. Target has dropped about 20% since mid-November and may now offer long term investors an excellent entry point. This article will review the reasons for its most recent decline, analyze its current operational condition, look at some of the risks of an investment in Target, look at Target's future, and analyze its current valuation.
Chart 1 - Target Weekly Stock Chart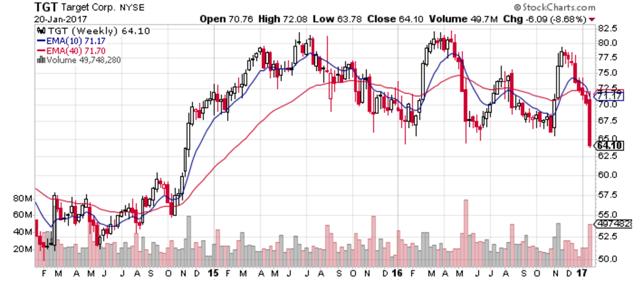 Last week's six point price decline was due to investor's reaction to Target's most recent press release which discussed its November/December sales. According to the most recent press release, comparable sales declined 1.3%, and total sales have decline 4.9%. Target's management explained that the total sales decrease was partly due to the December, 2015 sale of their pharmacy and clinic business. Because of the recent disappointing results, Target's management has updated its FY 2016 adjusted EPS guidance to $5.00 - $5.10. Previously, this guidance was $5.10 - $5.30.
Many investors believe that the traditional brick and mortar stores are just under constant attack by Amazon.com (NASDAQ:AMZN). To these investors these recent results prove that inevitably, Target will eventually succumb to Amazon's scale, logistics, and customer data mining. While that may be true, Target does have annual sales above $70B, and is still very profitable. For the most recent trailing twelve months, Target had net income of $3.3B, operating margin of 7.3%, return on assets of 8.33%, return on invested capital of 13.4%, and free cash flow of $3.4B. Each one of these metrics is at the higher end of its range for the last 10 years. The free cash flow gives Target the money it needs to expand its new store concept in urban areas. After that, there is still ample cash flow for expanding its online presence and for share repurchases.
Investing in Target does pose risks. Recent comparable sales declined 3% and store over store transactions were flat as discussed in the previously mentioned press release. Target has to compete with Wal-Mart (NYSE:WMT), Costco (NASDAQ:COST), and Amazon among other retailers. Target's online revenues, and overall revenues, are miniscule compared to Amazon's $300B. Target's online sales of $3B is still much smaller than Wal-Mart's $14B online revenues. From a balance sheet perspective, I would like to see its current ratio be a little stronger. It is currently 1.02. An additional risk includes a data breech similar to what happened several years ago. Lastly, Target is expected to have only 5% annual growth over the next five years. That compares to 36% annual growth for Amazon according to analysts.
However, Target does have a future. It does possess a well-known brand with many locations across the country. The recent press release stated that Target's online sales grew 30% in the November/December time period. Also what Target calls its Signature Categories (style, wellness, kids, and baby) have been strong and have contributed to higher margins. Perhaps Target's best growth initiative is its new City Target stores. These are designed to appeal to the urban shopper. The new store concept is smaller in square footage and offers a different product mix than in the traditional store. Target's management has spent money to improve its logistics. Hopefully, this will improve some if its efficiency ratios such as inventory turnover which has fallen to 4.83 for the trailing twelve months. Seeing an improvement in this metric would be a good sign for Target and its shareholders. While Target's revenues have been flat, perhaps the margins can increase with the new store concepts and improved logistics. Lastly, an improving economy can only be good for Target. Deutsche Bank believes the U.S. economy will grow under President Trump.
From a shareholder perspective Target recently added $5B to its share repurchase plan. Target has instituted a $5B share repurchase authorization upon completion of the $10B that was initiated in January, 2012. At its current stock price, the $5B represents almost 14% of its $36B market cap. Overall, Target has 595M shares outstanding. Hopefully, Target's management is using this recent drop in price as a reason to repurchase some shares.
For dividends, Target is currently paying $2.40 annually per share. The last dividend increase in 2016 was for 7.1%. Target's goal is to have a dividend payout ratio of about 40%. Currently that ratio sits at 42%. Due to the expected $5.00 EPS for FY 2016, investors should expect no more than a five to seven percent dividend increase in 2017.
The most compelling reason to buy shares in Target is the valuation. Its current PE ratio is just over 11. This compares to its five year average of over 17. According to Morningstar, Target's PE ratio is well below the industry average of 16, and well below the SP 500 index PE ratio of 20. Target's price to sales ratio of 0.51 is below its five year average of 0.6. Lastly, its current dividend yield of 3.73% is well above its five year average of 2.75%. From a valuation standpoint many metrics indicate that Target is on sale.
In summary, Target's recent price decline is due to some real world sales difficulties it is having in its stores. The question an investor has to ask is: Are these difficulties permanent or temporary? Target does have improved margins and is improving its operational logistics. There are risks to investing in Target, but the valuation does seem compelling. An investor buying shares at current prices will receive an above average dividend yield and will be buying shares at a lower than average PE ratio. Fourth quarter financial results will be released on 28 February, 2017 before the market opens. I will be monitoring Target's share price and next earnings release.
Disclosure: I/we have no positions in any stocks mentioned, but may initiate a long position in TGT over the next 72 hours.
I wrote this article myself, and it expresses my own opinions. I am not receiving compensation for it (other than from Seeking Alpha). I have no business relationship with any company whose stock is mentioned in this article.