In the past few weeks, global leaders have made a number of statements and policy decisions, markedly affecting forex trades in a slight reversal of the bullish dollar thesis.
After the election of Donald Trump in November, the dollar gained as much as 6% against a basket of foreign currencies in expectation of fiscal stimulus from the U.S. as well as against the backdrop of overall tightening credit conditions.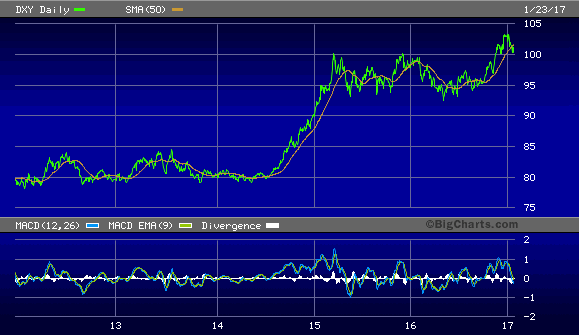 However, statements from not only Trump but other G10 leaders across the globe at venues such as the Davos World Economic Forum have caused the dollar to move in reverse. On Jan. 17th:
The trade-weighted dollar retreated 1.14% as Donald Trump suggested the dollar was "too strong".
The pound sterling rallied 2.8% to over $1.23 as Theresa May outlined a more clear and concise framework for Brexit negotiations, suggesting the U.K. could use competitive tax rates and defense cooperation as bargaining chips for obtaining a new free trade agreement. However, she stressed that the U.K. would leave the European Economic Area and Customs Union with or without a secured deal.
The offshore yuan strengthened to about ¥6.80 as Xi Jinping claimed China has no intention to devalue the renminbi or launch a currency war.
And today, Trump signed several executive orders in alignment with his aggressive protectionist stance on trade which, aside from ignoring basic economic and technological realities, has caused the dollar to continue its descent, with the DXY dollar index settling at about 100.23.
Société Générale provides some color on the developments here:
It has been a bad start to the day and year for the dollar. The correction in relative real yields continues and is dragging the dollar lower. Charts of EUR/USD and USD/JPY against relative real yields suggest that there's nothing to get bullish about in la-la dollar-land, at the same time as there's a real dearth of significant news.

It evokes memories of a year ago when the market got bullish dollar after the first Fed hike of the cycle, but the dollar subsequently traded lower into May after global market turbulence early in the year cut off Fed rate expectations at the knees. This time, it is the lack of details on U.S. fiscal stimulus that has sapped dollar momentum. We have entered a wait-and-see period until the fiscal picture becomes clearer.

Also, the market euphoria that followed Trump's election win has been tempered since by a growing realisation that his presidency could usher in radical realignments in global economics and politics, not all of which are necessarily market-friendly. Thus, more uncertainty.
More uncertainty may have stalled the dollar rally recently, but behind these transitory movements, long-term macroeconomic trends remain unchanged and money conditions will continue to tighten. G10 currencies will still continue to experience weakness against the dollar, regardless of what Trump tweets or Xi Jinping says.
For example, in China, plunging exports and forex reserves, as well as the ongoing problems of capital flight and over-leveraged zombie firms, suggest the renminbi will still be under significant pressure in the years to come, least of all because the PBoC has already built in pressure by reconstituting the CFETS basket and deliberately inflating its fix to reduce dollar pressure. The PBoC will need to continue selling off Treasuries for quite some time.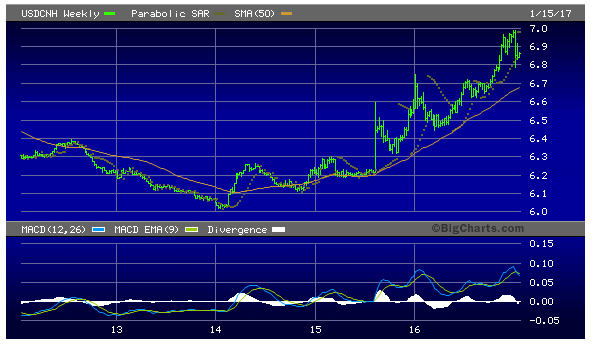 Despite Theresa May's insistence that the U.K. will remain globally integrated and pursue a free trade agreement with the EU, it remains to be seen if that can be truly accomplished, especially considering the U.K.'s diminished role in the global economy. Regardless, inflation has surged to 1.6% (as of the latest CPI data) since the U.K. slashed rates following the Brexit referendum, but in an environment of slow growth and employment pressures not fully realised, the central bank will be hard-pressed to commit to any significant tightening. Most tightening in the City of London will come from the desks of the Intercontinental Exchange (NYSE:ICE) and not the Bank of England.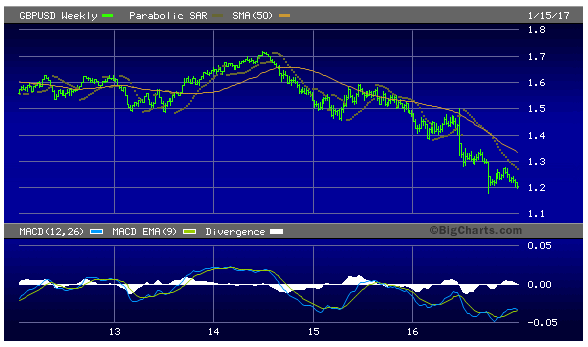 And in the U.S., regardless of whether or not Trump announces fiscal stimulus or repatriation of cash, interest rates must continue to rise to reflect inflation and employment pressures; not doing so would risk runaway inflation. This new 'tight-money' era is created by macroeconomic realities that policy makers, the market, and investors would be foolish to ignore.
As investors, this means that for the next 1-2 years, unless circumstances deteriorate into some sort of recession/stagflation event, going overweight any U.S.-dollar-denominated assets (esp. assets that perform well in tightening credit conditions regardless of growth) will prove more successful over other G10 or emerging market assets. In a base case scenario, the dollar index stabilizes around 100-105 while LIBOR rates continue their ascent. If we extrapolate 3-month LIBOR, for example, at the current rate of change, out to September 2017, 3-month LIBOR reaches 1.5% and by mid-2018 2.0%. If conditions end up being as aggressive as the Federal Reserve's so-called 'dot plot' suggests, Eurodollar rates could rise even higher.
The median FOMC member sees rates rising to between 1.25% and 1.5% at the end of 2017, suggesting three hikes of 25 basis points each over the next year. In the long run, the median member sees rates going to around 3.0%.
Ultimately, these remarks from Trump, Jinping, and May are just words, and actions speak louder than words. In a more generous case, the dollar rally may be tempered by a lack of fiscal stimulus and rate hikes from the U.S., the renminbi may stabilize from the PBoC's efforts, and the pound sterling may recover as Brexit becomes clearer. But, the overarching theme of dollar strength and tightening liquidity conditions, esp. in regards to the effect it will have on emerging markets, has all the indications of continuing into 2017.
Relevant ETFs: WisdomTree Chinese Yuan ETF (NYSEARCA:CYB), S&P Chinese Renminbi Total Return Index ETF (NYSEARCA:CNY), Guggenheim CurrencyShares Chinese Renminbi Trust ETF (NYSEARCA:FXCH), PowerShares DB USD Bull ETF (NYSEARCA:UUP), PowerShares DB USD Bear ETF (NYSEARCA:UDN), Guggenheim CurrencyShares British Pound Sterling Trust ETF (NYSEARCA:FXB), iPath GBP/USD Exchange Rate ETN (NYSEARCA:GBB), UltraShort Yen ETF (NYSEARCA:YCS), Guggenheim CurrencyShares Japanese Yen Trust ETF (NYSEARCA:FXY)
Disclosure: I/we have no positions in any stocks mentioned, and no plans to initiate any positions within the next 72 hours.
I wrote this article myself, and it expresses my own opinions. I am not receiving compensation for it (other than from Seeking Alpha). I have no business relationship with any company whose stock is mentioned in this article.