Aurinia Pharmaceuticals Inc. (NASDAQ:AUPH) is a Canadian clinical-stage biotechnology company based in Victoria, British Columbia focused on the development of its lead drug voclosporin for the treatment of Lupus Nephritis, or LN. The company quotes the Lupus Foundation of America's estimate that approximately 500,000 to 1,500,000 people in the United States, and up to 5 million people worldwide, suffer from System Lupus Erythematosus ("Lupus" or "SLE"). 40% to 60% of patients with SLE develop LN.
LN is an inflammation of the kidney caused by SLE which, if left untreated or inadequately treated, can lead to end stage renal disease, dialysis, renal transplant and death making LN a serious and potentially life-threatening condition. There are no FDA or EMA approved LN therapies.
I've written a series of articles on SA about Aurinia since May 23, 2016. In my last October 6, 2016 Seeking Alpha article, I discuss Aurinia's AURA Phase 2B voclosporin trial success in meeting all of its primary and secondary endpoints at 24 weeks in treating LN. Aurinia's September 29, 2016 press release discusses the 24-week Phase 2B trial results in more detail.
I remain very bullish on Aurinia as it soon begins its Phase 3 AURORA clinical trial based upon:
its strong management team (biographical details of the team's members can be viewed here);
very positive and encouraging clinical data obtained to date which it recently presented;
lack of any late stage competitors;
advantageous design of its Phase 3 clinical trial; and
size of the potential market for voclosporin sales (assuming a successful Phase 3 trial and applicable regulatory approvals) in the US, Europe, and Japan estimated to be in excess of $1.3 billion in peak sales.
Aurinia Has Become An Attractive Buyout Candidate
Aurinia has become an attractive potential buyout candidate or partner. While I can only speculate on which companies would be interested potential buyers, such as OPKO Health (NYSEMKT:OPK), Amgen (NASDAQ:AMGN), Galenica AG (OTCPK:GNHAF), AstraZeneca (NYSE:AZN), Horizon Pharma plc (NASDAQ:HZNP) or Retrophin, Inc. (NASDAQ:RTRX), there could be a number of other interested pharmaceutical companies.
Even if Aurinia is not bought out in 2017, the company will continue to increase shareholder value as it continues on its path toward regulatory approval for voclosporin.
Aurinia's share price has been on a roller-coaster over the past year, as reflected in the price chart below. The share price closed at $2.53 on Friday January 20, 2017. All figures are in US dollars unless otherwise stated.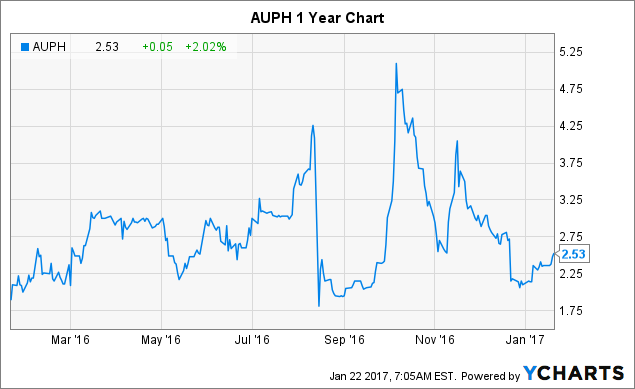 Although the 24-week Phase 2B trial results were sufficient to meet with the FDA in its post-Phase 2 meeting and now proceed with the Phase 3 trial, the 48-week Phase 2B trial results will be available and be released in February or early March 2017. I anticipate the news will be positive (as to the durability and safety of voclosporin) and will act as a positive catalyst for the stock.
Phase 3 AURORA Clinical Trial Begins in Q2 2017
At the time I wrote my October 6 article, it was still unclear whether the FDA would require Aurinia to conduct a single Phase 3 trial or two separate Phase 3 trials. Normally the FDA requires two late-stage studies to support a marketing application.
Luckily for Aurinia, during its end of Phase 2B meeting with the FDA on October 25, 2016, the FDA recommended a single Phase 3 trial design assessing 23.7 mg. BID voclosporin for the treatment of LN. Ultimately the Phase 3 trial design is similar in design to the current Phase 2B low dose arm clinical trial with some minor changes which will actually increase the odds of obtaining even better clinical results.
The Phase 3 AURORA trial will be a double-blind placebo controlled global 52 week trial randomizing approximately 320 patients on a 1:1 basis to receive either 23.7 mg. of voclosporin twice daily plus myclophenolate mofetil (MMF) (Roche's Cellcept) or MMF plus placebo with both arms receiving a stringent oral corticosteroid taper.
On November 2, 2016 Aurinia issued a press release announcing the design of its single Phase 3 trial (in conformity with the feedback and recommendations of the FDA). In its December 13 press release, Aurinia confirmed that it had received a transcript of the minutes of its meeting with the FDA on October 25; Aurinia confirmed it was proceeding with its single Phase 3 clinical trial which it believes will support a New Drug Application (NDA) submission.
On November 3, 2016, Aurinia hosted a conference call for investors and analysts (which was available by web conference) called "Clinical and Regulatory Update". Larry Mann, Aurinia's VP Regulatory Affairs highlighted Aurinia's frequent interactions with the FDA (in light of its fast track designation) and the positive feedback Aurinia had obtained from the FDA in establishing a regulatory path towards ultimate approval. Aurinia's plan to submit its NDA at the end of the Phase 3 trial. Patients completing the 52 weeks of the trial would also have the option to roll over into a 104 week study. The rollover option is not an FDA requirement but will allow Aurinia to evaluate longer term results.
Aurinia has initiated similar trial design discussions with Europe (EMA) and the Japanese regulatory agency in anticipation of obtaining similar approval to proceed with the Phase 3 clinical study to support an application for approval in both those jurisdictions.
Aurinia is also completing a Phase 1 clinical study in Japan on healthy patients which will allow them to proceed with a Phase 3 study in Japan as part of the Phase 3 study.
In a discussion I had with Michael Martin, COO, on January 20, 2017, Martin confirmed that Aurinia has already been meeting with regulatory officials in Japan and it appears likely that they will accept the same Phase 3 clinical trial design now proceeding in the US. Meetings with the EMA are still ongoing but looking positive.
During the November 3, 2016 call, Aurinia also confirmed that the FDA has agreed to permit patients to enroll in the Phase 3 trial who have had kidney biopsies (to confirm their LN diagnosis) in the past 24 months, versus the 6 month requirement for the AURA Phase 2B trial. This change alone will help considerably in recruiting LN patients particularly in the U.S.
Aurinia's Chief Medical Officer Dr. Neil Solomon also spoke during the November 3 conference call and confirmed that the Phase 3 trial design will exclude sites with compromised medical care (which created some issues in the Phase 2B study, when there were a number of deaths reported in patients participating in the Phase 2B trial where medical treatment was poor such as in rural areas of Bangladesh). This change as well should help improve the overall trial outcome in the Phase 3 trial compared to the successful Phase 2B trial.
In response to answers from questions posed by analysts on November 3:
a. Aurinia expected to begin the Phase 3 trial in Q2 2017;
b. the cost of the Phase 3 trial will be in the $70 to $75 million range;
c. the cost to get to approval (and perhaps to begin commercialization) will require raising $75 million to $150 million. The lower range assume Aurinia out-licensing voclosporin to Europe and Japan while the higher range assumes that Aurinia would do it all by itself;
d. the number of clinical sites to participate in the Phase 3 trail had not been finalized but the company expected there would be over 100 sites participating, with more clinical trial sites (compared to the Phase 2B trial) being located in Europe and the USA, and fewer sites in Asia;
e. there was no significant impact on the company as a result of not obtaining breakthrough therapy designation from the FDA (especially since fast track designation was already obtained);
f. regarding business development, a number of companies have already expressed interest in licensing voclosporin in Japan and Europe;
g. the 0.7 mg/mg end point in the Phase 3 trial design (compared to 0.5 mg/mg in the Phase 2B trial) as a cut off level for proteinurea in the patient was the best discriminator in correlating complete responses to long term outcomes, based on other clinical studies and was recommended as the endpoint by the FDA to be used in the Phase 3 trial. Not only will this be an easier endpoint to meet in the Phase 3 trial but in analyzing the data from the 265 patient Phase 2B trial using 0.7 mg/mg as an endpoint in the Phase 2B trial, the results demonstrate a p-value of less than 0.01 compared to a p-value of .045 using .5 mg/mg as an endpoint.
November 16, 2016 - Voclosporin's Speed of Remission: Presentation at the American Society of Rheumatology
In its November 16, 2016 press release, Aurinia summarized its Phase 2B clinical trial results in an abstract presented by Dr. Mary Anne Dooley of the University of North Carolina Kidney Center at the American Society of Rheumatology and Association of Rheumatology Health Professionals (ACR/ARHP) Annual Meeting in Washington, DC, during the Late-Breaking News session on November 15, 2016.
According to Dr. Dooley, the Phase 2B AURA study demonstrated that voclosporin "...successfully achieves not only higher complete remission rates but does so more rapidly in patients with LN. I believe this promising data has the potential to shift the standard of care and improve long-term outcomes for patients with LN".
Equity Financing - $28.75 million (with overallotment)
On December 22, 2016 Aurinia announced a $25 million equity financing (plus overallotment) at a unit price of $2.25 per share plus a 1/2 warrant at $3.00. The market clearly was unhappy with the pricing of the financing and Aurinia's share price dropped nearly 20% on the news. I actually purchased additional shares that day at $2.10.
On December 28, 2016 the Company announced the closing of the $28.75 million financing which involved the issuance of 12,777,775 Units of the company; a Unit being defined as one common share purchased for $2.25 and 1/2 purchase warrant giving the holder the right to purchase a 1/2 Aurinia common share at the exercise price of $3.00 for a period of 5 years after the closing of the transaction.
In my view the share price drop following the announcement of the $28.75 million financing reflected not only the dilution at this low share price but the fact that raising $28.75 million wasn't sufficient to complete the Phase 3 trial (in light of the prior guidance on November 3 that Aurinia would need raise $75 million to $150 million).
On the other hand, the Company now has approximately $40 million in cash or cash equivalents which will provide sufficient financial runway to execute more than a year of its business plan and proceed with its Phase 3 trial through 2017 and much of 2018. As discussed in this article I anticipate that Aurinia may well be bought out by the end of 2017 (although that is an assumption on my part that may not come to pass).
One of the questions being asked by investors is how the company can proceed to complete the Phase 3 trial (given its guidance that it needed to raise $75 to $150 million and now only has approximately $40 million). In my view Aurinia currently has a number of options:
a. borrow the funds through debt or near debt financing such as a convertible debenture. Given the current state of affairs there are lenders who might finance Aurinia to the completion of their Phase 3 trial;
b. raise additional debt and / or equity later in 2017;
c. enter into licensing rights which it can sell for Japan and/or Europe. After all the US market is the largest by far. Estimated annual peak sales (according to Aurinia's January 2017 corporate presentation) are $1 billion or more while estimated annual peak sales in Europe are approximately $300 million and $80 million for Japan;
d. enter into a partnership with a larger pharmaceutical company; or
e. sell the company in its entirety.
AURA Phase 2B 48-week clinical trial results likely released in late February or early March, 2017
In its January, 2017 corporate presentation, the company's timeline discloses that the AURA 48-week clinical trial data will be released in Q1 2017.
I have calculated that Aurinia will be ready to release the results of the 48-week AURA data sometime between mid-February and early March, 2017 based on the following calculation.
The Company has previously disclosed that the last patient was enrolled in the AURA Phase 2B trial on January 19, 2016. 48 weeks of treatment with voclosporin for that last patient would have ended in the third week of December, 2016.
Typically it takes 4 to 6 weeks for the trial data to be analyzed from the end of the clinical trial and results released. For comparison, it took Aurinia approximately 5 weeks from the 24-week date mark until its August 15, 2016 press release to announce the 24-week AURA clinical trial results.
Assuming that the Christmas / New Year holiday adds another 2 weeks to the process (revising my estimate to 6 to 8 weeks), the 48-week trial results for the AURA Phase 2B trial should be released sometime in early to mid-February, 2017. However, given the PR disaster that followed the August 15, 2016 press release which disclosed a number of deaths (which later had to be explained away), I think the Company will be take its time and be extremely careful in how it presents its 48-week results. Hence, my best guess at the moment is that the 48-week AURA Phase 2B trial results will be released sometime between mid-February and early March, 2017.
The importance of the 48-week trial results will be to confirm voclosporin's durability and safety in treating LN. On January 20th I spoke to Dr. Neil Solomon, Chief Medical Officer of Aurinia, and he confirmed that there have been no further deaths in the studies. It will be interesting to see whether any more patients on voclosporin achieve complete remission or otherwise improve by taking voclosporin for a longer period of time beyond the initial 24 weeks (for which data was released in August 2016).
AURION (10 patient open label trial) 48-Week Results
While less significant that the AURA Phase 2B trial, the January 2017 corporate presentation indicates that the 48-week trial results from the AURION 10 patient open label trial will be disclosed in Q2 2017.
Phase 3 AURORA Trial Scheduled to Begin in April, 2017
While the Company has indicated the Phase 3 trial will begin Q2 2017, US government clinical trial web site shows Aurinia's AURORA Phase 3 trial beginning in April, 2017. The web site, last updated on January 13, 2017, indicates that Aurinia's Phase 3 enrollment begins in April, 2017.
Time Frame to Approval and Commercial Launch
Assuming the Phase 3 trial begins in April, 2017, the Company has provided guidance that it would take up to 18 months to recruit the 320 patients for the trial. However, in light of the change in recruiting requirement to allow LN patients to use biopsy data up to 24 months old (compared to 6 month old data for patients in the AURA Phase 2B study), and in light of the much higher profile that Aurinia has received in light of its successful Phase 2B trial results, recruitment may only take 12 months. In any event, the FDA has asked that the Phase 3 trial results (including 24-week results) not be unblinded until 52 weeks for all patients enrolled has passed.
Hence the Phase 3 trial will likely be completed for all patients sometime in late H1 2019 or Q3 2019. Assuming it takes a couple of months to clean up the Phase 3 data and calculate results, an NDA could be filed for approval of voclosporin with the FDA by late 2019. Given the fast track designation granted by the FDA, the PDUFDA (approval) date will be calculated 6 months from the date the NDA is filed (compared to the usual 10 month period). Hence, FDA approval for voclosporin will likely be obtained in H1 2020, assuming all goes to plan. A commercial launch would begin shortly thereafter.
I would also expect that filing for approval of voclosporin in Japan and in Europe would take place in 2020 with a commercial launch in late 2020 or 2021.
Capital Structure
Based upon the recent records I've reviewed, Aurinia currently has:
48 million common shares outstanding (after closing the recent $28.75 million financing announced December 28, 2016);
approximately 13,287,500 million warrants (of which 1,368,000 are exercisable at $1.92 Cdn, 4,548,000 are exercisable at $3.22 US, approximately 1,000,000 purchase warrants at US $2.77, and 6,387,000 warrants at US.$3.00);
3,033,000 options outstanding with an average strike price of $3.99 Cdn.
Approximately 61,000,000 common shares outstanding on a fully dilute basis including all outstanding warrants and options.
Valuation
I assume that Aurinia will be bought out by the end of this year and very likely before it obtains FDA approval (estimated in 2020). There are a number of private equity and venture capital funds who are substantial shareholders in Aurinia who I expect will put pressure on Aurinia's management to effect a sale of the company especially since the company essentially has a single asset rather than shoulder the risk of a trial failure.
I have made a number of assumptions in calculating Aurinia's net present value at between approximately $770 million to just over $1 billion, including:
estimating peak annual sales ranging from $1 billion per year to management's estimated $1.38 billion peak annual voclosporin sales ($1 billion in the US, $300 million in Europe and $80 million in Japan);
if and when Voclosporin obtains FDA (and regulatory approval in Europe and Japan), it will be worth an estimated two times estimated annual peak sales;
a 70% probability of obtaining FDA approval (as well as Japanese and EMA approval);
a 15% discount rate; and
all warrants and options are exercised (generating less than $40 million in proceeds).
Based upon my calculation of 61 million fully diluted Aurinia shares, that works out to a range between approximately $12.00 to $16.00 per share. I assume a price target in that range would only be realistic on a buyout.
Canaccord Genuity provided a $10.00 price target for Aurinia shares in its October 4, 2016, research report based upon estimated peak US sales of only $627 million and all ex-US sales of $41 million for royalties only.
Mackie Research has an $8.00 target on Aurinia set out in its November 22, 2016, research report based upon peak annual voclosporin sales in 2029 of $775 million.
Bloom Burton has an $8.50 share price target for Aurinia in its November 4, 2016, research report.
Based upon Aurinia's $2.53 closing share price on January 20, 2017, Aurinia is substantially undervalued; a very attractive buyout target.
In my brief discussion on January 20, 2017 with Michael Martin, COO of Aurinia, I was told Aurinia had back to back meetings for 3 days at the recent JP Morgan biotech conference in San Francisco. While he couldn't tell me the specifics of who he was speaking with or the topic of conversation it was clear to me that Aurinia is getting a lot of attention from other pharmaceutical companies, potential corporate partners and investors in its space.
Aurinia's voclosporin has become a very attractive asset to purchase. With any luck we'll see multiple parties bidding for Aurinia later this year.
I can envision either a straight out cash and/ or share purchase transaction or perhaps a more creative deal in which Aurinia shareholders receive cash and /or shares in the buyer (for some value, for example, equal to $6.00 to 8.00 per share), as well as some Contingency Value Rights (CVR) which would pay off, for example, an additional $6.00 to $8.00 per share, if and only if a certain event occurs, such as FDA approval of voclosporin for the treatment of LN.
How likely is it that a buyout in 2017 will occur? Time will tell.
2017 should be an interesting year for Aurinia and its shareholders.
Risks
Despite my bullish views on Aurinia, it remains a speculative buy and is subject to various risks, including the failure to obtain FDA or other regulatory approvals, litigation risks, competition risks, voclosporin being the only substantial asset owned by Aurinia, potential IP or patent issues, financing issues, general economic, market and other usual risks for a biotech company without revenues or any approved products.
Supporting Documents
Disclosure: I am/we are long AUPH.
I wrote this article myself, and it expresses my own opinions. I am not receiving compensation for it (other than from Seeking Alpha). I have no business relationship with any company whose stock is mentioned in this article.