While multiple sectors have outperformed the broader market in the Trump Rally, one of the biggest winners has been The GEO Group (NYSE:GEO), a private-prison focused REIT that is up almost 70% since November 8. The basic rationale is that a Trump administration will emphasize private industry and law-and-order, both which will serve as significant macro tailwinds for the private prison industry over the next 4 years. Many Wall Street Analysts are turning bullish on the stock despite the huge run-up, but should investors pull the trigger at these elevated levels? Despite the stock's huge run-up, we feel there remains upside given the company's strong AFFO, relatively inexpensive valuation, and strong dividend yield. We see 25% upside over the next year.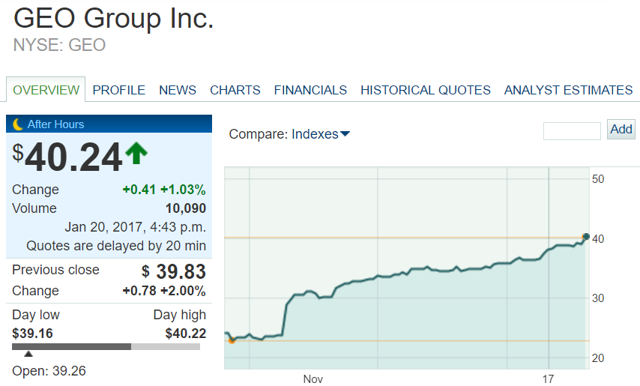 (Source: MarketWatch)
Private prisons have quite an interesting history in the United States. A little over 30 years ago, private prisons weren't a thing. Pro-private initiatives set in motion by Ronald Reagan throughout the 1980s, however, gave birth to a new era of private prisons. In broad terms, private prisons steadily grew in popularity until the late 1990s, when the industry came under the scrutiny of the Justice Department for "cutting corners" in order to maximize profit. The prison population growth rate concurrently dropped dramatically in the US, and private prison stocks subsequently tanked. They proceeded to rebound as prison population growth stabilized in the low single-digit range into 2008-09.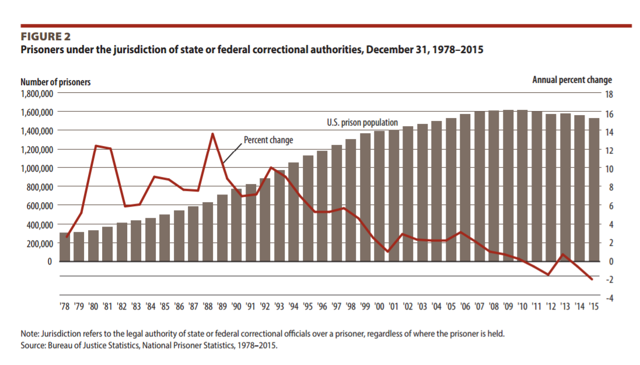 Since then, however, the incarceration rate has dropped and total prison population has actually fallen. Legislation has also moved counter to private prison growth, as further scrutiny brought the Obama administration to craft plans to phase out the use of private prisons. GEO shares hit a low of $20 in August of 2016.
All those losses have been erased in the roughly 2 months since Donald Trump won the Presidency, and with good reason. What seemed like, at best, a dying industry with a bleak outlook immediately transformed into a revival story with a promising outlook. At the core of the bull thesis are two arguments: 1) a Trump administration will re-stimulate the incarceration rate, and 2) private prisons have promising growth prospects under a pro-private administration.
Briefly, Trump's appointment for Attorney General, Jeff Sessions, will very likely take proactive steps to reverse the BOP's memo to reduce/end contracts with private prisons (given his historical opposition to criminal reform). He is very anti-drug, the core policy endorsed by former Republican Presidents Richard Nixon and Ronald Reagan which dramatically drove up incarceration rates during the 1970s and 80s. Also given both Session and Trump's immigration views and Trump's law-and-order platform, it is very unlikely incarceration rates drop and is more likely they grow to regain and even surpass peak prison population levels seen in 2009. Moreover, Trump's pro-private stance strongly implies that a significant portion of the prison population growth over the next 4 years will go to private prisons.
Overall, the qualitative bull thesis makes a great deal of sense, and the run-up in GEO feels largely justified. Our attention then turns to addressing price - is the stock a buy at the current valuation? We think so, given the company's strong AFFO, relatively inexpensive valuation, and strong dividend yield.
The company's AFFO per share grew at a 10.5% CAGR from FY12 to FY15 and is projected to hit $3.66 this year. That puts the stock at nearly 11x FY16 AFFO. Given the aforementioned political tailwinds, we think its very likely that AFFO grows at least at a 5% CAGR over the next several years, putting FY17E AFFO at $3.84 per share. We also think that given these tailwinds, the multiple should expand as incarceration rates rise and private prison sentiment turns around. Per GEO's historical financial data, we can see that the stock traded around a 13x AFFO multiple at the end of 2014. A 13x multiple on AFFO of $3.84 implies a 1-year price target of $50, or 25% upside. We think that is significant upside potential, especially given the stock's 6.5% dividend yield.
While the stock has had a significant run-up, we think the stock still has considerable upside. The valuation, while greatly expanded from mid-2016 lows, still has room to grow given where the stock has historically traded in a positive prison growth environment, which is what we are presumably heading into currently. Under these assumptions, we see 25% upside in a year.
Disclosure: I am/we are long GEO.
I wrote this article myself, and it expresses my own opinions. I am not receiving compensation for it (other than from Seeking Alpha). I have no business relationship with any company whose stock is mentioned in this article.