For some unfathomable reason, shares of Barnes and Noble (NYSE:BKS) rose 32% over the past twelve months. In my view, the party is very much over, as the financial performance of this company has absolutely fallen off a cliff.
Perhaps this is the state of retail in the Amazon world, but it's best for investors to avoid this name, as the party is soon over in my view. It's not a controversial statement to say that this company is in the midst of an existential crisis because of Amazon (NASDAQ:AMZN). The competition from Amazon shows up in the poor financial showing here. I'll outline my reasons for avoiding the stock by focusing on some of the worst aspects of their financial history and I'll close by reviewing the technical indicators of the company as I see them, with a recommendation for a particular options trade to profit from what I see is an inevitable price decline.
Retained Earnings Collapsing
Since 2012, retained earnings have dropped from about $586 million to $-81 million. When I input these variables in my online financial calculator, the software returned an error message that read "please use reasonable numbers." Apparently the rate of decline that retained earnings have shown has been "unreasonable." The revenue decline is more "reasonable" (at least from the calculator's perspective). Sales have declined at a CAGR of -5% since 2012. In any event, equity is evaporating here at an alarming rate. The cause of this is obviously a decline in the company's net income. Net income has been consistently negative since 2012, with the exception of 2015.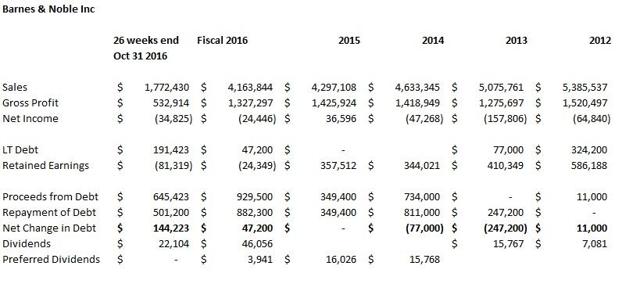 Dividends
Since the beginning of fiscal 2016, the company has paid about $68 million in dividends on common shares and approximately $4 million of dividends on preferred shares. I usually like dividends, but in the case of a company that is losing money, it strikes me as irresponsible. In my view, every dividend paid simply hastens this company's fall.
The Capital Structure
While the company was spending approximately $90 million giving money to shareholders (while destroying their retained earnings), it also took on approximately $191 million of additional debt. This is troublesome for two reasons. First, the weighted average of interest rates on this debt is approximately 8.21%, which is quite high. Second, the company is losing money, and at some point the intersection of declining revenues and net income on the one hand and increased leverage on the other will lead to a critical event that will be bad for shareholders. Of course, I can't predict when this will be, but if revenue declines at a rate of about 5% a year and debt grows, sooner or later there'll be a problem for shareholders.
Technical Snapshot
As per our ChartMasterPro Daily Price Model, the trend for BKS turned Bearish on January 20, 2017. On the daily charts the stock had formed a Bear Flag and with today's close below $11.00 has signaled the resumption of a dominant downtrend that began on December 12, 2016. From here we see the stock dropping down to the $9.40 level over the next six months.
On January 23 we will purchase the BKS 21JUL17 11.00 Put Options which will provide approximately 3x leverage for our SHORT trade. Our initial stop-loss exit signal for the trade will be a daily close above $11.40.
For investors in the shares we recommend that you SELL to avoid any further share price decline.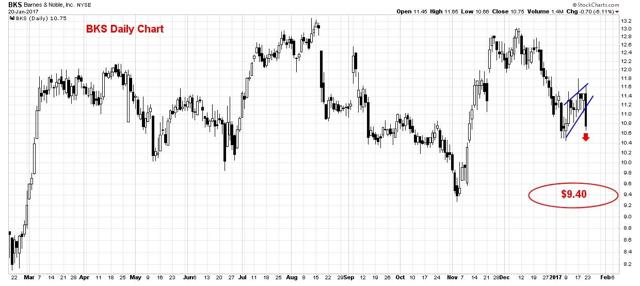 Conclusion
It's a rare thing for me to find a company that I dislike as much as Barnes and Noble. The underlying business is being absolutely crushed by Amazon, and it shows. Revenue is declining at about 5% a year, and, unlike some of the companies that I've focused on that are capable of maintaining net income in the teeth of declining revenue, Barnes and Nobles' net income is declining along with slowing revenue. Not only is debt growing at a rapid rate, but it is quite expensive at more than 8% interest. In the teeth of all of this, the company is paying a dividend, which is irresponsible in my view. Shareholders have enjoyed decent returns from this stock for the past year. In my view the party is over and it makes sense for them to abandon this name.
Disclosure: I/we have no positions in any stocks mentioned, but may initiate a short position in BKS over the next 72 hours.
I wrote this article myself, and it expresses my own opinions. I am not receiving compensation for it (other than from Seeking Alpha). I have no business relationship with any company whose stock is mentioned in this article.