Cost Saving Measures
Despite Allegheny Technologies Inc. (NYSE:ATI) suspension of quarterly dividends and permanently idling their Rowley, Utah titanium sponge facility, ATI is currently restructuring the business in a way that will better position the company financially in the future.
The decision to indefinitely idle three of their facilities in August 2016 stemmed from improving operating income. ATI expects a 50 million dollar operating savings and an addition 50 million dollar generation of cash flow from lower managed working capital by the beginning of 2017.
The $329.1 million charges net of tax shown on ATI's quarterly results is a nonrecurring expense related to plant closings and restructuring costs. This large expense is not expected to reoccur in future reports.
ATI's capital expenditures are expected to be $215 million in 2016, then decrease to approximately $120 million in 2017, and then average less than $100 million annually for the next seven years. The capital expenditures support the restructuring phase to modernize while widening ATI's markets. ATI will soon opened a new nickel based super alloy facility in North Carolina and expanded the STAL JV in China.
Oil and Gas
ATI realizes the dangers in relying too much in commodities such as oil and gas. Even though their restructuring phase is limiting their exposure to this market, oil and gas markets may recover in the coming years.
According to Wood Mackenzie, oil and gas companies will double new project development in 2017. Many analysts believe the crude oil slump is now making a turn for the better. According to Wood Mackenzie forecast, "oil prices to average $57 a barrel in 2017 and gradually increase to $85 a barrel in 2020 as supplies decrease due to the investment cutbacks of the past few years"
This expected growth will give an added boost to ATI's overall sales. ATI's new restructuring is limiting their exposure to the oil and gas market even though the company can still cash in once the oil market recovers. The oil and gas industry has the possibility to give ATI an upward push toward the end of their restructuring phase. Quarter three earnings report oil and gas 9% of 2016 sales.
Chinese Steel
ATI refuses to stand idly by while China's imports of stainless steel dumps in the U.S. market. In an effort to raise awareness of the issue, ATI (along with AK Steel Corp (NYSE:AKS)) sought an investigation with the U.S. International Trade Commission. If actions are taken with the preliminary findings, ATI's flat rolled products will see an uptick in sales within this market.
Moving from Low Margin to High Margin Industries
ATI has been focusing on moving away from low margin industries such as steel to high margin industries that involve nickel super alloys and titanium. In this transformation they are also trying to focus more heavily on manufacturing for aerospace and defense. This is clearly evident by the 3rd Quarter Earnings report located below.
There is additional focus in jet engine production sold in the aerospace and defense market. In 2016, the aerospace and defense market sales increase by 10% compared to 2015. Sales in the aerospace and defense industry account for over half of ATI's total 2016 sales. This is a direct result of a facilitated restructuring for future financial gain. Below is a breakdown of ATI's percent of sales in each market from 2015 to 2016.
| | | | |
| --- | --- | --- | --- |
| | 2015 | 2016 | Percent Change From 2015-2016 |
| Aerospace & Defense | 41% | 51% | +10% |
| Oil & Gas | 14% | 9% | -5% |
| Electrical | 10% | 8% | -2% |
| Auto | 8% | 7% | - 1% |
| Medical | 6% | 6% | 0% |
It is easy to see from the table that ATI has been aggressively increasing its presence in the aerospace and defense sector. Although this change has caused some growing pains in the company it will serve it better in the long term since the aerospace and defense sector does not typically follow boom and bust cycles the same way as oil and gas sectors. The high performance material and components segment is becoming more profitable due to the change.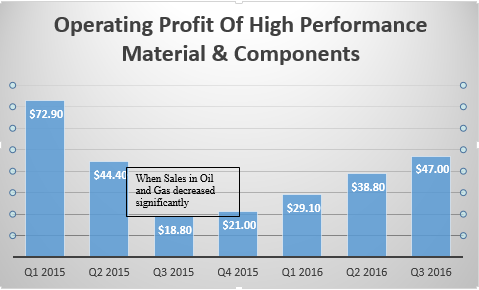 Evident by the chart above, ATI's profit in this segment of business crashed when oil began to spend less money expanding. Since oil companies are just now beginning to expand again, the growth in the past four quarters in the High Performance Material and Components segment of ATI's business has been driven primarily by the companies' new focus on aerospace and defense. The benefit of focusing more on this particular sector is avoiding the boom and bust nature of oil and gas. The aerospace industry growth is expected to be fairly steady.
Last year the industry as a whole grew at a pace of about 3%, and this coming year it is expected to grow at a rate of about 2%. Alleghany should be well poised to take advantage of the growth from this sector.
Alleghany Technologies is moving away from their so called "legacy" businesses into more profitable next generation businesses. In my opinion, this change can be noticed in the Flat-Rolled Product division of Alleghany.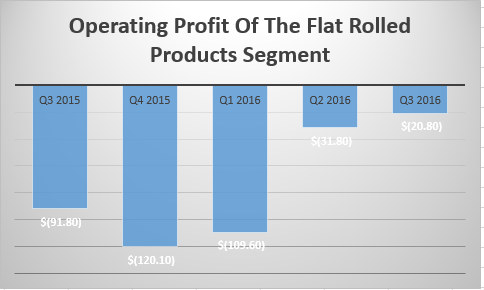 The Flat Rolled Products segment of Alleghany is currently operating at a loss every quarter, but it is beginning to return profitability. Management has taken aggressive action to shut down factories that are no longer profitable in this segment, and are saying that it should return to profitability in 2017. The Majority of the problem with this segment of Alleghany stems from their prior reliance on steel products, and that their older factories could not profitably roll steel sheet anymore.
In 2015 Alleghany built a state of the art metal rolling facility in Breckenridge, Pennsylvania. This facility places Alleghany in front of its competitors significantly in the high quality sheet rolling industry. This is key for helping the company penetrate market sheet made from high performance alloys. Processes that used to take 48-100 days now only take 14-48 days due to the new converting process within the new facility. This new facility also places ATI ahead technologically by about 15 years in comparison to its' closest competitor. The facility has the capability to roll all sorts of different metals, everything from low margin materials like stainless steel sheet to high margin materials such as nickel super alloys, and titanium sheet. Investing in high margin industries is a large contributor in returning ATI's Flat Rolled Products back to profitability.
Addressing the Issue of Low Nickel Prices
I only mention this because I noticed another contributor pointed this out as a bearish sign for the company. The industry that Alleghany operates in is for nickel super alloys. What this means is that the metals contain many more metals than just nickel (copper, tungsten, rhodium, etc.). These super alloys can be extremely expensive on a per pound basis. Some can be worth more than $100 a pound if they have certain properties and are processed a certain way. The reason these prices are so high has little to do with nickel prices themselves, but is primarily due to making sure the materials have the correct properties. I know from working in the industry that certain companies have stockpiled nickel for whenever it drops in price. This is a future cost saving measure for the company. So in my opinion nickel prices are not a bearish sign.
Conclusion
In conclusion, ATI has been going through a downturn in recent years. Management is making hard decisions to move the company forward. ATI's management team has had enough foresight to position the company to take advantage of markets with higher margin. ATI's recent downturn can be related to "growing pains" as they transform from a mostly steel production company to a company that instead focuses more on high performance alloys.
Disclosure: I am/we are long ATI.
I wrote this article myself, and it expresses my own opinions. I am not receiving compensation for it (other than from Seeking Alpha). I have no business relationship with any company whose stock is mentioned in this article.