The Fed is expecting three rate hikes this year. Their catalyst to get more hawkish has been coming fiscal policy. While markets (NYSEARCA:SPY) are excited about coming fiscal policy they don't believe in higher rates. Something has to give.
Fed Expects Three Hikes And Hawks Increase
The last FOMC meeting surprised markets with the Fed's expectations of three (not two) rate hikes for 2017.
We've also reported that multiple Fed members are becoming increasingly hawkish.
The trend is higher which means that we could actually have more than three 25bp hikes by year end.
If fiscal spending and tax cuts get passed and make their mark on the economy the Fed will need to tighten at an even faster pace.
Many believe the market is up because of excitement over fiscal spend and tax cuts.
If the market is up why doesn't it believe that rates will be higher?
But The Market Doesn't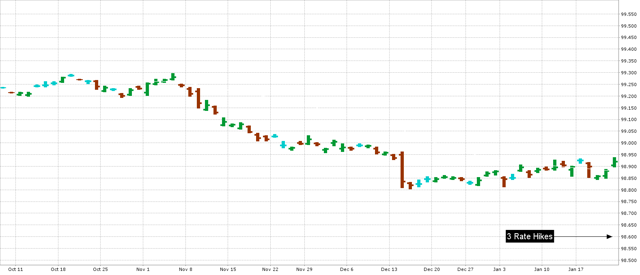 Source: Interactive Brokers
Above is the December 2017 fed funds futures. The current value of 98.9 assumes a fed funds rate of 100-98.9 or 1.1% by year end.
We marked the chart at 98.6% which would imply a 1.4% fed funds rate by year end. That's the Fed's expectation.
The market believes there will be one less rate hike than the Fed does currently.
How Does That Make Any Sense?
Let's run through how something is way off.
If fiscal spend and tax cuts work it will boost the economy and rates will need to go up. That's why markets are up, right? So the market's expectations for rates should also be up, right?
If fiscal spend and tax cuts don't pass or don't work markets would probably be much lower and lower rate expectations would prove correct.
So while the market is up on hopes of fiscal spend and tax cuts the market doesn't truly believe it yet.
If the market believed it then market expectations for rate hikes would be at or higher than that of the Fed.
Making Sense Of It
It tells us that more professional investors that would think about fed funds futures are expecting fewer fiscal spend and tax cut benefits.
The average investor is following the trend of the market going higher.
We would guess based on this that weaker hands are in the market. If fundamentals implied by the market's two Fed rate hikes play out, the mass of investors will have to sell and pile back out.
More professional money that would look to game the fed funds futures are taking a more wait-and-see approach before they place bigger bets.
Those bigger bets by pro investors would push up the rate hike bets as well. For now they are on hold waiting to see how the first 100 days of the presidency takes shape.
Our Take
Initially a trade war, if it happens would hurt growth and raise inflation. That would be a market negative.
As we lap some of the initial pain in 2017, 2018 would set up much better. 2017 would set up 2018 with easier comparisons.
Plus passing fiscal spending takes time. If passed we wouldn't expect the benefit to happen in 2017. That would also be a 2018 phenomena.
But fed funds rates and market interest rates could start moving up this year anyway.
Why? Trade wars will add to inflation as goods don't move globally as easily.
The government paying for fiscal spending will require huge amounts of debt issuance which will add to debt supply. The government will need to offer higher rates to pay for their fiscal spending plans. Some of those estimates are for $1T.
The combination of higher rates, inflation, and fiscal spend benefits next year make this year's returns tougher.
Conclusion
If the market is up because of fiscal spend and tax cut plans then fed funds futures should also be up. They are not. That tells us pro money may be more on the sidelines. We expect a better 2018 and a tougher 2017. This year may need to face higher rates and inflation without the initial benefit of fiscal spend.
PRO TRADER on Seeking Alpha
If the above report helped you may want to check out our premium Seeking Alpha service.
Every morning and throughout the trading day, we offer our members unique access to our experience working with multi-billion dollar hedge funds and institutions. Our methodology helps to know when it's time to enter that bullish or bearish call in stocks, S&P 500, gold, oil, bonds and more. We're also very proud of the interaction with our members which can help you discover your own trading and investing strengths.
Click here for a free trial of Elazar's Pro Trader on Seeking Alpha.
If you liked our work scroll to the top and click "Follow."
Disclaimer:
ETFs reported by Elazar Advisors, LLC are guided by our weekly and monthly methodologies. We have a daily overlay which changes more frequently which is reported to our premium members and could differ from the above report. Portions of this article may have been issued in advance to premium members. All investments have many risks and can lose principal in the short and long term. This article is for information purposes only. By reading this you agree, understand and accept that you take upon yourself all responsibility for all of your investment decisions and to do your own work and hold Elazar Advisors, LLC and their related parties harmless. Any trading strategy can lose money and any investor should understand the risks.
Disclosure: I/we have no positions in any stocks mentioned, and no plans to initiate any positions within the next 72 hours.
I wrote this article myself, and it expresses my own opinions. I am not receiving compensation for it (other than from Seeking Alpha). I have no business relationship with any company whose stock is mentioned in this article.