In this article, I want to discuss stock market sentiment. Let me first start by explaining how 'I' measure it and what it means.
Stock market sentiment tells us how traders are positioning themselves. To get to the answer to this questions, we have to compare cyclical and less cyclical assets. By looking at the ratio spread between two assets, we can see whether traders are taking more risk or not. It is called 'RISK ON' when traders are more aggressive. RISK OFF means the opposite.
I always look at the same set of indicators because it is technically possible to pick a few minor indicators that fit a certain view or narrative. The graphs in this article are common among professional traders and should give us a pretty clear picture of the sentiment.
Keep in mind that this is telling us something about the short term. So please don't think about the debt level of the US or something else that is long term.
I have been bullish on the economy and stocks since the third quarter of 2016, and I am not changing my view based on the outcome of a weekly sentiment analysis. This information can be used for new positions or to see if you should add to your longs during a certain period.
Let's start with my favorite indicator. I compare transportation stocks (SPDR S&P Transportation ETF XTN) and utility (Utilities Select Sector SPDR Fund XLU) stocks. Transportation stocks exploded in November and have peaked in December. Stocks have not gone anywhere since then. The fact that the ratio spread is currently falling makes a minor correction much more likely.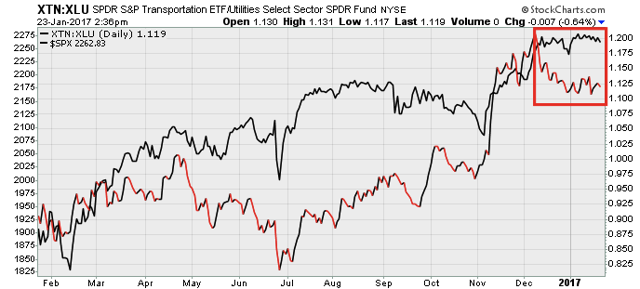 High yield bonds (iShares iBoxx USD HY ETF HYG) have outperformed government bonds (iShares 20+ Year Government Bonds ETF TLT) since July with an acceleration in November. Just like the ratio spread above, we are currently witnessing a decline.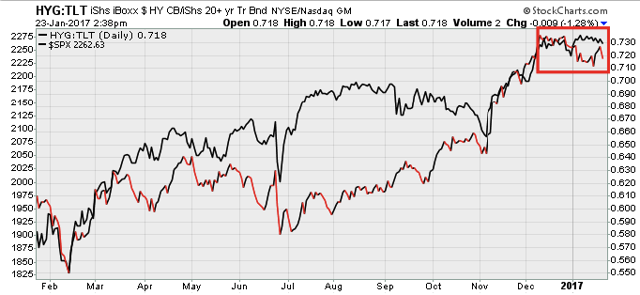 When it comes to the ratio spread between the 'stock market' (SPDR S&P 500 ETF SPY) and government bonds, we see that there is a clear peak in December. Since then, stocks were not able to outperform bonds. The unwinding of record bond shorts plays definitely a role.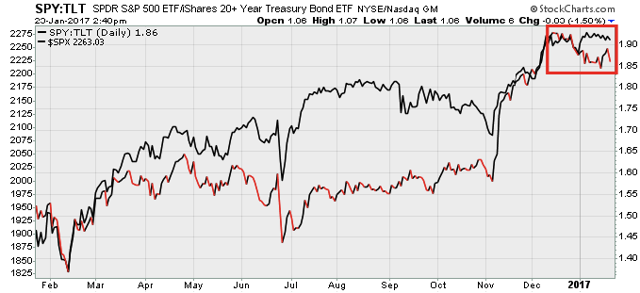 When it comes to the consumer, we can look at the spread between consumer cyclicals XLY and consumer staples XLP. This spread has peaked in December after a rally in November. Since then, we have had a sideways trend. Also note the weak uptrend since July. This is mainly due to the fact that bonds did pretty well up until the sell-off in November.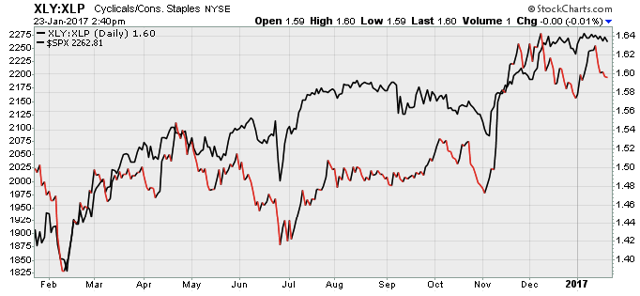 The last one compares the S&P 500 to the VIX volatility index. Volatility has bottomed in January and added to the pressure on stocks. There is no doubt that higher volatility is a possibility at current levels and given the overall weaker sentiment.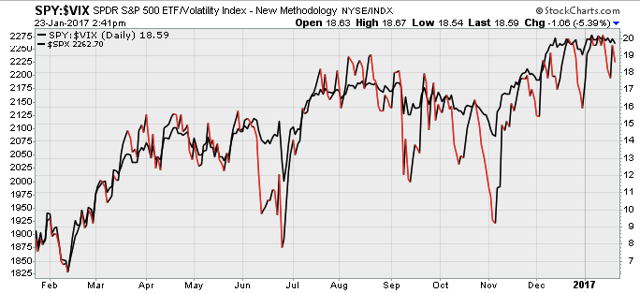 The next graph is not a sentiment graph. Below, you see a comparison between the S&P 500 year-on-year return and the ISM manufacturing leading indicator. This is the reason I am not bearish but very bullish when it comes to 2017. If we look how high the returns of the next few months would be if the stock price didn't change, we see that there is a lot of room to grow (if sentiment stays at current levels or goes up even further).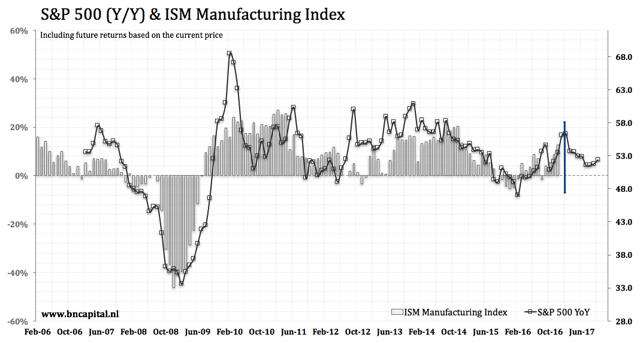 The current situation is as follows: short term sentiment is indicating a clear RISK OFF sentiment. Sentiment has peaked in December and the chances of a minor correction are rising. I am not saying that you should short because I am not bearish on the mid-term. Economic growth is accelerating and stocks could do very well in 2017. Just make sure you don't get hurt if stocks drop a bit. This is not wishful thinking but just common risk management.
Many thanks for reading my article. Please leave a comment below if you have questions or remarks.
Disclosure: I/we have no positions in any stocks mentioned, and no plans to initiate any positions within the next 72 hours.
I wrote this article myself, and it expresses my own opinions. I am not receiving compensation for it (other than from Seeking Alpha). I have no business relationship with any company whose stock is mentioned in this article.